Outreach: Sole Hope for Uganda
Mission Field:
Eastern Uganda, Africa
Outreach:
Babies, Toddler's and Young Children, as well as providing jobs for adults.
Mission Statement:
"
Offering HOPE, healthier lives, and freedom from foot-related diseases through education, jobs, and medical relief." –Sole Hope
Once upon a time, a young Christian couple with a family, watched a youtube video on the effects of jiggers on the feet of little children…..and their hearts broke.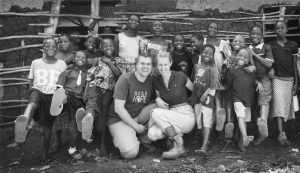 Sometimes it is that happenstance instant that becomes a pivotal moment in your life. That time when God says "See? Here is my heart." And it is our choice as to whether we take a step of faith, or pray for someone else to do it.  At first, that is what Asher of Sole Hope did; she prayed for relief for the children of Uganda. But it wasn't long before this knowledge became a burden on her heart, and she felt the Lord leading her into what is now called Sole Hope.
Anyone who knows me, also knows that I am a total mush. I cry during commercials - about animals no less! Really? I've always maintained that my compassion is the greatest gift God could have ever given me. A compassion that grows stronger and more vibrant each day. A compassion that is linked to the heart of God. When your heart feels what God feels, that is when He shows you the way and suddenly the things that really matter become evident.
It is in these times that it is our chance to say yes! And that is exactly what Dru and Asher did.  Now, what started out as creating a simple pattern for shoes to give to the children affected, has grown into a medical clinic that provides relief and education about diseases that enter the through the feet. They also provide closed toed shoes to the vulnerable children of Uganda and a skilled trade and jobs for the people in the communities.  Their support of the children, their caretakers and the communities has begun to change lives; but they need help.
What can we do?
Consider hosting a shoe cutting party at your house or in your church. The idea is that everyone bring an old pair of jeans and a pattern is used to cut out the pieces that will then be sent to the shoemakers in Uganda. Our old throwaways can change the life of a child! It is such a simple effort on our part that can contribute to life change for someone who may not have any other hope…..but Sole Hope.
If you would like to see more concerning this incredible group, visit their website at: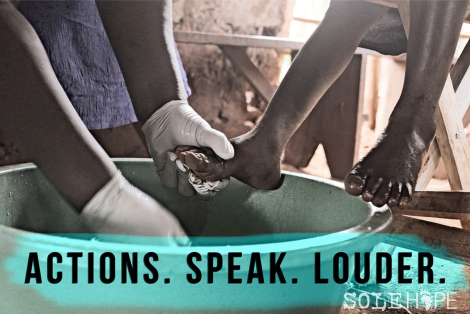 Check out how to host a shoe party, or just contribute if that is what you are led to. If you have any other questions, you can email me at [email protected]  I would be happy to answer any questions you may have about their incredible outreach.
Soli Deo Gloria!
Lisa
Do you have an old pair of jeans you aren't using anymore? Would you like to host a shoe cutting party? Consider leaving a comment!