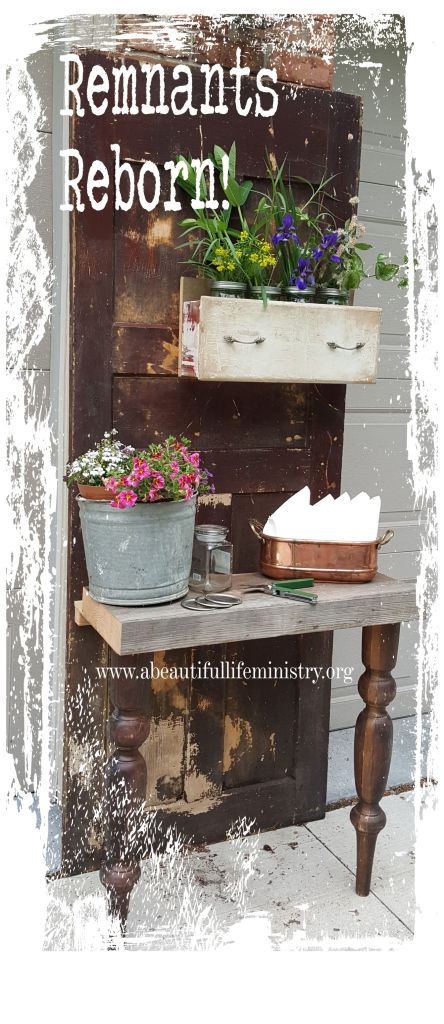 Do you ever feel like a Remnant? something left over or unwanted?
Romans 9:27 says: "Though the number of the Israelite's be like the sand by the sea, only the remnant will be saved."
Sometimes I see pieces of junk just lying around our house - remnants of projects past, and think…why haven't I thrown that out yet. Thankfully God sees us the same way and keeps giving us His Mercy, what a great and merciful God we have. How He eventually finds uses for us and for the Glory of His Kingdom.
Sifting through remnants at my house can be quite an adventure. I had an old door I wanted to make into a serving center. So I called up my girlfriend who is so creative and we put our heads together. She donated an old bed post and a drawer she had in her barn. We cut the bed post in half and used it for legs.
I cut a 2 x 2 piece of wood just shy of the width of the door and screwed it in at the height that the leg posts came to. Next we used a piece of plywood for pre constructing a table top. We cut it the width of the door and the depth I desired. We then screwed it to the 2 x 2 and the leg posts. It certainly was nice having an extra pair of hands for this part!
Another remnant I had was a really old barn beam that I decided would make a really cool table top.  You can use anything of course. We even discussed using tile. Since the barn wood is so thick and I didn't want screws showing I fastened it to the plywood from the bottom.
Then we took an old drawer and cut the back part of the drawer off using a skill saw so that I could set Mason Quart jars in it. 4 Fit perfectly. I measured and marked a line to guide me all the way around the outside of the drawer.
Tip: (You can also use a hand saw as well if you don't like using power tools. Be sure your mason jars will fit before cutting.)
Then with another old piece of wood I had lying around we cut it to size and fastened it to the back of the drawer. This gave us a surface to fasten the drawer to the door. We added in 4 mason jars with water and some flowers but you can use them for utensils, or anything else you can imagine.
We put napkins in an old copper pot I had laying around and used an old metal bucket for potted plants, which gave us and Idea that this same project would make a really cute gardening table. The possibilities are limitless!
So, before throwing out those old doors or windows from your next renovation project, consider saving them to use in a future project like this one….or maybe spend a bit of time driving around the evening before garbage pickup….someone else's renovation could be your treasure trove!
Happy creating!
Mischele