by:Sally Meadows
When my kids were growing up, one of their favorite outings in the summer was to walk down to the little man-made lake near our house. There we enjoyed the cool breeze, walked on the boardwalk, collected rocks, skipped stones, and fed the ducks. It was delightful to have this lovely place to meander around so close to our house.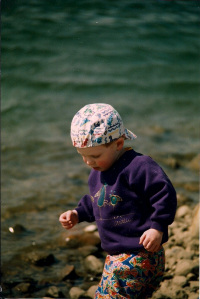 Now that my kids are older, I still walk down by our little lake. Some days I go alone, and at other times, with my husband. As the years have passed, the population of wildlife has grown: from spring to fall, there is always something to see.
Walking this pathway alone or with another adult allows me to keep my focus on what's in front of me, as I no longer have to worry about keeping my kids safe and engaged. I can allow myself to slow down and really take in God's wonderful creation.

Last year, I had the pleasure of watching the dynamics amongst a family of grebes (a diving water bird). This year I have been fascinated with the interactions between and within mallard duck families and the resident muskrats. I have witnessed the loving care of the parents for their babies; young ones testing out their independence; fights over territories and food; and sadly, the death of a little one. I have been so inspired by what I have seen that I am planning on writing two children's picture books that explore the drama I have seen unfold before my eyes that so parallels what we experience as humans.
I was forced to slow down my life over the last two years because of health issues. I am grateful for the rest the Lord has given me; slowing down has given me the opportunity to see things I might not have otherwise.
My friends, I encourage you not to wait as I did until circumstances force you to make a change. Grab a friend or your spouse – or go alone – and find those moments that will enrich your spirit and your life. Take time exploring a new walking trail. Go on a photo safari and capture what you see. Indulge in a new flavor of ice cream. Try out a new recipe. Browse a store you've never been to before. Sit and watch an ant colony. Visit a museum without the distractions of kids. Finger paint. Let your creativity flow.
Take time for yourself, and to nurture your adult relationships, and you will be a better spouse, mother, and friend.
 I promise.
Sally Meadows is a singer/songwriter and freelance writer from Saskatchewan, Canada. She is also a Compassion Canada Ambassador. Sally has been shortlisted twice for a Canadian national Word Award in the category "song lyrics� for songs from her two CDs "Turn the Page� and "Red & White�.
 
To connect with Sally, please go to:
Website: Â Â Â Â Â Â Â Â Â Â Â Â Â Â Â Â Â Â Â  http://sallymeadows.com
Facebook:Â Â Â Â Â Â Â Â Â Â Â Â Â Â Â Â Â  https://www.facebook.com/SallyMeadowsMusic
YouTube Channel:Â Â Â  http://www.youtube.com/SallyMeadowsMusic
Compassion page:Â Â Â Â  https://compassion.ca/ambassador/sallymeadows
Email:Â Â Â Â Â Â Â Â Â Â Â Â Â Â Â Â Â Â Â Â Â Â Â Â Â  [email protected]
Twitter:Â Â Â Â Â Â Â Â Â Â Â Â Â Â Â Â Â Â Â Â Â  @SallyMeadows