I almost died – or could have.
As I headed north into rural Ontario, Canada, I thought about how wonderful the weekend had been at my daughter's – lots of fun with my two grandchildren; crawling on the floor with them; singing songs; reading bedtime stories and having meals together. What a blessing!
It was time to head north, back to my husband whom I had neglected for a few days.
Anxious to get home in good time I wondered if I could take a shorter route. I stopped in at the gas station to fill up and ask if they had heard any complaints about the shorter northern route. The attendant assured me that he had heard of no problems.
By this time the snow on the road had started to melt and felt slushy under my tires.
Thanking the man for the gas and advice I decided to take the northern winding route.
I pray a lot in the car. I sing praise music. I sometimes speak in the Spirit.
This day was no exception. I started up the winding road. As I drove along I sang and prayed. Gradually I could feel the slush on the road begin to get crunchy under the tires. I slowed down. I saw the temperature gauge dip below freezing. This didn't look good.
The Glamorgan Road is narrow with many curves and hills. But today I felt confident. Too confident. As I turned a bend in the road I saw that not only did it dip sharply, it curved to the left. I touched the brakes. (Bad idea!)
I felt the icy crunchy slush hit my tires on the left. My car veered all the way into the left lane going down that hill.
Suddenly I felt the wheel turn back to the right lane and straighten up. I don't remember making that maneuver at all. In the split second for me to realize that I had been in trouble I found myself back in the right lane heading down the hill. No traffic had approached from the north either.
Praising God and slowing down I realized that He had taken over the wheel. He had landed me back in the right lane.
I had no fear. I knew He was there. He holds the wheel. (click to tweet)
I did tell myself to take more care as I continued the drive back home wrapped in His love, protection and peace.
Prayer:
Thank You, Lord for being there with me. Thank You for watching over me and taking the wheel – I like it when You are in control. In Jesus' name. AMEN.
Scripture:
Behold, I am the Lord, the God of all flesh. Is anything too hard for me (Jeremiah 32:27, NIV)?
Janis Cox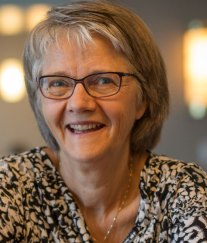 In 2001, Janis gave her life to Christ. She started journaling as a way to organize her thoughts, feelings, and prayers. She is a member of two cross-Canada Christian writers' groups, The Word Guild and Inscribe Christian Writers Fellowship.
In 2012 she published an award-winning children's book Tadeo Turtle. She podcasts on Hope Stream Radio, an Internet radio station. Her talk Growing Through God's Word can be heard each Tuesday.
Janis loves tell others about what God has done and is doing in her life.
Janis can be reached on her website, Growing Through God's Word and on Facebook, Pinterest and Twitter.
Please join her at Word of God Speak Facebook Group to learn more about memorizing Scripture through art. Please click to get a Free Ebook, Living Life – One Word at a Time.