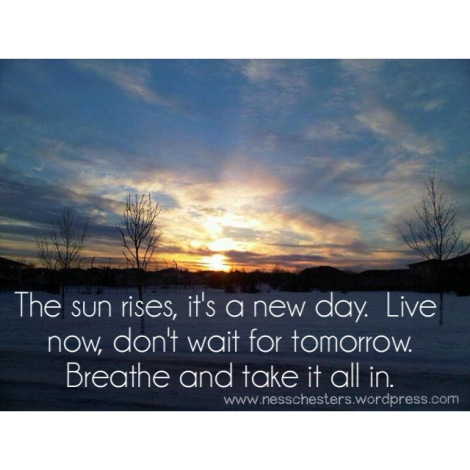 Dear Vanessa,
I have had horrible news a close friend to me has been diagnosed with terminal cancer.   I am at a loss, she is a mother, a wife, a sister, a friend.   I feel like I can't breathe, and do not understand the why…  Part of me feels like, how did I get so lucky? And then the other part is breaking.   God why?
Lost & Broken
Dearest Lost & Broken,
We understand.   All of us, at some moment in our lives, have been in a place where our breath has been taken away.    In those moments, we hope that things would change or we could go back to a place where we didn't feel the hurt.
This is a broken world, but we can be restored through love, hope and joy… And Him.
We are not meant to understand the "why's", but I do believe we are meant to experience these moments in our lives.   They build us, they help us realize the love we have deep inside for a friend, a family member, and these moments give us hope for the better.
Many years ago I read a book by Viktor E. Frankl, Man's Search for Meaning.  The book provides a snapshot of the experiences of this amazing holocaust survivor.    His perspective in the pain, I am amazed by.
He says, "When we are no longer able to change a situation, we are challenged to change ourselves."
We cannot control what happens in this life, all we can control is how we respond.  I am reminded of this daily. Instead of fear I choose inversely. For example
The child who has to endure another chemo treatment.
Response:I can support the family through prayer, and provide a meal to help ease their pain.
The mother who doesn't know how long she will be here.
Response:Be a listening ear, give my heart to her and pray.
The friend that just lost their job.
Response:Be supportive and  loving, and give where I can.  And Pray. Always pray.
Children a world away that live every day without clean water.
Response:Ask myself, can I spare $40 a month?  Can I sponsor this child? Pray for sunshine for this child.
The mother, father, father-in-law, or mother-in-law that we love so much, are aging and changing. The inevitable weight heavily on my heart.
Response:Pick up the phone, extend yourself, help where you can, live and love fully…  and pray.
Personally balancing family and life demands, and feelings of helplessness.
Response:Pray for prioritization, refocus efforts, pause and breathe.  PRAY!
God is there listening to us.    Waiting - wanting us to breathe and pray.
We are broken people living in a broken world.    This is not our home and we are promised that someday we will have a life everlasting without pain.   But while we are here, remembering to focus on the sunshine and find the love in places where it seems so dark can be helpful and a comfort.
We are told implicitly not to worry and to cast all of our worried on the Lord.    It is easier said than done, I know in this moment of uncertainty and pain.   But remember He is waiting, wanting you to come to Him.  Lift up your worries my beautiful friend.  He will make straight the way.
Matthew 6:25-27 "Therefore I tell you, do not be anxious about your life, what you will eat or what you will drink, nor about your body, what you will put on. Is not life more than food, and the body more than clothing? Look at the birds of the air: they neither sow, nor reap, nor gather into barns, and yet your heavenly Father feeds them. Are you not of more value than they? And which of you by being anxious can add a single hour to his span of life?
Dear Lord God,
I feel the pain in this world, the hurt, and your people crying out.   Please lift them up, heal them, bring them closer to You.  Teach us to rely on you in all things, give us hope when we feel like we have nothing left.  Restore us Lord and protect us, let us hear only your voice in the painful moments.   I pray for this in Jesus Name Amen.
May you be blessed my friend, take one step at a time.
Luv Vanessa
Are you feeling like you have nothing left or have some encouraging words for our readers?  Consider leaving a comment.
You can also contact Vanessa at [email protected] if you have feedback, a comment or a question for her.