Why Should We Pray When God Already Has the Plan?
Someone asked the other day, "Why should I ask or expect God to answer my prayers if He is going to do what He has planned for me already?"
I mulled that question around for quite a while. Then I drew a picture.
When I first became a follower of Jesus I wanted a closer relationship with Him. This is how I saw myself in relationship with God.
I started to study scripture and pray. I prayed for Jesus to teach me so I could be closer to Him.
This is what I wanted.
What is prayer to me?
Prayer is a vehicle of drawing us closer to God. We pray in the name of Jesus because He is our Intercessor – our gateway to the Father. He opened the door for us. The Holy Spirit will prompt us to pray for others, to show us how to help others and to open us to comfort others.
God wants our prayers.
Through prayers we not only talk to God (which is very important) but we LISTEN to Him too. God speaks to us through His Word, in prayer and through circumstances and people. (and lots of other ways, too)
God has a plan BUT we are part of that plan. This is why we pray. (tweet this)
When we are walking in His will He will hear and answer our plan. Read 1 John 5:14
This is the confidence we have in approaching God: that if we ask anything according to his will, he hears us.
There are 3 answers to prayer:
Yes
No
Maybe or Wait
Since prayer is a conversation you can open up that conversation at any time to understand more of God, of you, and of your circumstances.
Prayer is a way to grow.
The more you do it, the better you get. God teaches us how to pray.
One day Jesus was praying in a certain place. When he finished, one of his disciples said to him, "Lord, teach us to pray, just as John taught his disciples (Luke 11:1, NIV)."
Why is prayer important?
I am sure you can come up with many reasons too. But here are four of mine.
The Bible says it's important.
Jesus prayed. If Jesus knew it was important then we had better make it our priority.
The apostle Paul talked about prayer and prayed through all his letters.
Prayer isn't to get what we want. Prayer is communication with God – to open our hearts to Him.
How Can I Pray?
You don't need a pattern. You can just talk to God at any time, any place. But sometimes a pattern can keep me focused.
I think one of the easiest prayer patterns to learn and put into practice is the acronym ACTS.
A – Adoration: We forget (at least I do) to tell God how much we love Him. You can sing this part of your prayer.
C – Confession: This sounds gruesome but it lets us see ourselves as God sees us. Clear the slate and ask for forgiveness.
T – Thankfulness: Another biggie. Being thankful for little things is so important. Start looking at every moment of your life as a gift from God.
S – Supplication: A big word but what is means is supply our needs and the needs of others. This is the asking part. Just ask. Then listen, God will answer.
Remember that God's Plan includes us. This is why we pray. (tweet this)
I hope you open your heart to getting to know God more through prayer.
I am open to conversations at any time at Janis. Or you can reach me on my website. www.janiscox.com
Janis Cox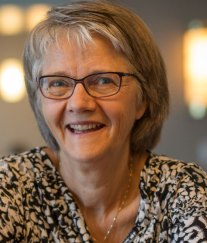 In 2001, Janis gave her life to Christ. She started journaling as a way to organize her thoughts, feelings, and prayers. She is a member of two cross-Canada Christian writers' groups, The Word Guild and Inscribe Christian Writers Fellowship.
In 2012 she published an award-winning children's book Tadeo Turtle. She podcasts on Hope Stream Radio, an Internet radio station. Her talk Growing Through God's Word can be heard each Tuesday.
Janis loves tell others about what God has done and is doing in her life.
Janis can be reached on her website, Growing Through God's Word and on Facebook, Pinterest and Twitter.
Please join her at Word of God Speak Facebook Group to learn more about memorizing Scripture through art.
Please click to get 2 Free Books 
Living Life – One Word at a Time.
5 Ways God Changed Me. He Can Change You, Too.