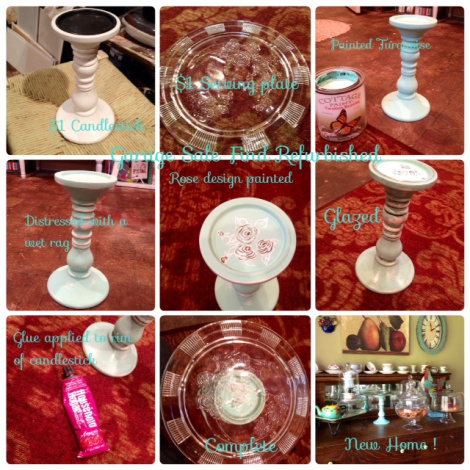 Garage Sale Finds Refurbished
Summer is a time for great garage sale finds! Many towns do community wide garage sales where you can easily shop from one to the next without using a ton of gas. My town recently had their community garage sale where my daughter and I found most of her furniture needs for her new apartment, they all need some paint and refurbishing, but they are solid pieces that fit the budget! Of coarse, I found a couple fun finds too…
Which led me to the idea for this post, a step by step fun find craft/refurbish that anyone can do. As the photo shows, I came across a candlestick holder and a glass serving plate, each for $1.00. Immediately I thought the two would make a great marriage to become a cake stand, can't ever have enough of those!
Steps:
Clean items.
Paint the candlestick holder with two coats of Cottage Paint (clay base furniture paint), let dry.
Distress with a wet rag to reveal bits of the original white base.
Paint a simple rose design on top of candlestick holder that mimics the flowers in the glass serving plate design, let it dry.
Apply a light Glaze layer of Coffee Bean color glaze, allowing it to pool in the crevices, wiping back the rest of the surface, let it dry.
I sealed it with a satin wax, but it's not necessary, the glaze will act as a light seal coat.
Apply the clear Household Hogar glue to the rim of the candlestick holder in an even layer, place the center of the glass serving plate on top, let it set-up to dry. Tips: you can measure and place tape to know where to place the glass serving plate. The glue is clear and pliable for a while, so you can easily adjust and wipe away any excess glue.
Let it set up for 24 hours before use.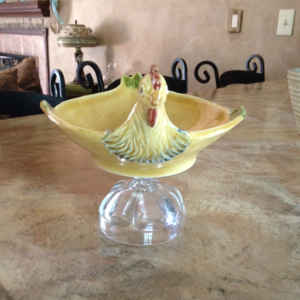 Here is a photo of a chicken bowl glued to an upside down ice cream dish, this is super easy, no painting required, but FUN results!
So next time your are at a garage sale put on your creative thinking cap and look for fun finds that can become a totally new thing. Remember, that is what God does with us when we commit our lives to Him. HE takes us with our dirt and flaws and creates a new person in a step by step process called sanctification !
Abundant Creative Blessings,
Heidi Wilt