Just one day before Thanksgiving, and if you still need some ideas for your table that are easy, tasty and attractive, read on.  Both these recipes are for sides since I'm assuming you have the turkey, or main dish, covered.
I usually make a cranberry-orange relish for Thanksgiving, using the classic recipe found on the back of the Ocean Spray cranberry bags. But this year, I wanted to try something different; so when I found this Cranberry sauce recipe on the Kitchen Daily blog, I was delighted asI have never made a "cooked" sauce before. With an investment of only 20 minutes and a little stirring, you can have a bright and delicious side dish!
Cranberry Sauce with Fuji Apples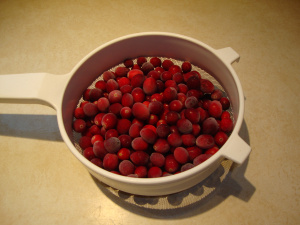 Diff: Easy Time: 20-25 min. Serves: 12
Ingredients
1 12 oz. bag fresh cranberries
1 Fuji apple, peeled and cut into ½-inch dice
1 cup sugar
¾ cup water
Directions
In a medium saucepan, combine the cranberries with the apple, sugar and water. Bring to a boil and cook over moderately high heat, stirring frequently until the cranberries are completely broken down and the sauce is very thick, about 15-20 minutes.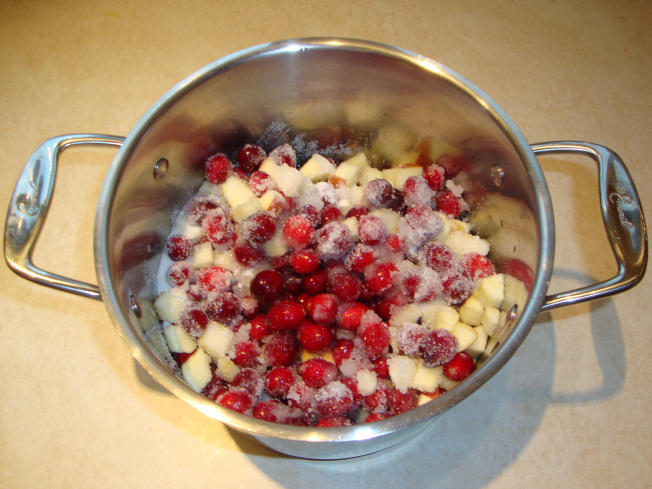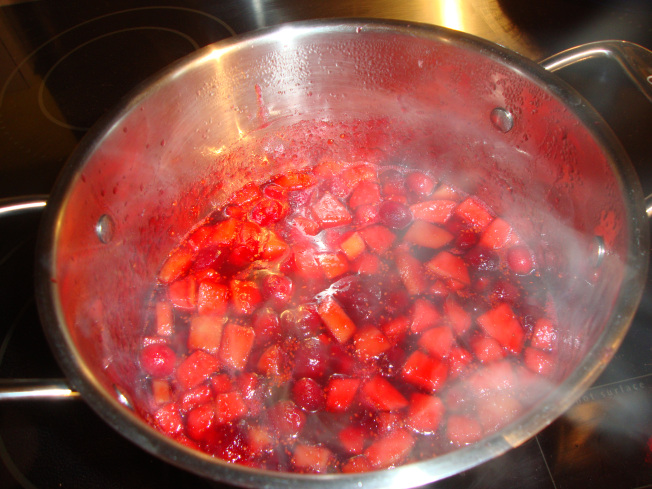 Scrape the cranberry sauce into a serving bowl and refrigerate until chilled, about 3 – 4 hours.
Or, if you're brave, put sauce into a 8 x 4 loaf pan lined with plastic wrap that has been sprayed with Pam. When chilled, invert onto a rectangular serving dish.
Before serving, garnish with fresh cranberries and rosemary sprigs, if desired.  (I just love having a big old rosemary plant in my front window so I can just cut off a sprig anytime!)

Whipped Sweet Potatoes and Bananas with Honey
This next recipe is also a departure from my usual routine. I have, for years, made my mother's Sweet Potato Souffle, but this year, again, I wanted to try something different. When I saw this unusual combination of sweet potatoes and bananas created by Tyler Florence of the Food Network, I just had to try it. If pressed for time, (and who isn't at this point?), this recipe can be made in three steps; the potatoes and bananas can be roasted ahead of time, then when you have a few minutes, puree these together in a food processor with the honey and one stick of butter. The topping also can be made ahead, put in a container and placed on top just before putting the potato mixture into the oven.
Note: I would recommend using only 2 bananas for a more subtle banana flavor.
Diff: Easy Prep Time: 20 min Cook Time: 1 hr 25 min Serves: 10
Ingredients
5 medium sweet potatoes, scrubbed well
2-4 bananas, unpeeled
1 c. (2 sticks) unsalted butter, room temperature
¼ c. honey
Kosher salt
½ c. all purpose flour
¾ c. dark brown sugar
1 ½ c. pecans, chopped
Directions
Preheat oven to 375 F.  Prick potatoes all over with a fork,  then put them in a roasting pan and roast for 45 min.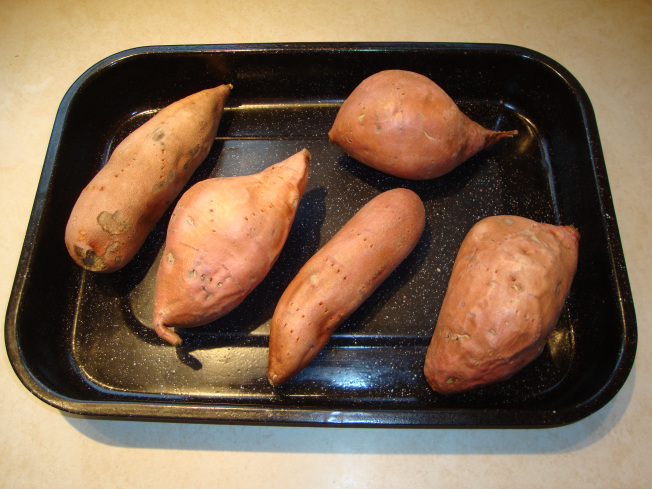 Add bananas to pan and continue roasting for 15-20 minutes, until both the bananas and the potatoes are very soft! (Very important: Make sure they're soft and completely cooked!  Also, if you've never cooked bananas before, the skins will turn black!)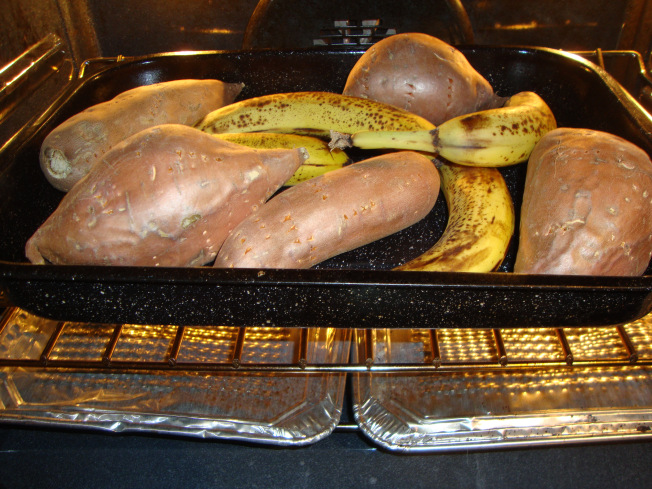 Remove pan from oven but leave oven on.

When potatoes are cool enough to handle, scoop out the flesh into bowl of a food processor. Add the peeled bananas and one stick of butter and honey.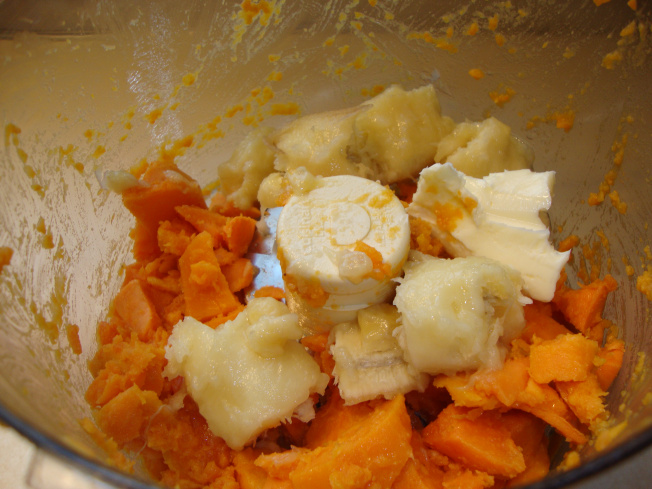 Season with salt and process until well-combined.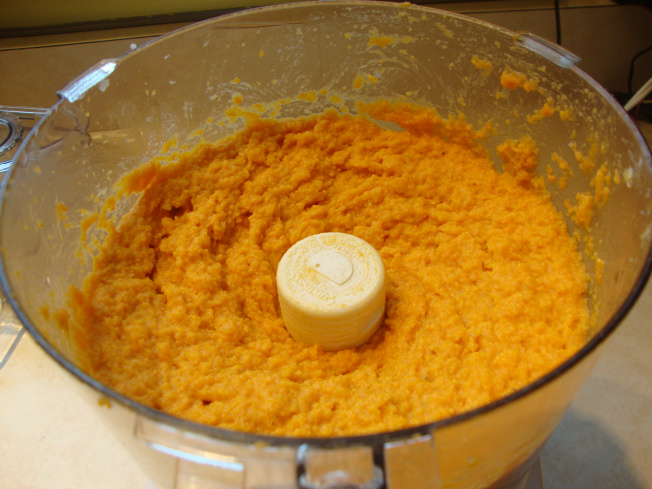 Spoon into a oven-proof serving bowl and smooth out the top.
In a separate mixing bowl, using your fingers or a flat wooden spoon, rub together the remaining stick of butter, brown sugar, flour and pecans until the mixture is consistency of coarse crumbs.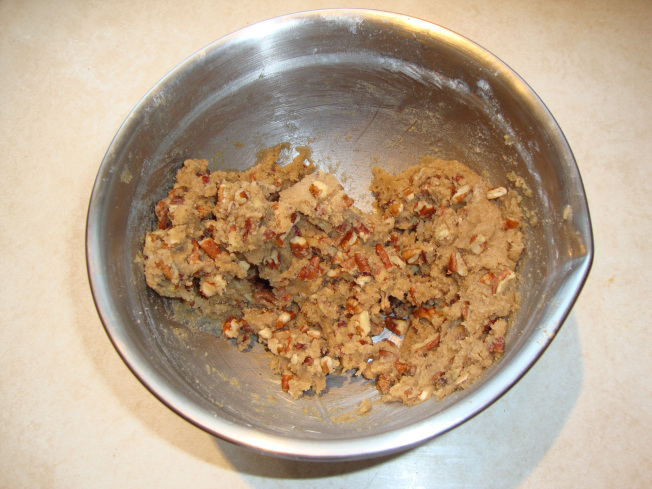 Sprinkle crumb mixture over the sweet potatoes and return to oven.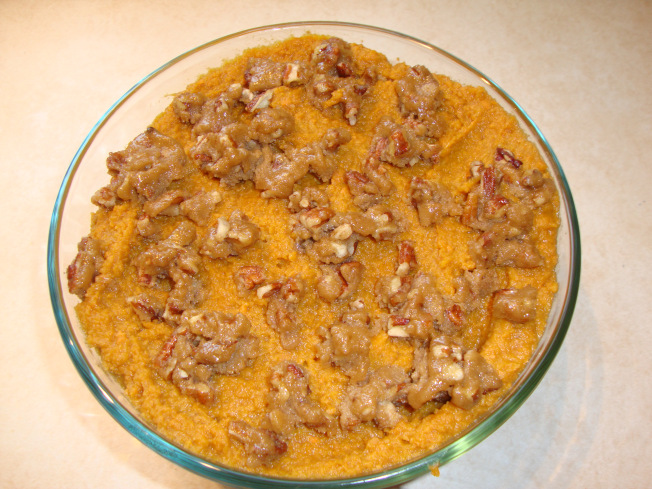 Cook for 20 minutes, or until the crumbs are golden.  (You can see I had a little extra just for me!)  Serve hot.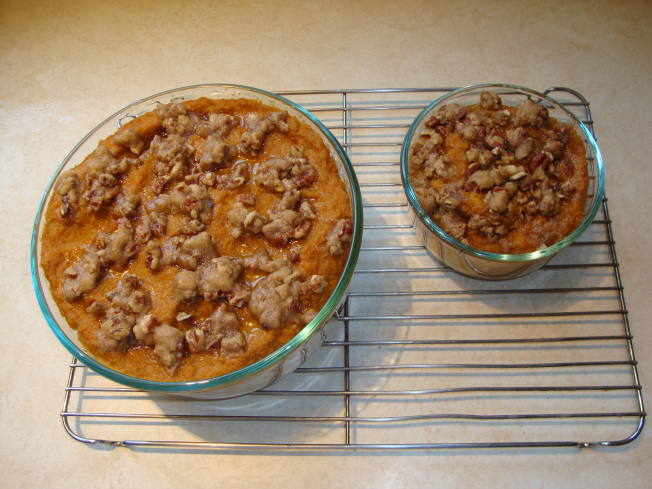 I hope that one of these recipes make it onto your holiday table, and are enjoyed by all!
Until next week, wishing you and all your family a wonderful and happy Thanksgiving full of the love and comforts that only family can bring, all of God's blessings, good health, and happy eating!
Blessings and Smiles,
Maria