This has become my new favorite vegetarian recipe!  If you close your eyes and take a bite from this dish, with it's thickly sliced eggplant covered with the rich tomato sauce and a sprinkle of cheese, you can almost imagine you're eating steak or a thick, toothy pasta.  OMG, this is that good!  
There are two different ways you can approach this recipe.  You can either choose to chop and seed the tomatoes yourself, or you can use diced tomatoes from a can.  The recipe calls for 3 pounds of chopped tomatoes, but since I like a lot of red sauce, I found that wasn't nearly enough for me!  So I added an additional 15 oz. can of diced tomatoes.  If you don't do this, I would recommend using at least a pound or two of additional chopped tomatoes.  Make this recipe your own and play with it!  That's the fun of cooking! 
I have given this an intermediate rating due to the many ingredients and the additional step of broiling the eggplant.  So, without further ado, here's the recipe! 
Diff:  Inter  Prep:  40 min     Cook:  1 hr. 13 min   Serves: 6
Ingredients:
3-5# chopped and seeded tomatoes
1 t. extra virgin olive oil
¼ c. finely chopped celery
3 T. finely chopped carrot
3 T. finely chopped onion
¾ t. sea salt, divided
1 bay leaf
1T. thyme
½ c. chopped basil, divided
2 ½ pounds eggplant
½-¾  c. Parmesan and/or Asiago cheese
Cooking spray or olive oil
Black Pepper
Directions:
Cook tomatoes in a medium to large saucepan over medium heat for 20 minutes, stirring frequently.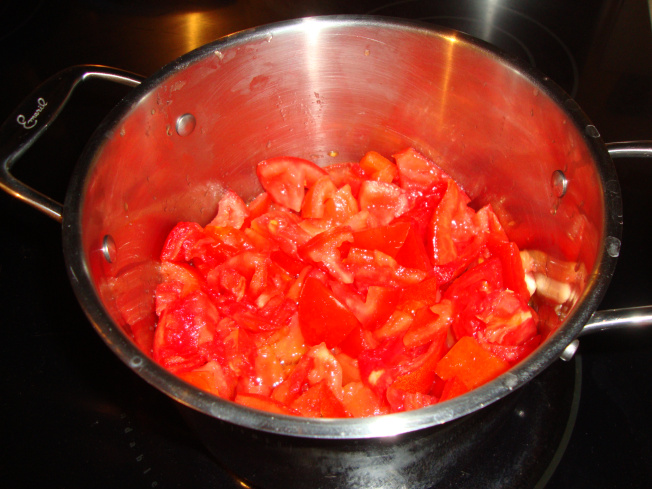 Place tomatoes in a food processor and pulse five times or puree in pot using an immersion blender, leaving a "chunky" puree.  Set aside.  
Heat oil in pan over medium-high heat.  Add celery, carrot and onions and sauté for 2 minutes.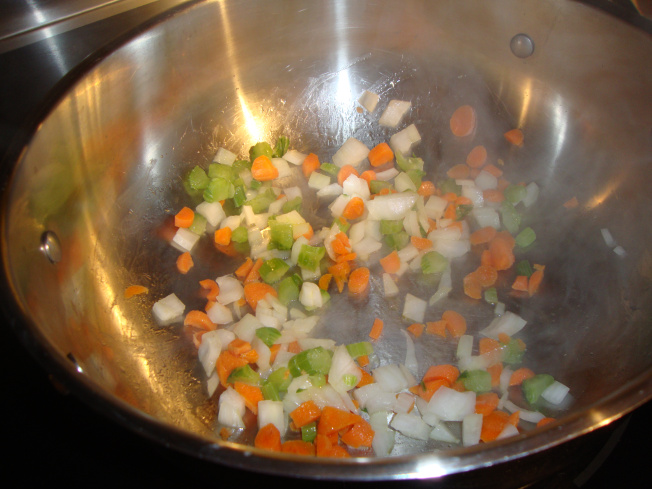 Add pureed tomatoes, ½ t. salt, bay leaf, thyme and ¼ c. basil.  Reduce heat to medium-low and cook for 10 minutes or until sauce is slightly thick.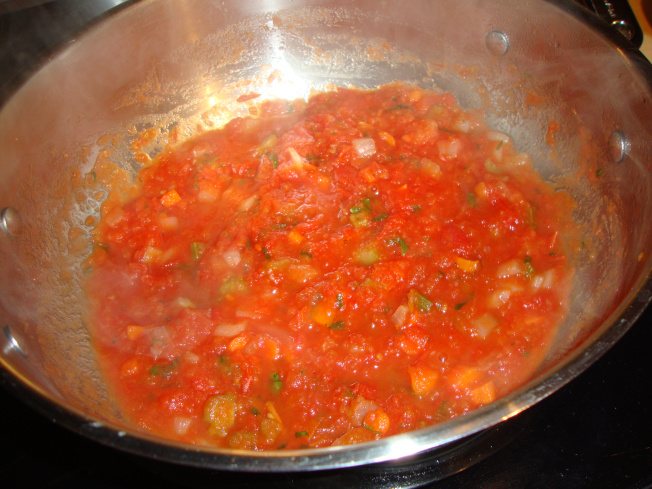 Preheat broiler.

Wash eggplants, and remove tough ends.  Using a vegetable peeler, cut strips down eggplant, leaving narrow strips about 1 inch apart. 

Cut eggplant into ½ inch thick slices.  Place on a large baking pan coated with cooking spray or olive oil.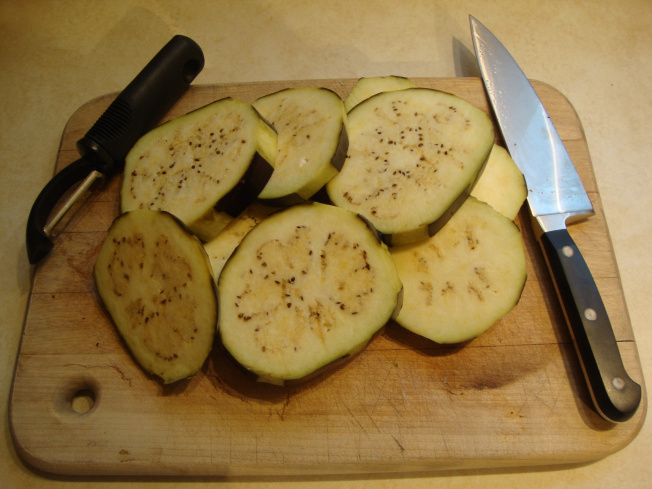 Coat slices with cooking spray or oil; sprinkle with sea salt and pepper. 

Broil slice for 5 minutes on each side.  Remove from oven.

Reduce heat to 375°.

Spread ¾-1 c. of sauce in bottom of 2-3 qt. casserole dish coated lightly with olive oil.  Arrange 1/3 of eggplant slices on top of sauce, overlapping slices if you choose.  Sprinkle with 1/3 of remaining herbs, and top with ¾-1 c. of sauce and ¼ c. of cheese*.  Repeat layers twice.  Sprinkle top with cheese.  (*If you want a lower fat dish, only put ¼ c. cheese on top.)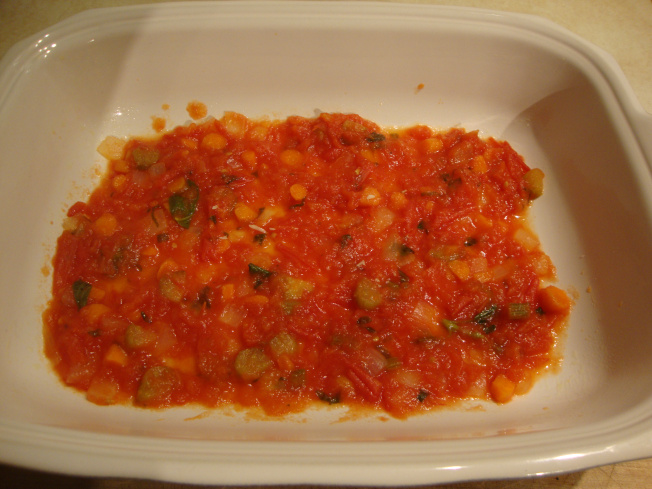 Cover and bake at 375° for 15 minutes.  Uncover and bake for an additional 15 minutes or until eggplant is tender and cheese is lightly browned.  Remove from oven and let stand for 10 minutes.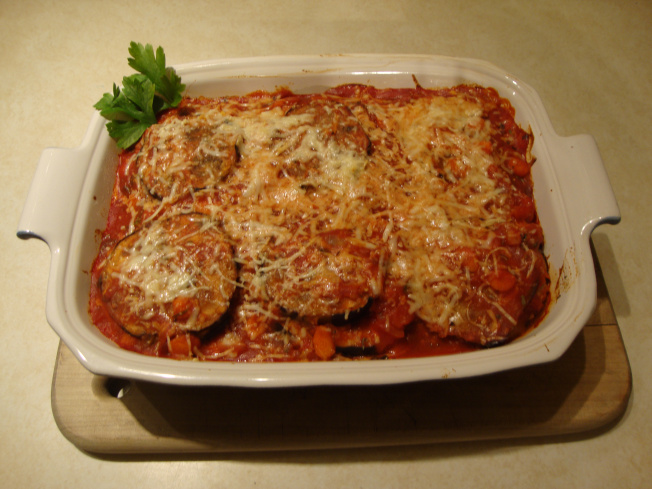 Isn't that just the yummiest dish you've ever seen?  Kind of reminds me of lasagna; and I just want to dig right into it as soon as it comes out of the oven! 
Hearty and healthy, I hope this will become one of your family favorites too!  Enjoy!
Until next week, wishing you all of God's blessings, good health and happy eating!
Smiles, Maria