This delicious, slow cooker recipe is a cool day delight!  Encompassing some of autumn's favorite flavors, it is easy to put together, and thanks to a slow cooker; effortless to cook!  The rich flavors of sweet potatoes and apples meld seamlessly with the sweetness of maple and ginger, and the spices give it an almost pie-like flavor.  This is a wonderful, warming recipe that you will want to return to again and again.
Diff:  Easy    Prep:  15 min.    Cook:  4 hrs.   Serves:  6-8
Ingredients:
1 ½ # sweet potatoes, peeled & cut into bite-sized pieces (about 5 cups)
2 medium tart cooking apples, chopped
¼ c. dried cranberries
1 ½ t. grated fresh ginger
½ t. kosher salt
1/8 t. pepper
½ t. cinnamon
¼ t. nutmeg
½ c. water
¼ c. maple syrup
Directions:
In a slow cooker, combine all ingredients except for water and syrup.
Mix syrup with water and pour over everything in slow cooker.
Cover and cook on low for 3-4 hours or on high for 1 ½ hours.
Enjoy!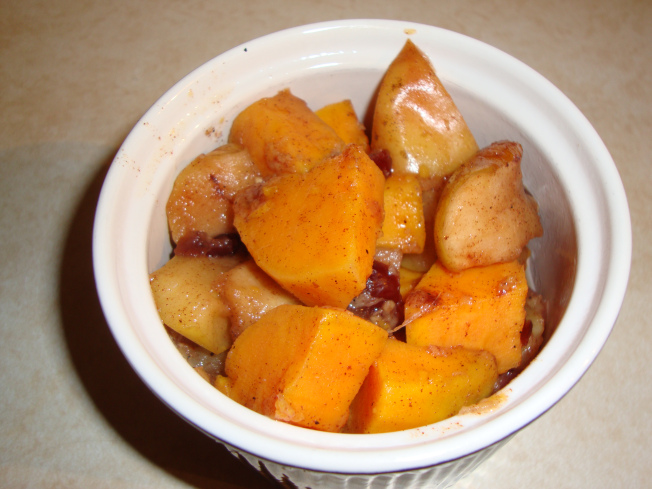 This is an excellent recipe to take to a potluck.  This could also serve as a nice side dish on a Thanksgiving table, as it's flavors would complement many other dishes.  As well, this could be a lovely dessert served alone or with whipped cream.  I hope you and your family enjoy this dish, as my family has.
Until next week, wishing you all of God's blessings, good health and good eating!
Smiles, Maria