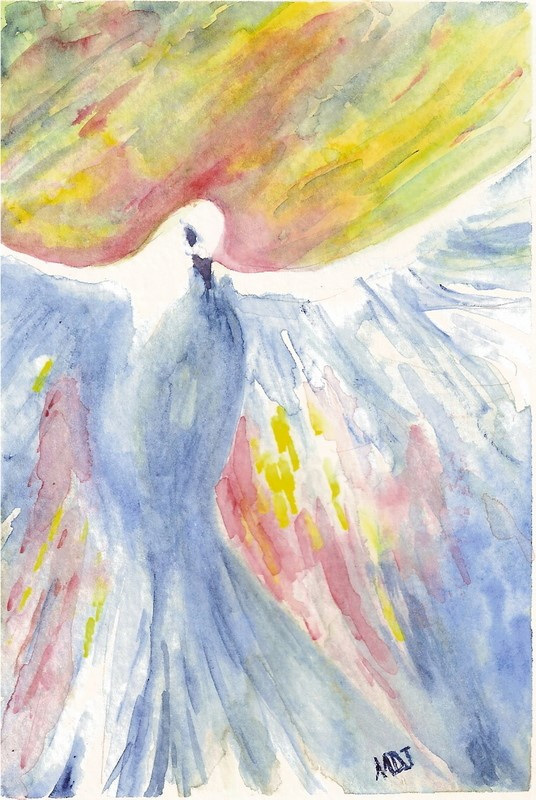 (Artwork by Michael Johnson, 2014)
By Glynda Kinsland Johnson
The prodigal son is returning to his father without any hope that he can be received back into the family, but with only a prayer that he will be treated as a hired servant. He has squandered his inheritance; he has disgraced his father's name; he is hungry, filthy, broken and desperate.
"But while he was still a long way off, his father saw him and was filled with compassion for him…" (Luke 5: 20, NIV)
Is the father waiting and watching because word has come from the village that his weary son is slowly making his way home; or is the older man just seeking a bit of shade and cool breeze when he looks up and recognizes his son from afar?  The Bible isn't specific on this, but we do know that the father is filled with joy beyond measure at the prodigal son's return.
This man of means breaks with tradition, throws dignity to the wind, and runs to greet his wayward child.  The prodigal attempts to ask forgiveness; the father grabs his son by the neck and kisses him before the rehearsed apology is complete.  No notice is given to the filth of the world that the boy carries on his clothes and body. No mention is made of the son's past mistakes. The father only knows delight.  "Bring him the best robe…a ring…sandals for his feet," the father orders the servants.  "Kill the fatted calf. We will celebrate my son's return."
"For this my son was dead, and is alive again; he was lost, and is found…" (Luke 15:24, NIV)
How much greater must our Heavenly Father's   joy be when we, as wayward sinners, return to him?  God  has given us the ability to choose our direction. We often walk out of his will and find ourselves in dire circumstances brought on by our own bad decisions. It is hard to believe that he would welcome us back when the imprint left by our immorality and the offensive stench of our sins assault even our senses as we approach the throne of God.  When we lay our broken, weary lives at the feet of the perfect Father,   the contrast between sinful and sinless could not be more obvious.  Our hearts are heavy, and we ask only for forgiveness, nothing more.
Yet, our merciful God rushes to welcome us with open arms. He accepts us as we are.  He covers us in the robe of righteousness, the garment of salvation, dearly paid for by the blood of our Lord Jesus Christ.  We are authorized to operate on God's behalf through the indwelling of the Holy Spirit, much as the prodigal son could do his father's business when wearing a ring marked with his signet.  We are given provisions for our daily walk… "sandals" for our soul.  We come with nothing but guilt and now, due to the love of a caring and forgiving Father,   we possess all that we need, for we have been given the gift of God's sanctifying grace.
"…so they began to celebrate." (Luke 15:24, NIV)
We come today with happy hearts, voices joined in songs of praise, and souls overflowing with gratitude towards you, our Heavenly Father.  Our thankfulness is rooted in an awareness of our brokenness. We rejoice that you have received us so freely. It is only by your redemptive love and our acceptance of the gift of your transforming grace that the binding ropes of the evil one are broken, and we are liberated from the burden of sin. May we remember that the sacrifice of your beloved Son set us free to eat at your table and dance to your glory. 
Praise God, praise God, and praise God!  
 "But because of his great love for us, God, who is rich in mercy, made us alive with Christ even when we were dead in transgressions—it is by grace you have been saved." (Ephesians 2:4-5, NIV)
Amen.
Over the Top Chocolate Chip Cookies
INGREDIENTS
3 cups all-purpose flour
1 teaspoon baking soda
1/2 teaspoon salt
1 cup (2 sticks)butter (unsalted)
1 box brown sugar
2 teaspoon vanilla extract
2large eggs
18 oz. chocolate chips (6 oz. milk, 6 oz. semi-sweet, 6 oz. dark)
1 cup chopped nuts (if desired)
INSTRUCTIONS
PREHEAT oven to 350° F.
COMBINE flour, baking soda and salt in small bowl. Beat butter, brown sugar and vanilla extract in large mixer bowl until creamy. Add eggs, one at a time, beating well after each addition. Gradually beat in flour mixture. Stir in morsels and nuts. Drop by large rounded spoonfuls onto ungreased baking sheet.
BAKE for 11-14 minutes or until golden brown. If you aren't making huge cookies, use the lesser baking time. Cool on baking sheets for 2 minutes; remove to wire racks to cool completely. Makes 30-36 large cookies.
This recipe came to my kitchen from my daughter's father-in-law.  Thanks, John!