This article is dedicated to my good friend Maria!
I hate to admit it but I have been working on such large projects that I tend to overlook the little things like how to hang a shelf.
Things you will need:
Small level                   screws/wall anchors                Drill
Pencil                          Brackets                                  Phillips Screw driver
Shelf                            Tape measure                          Hammer
In this article I am going to explain how to hang a couple of different shelves. No matter what; the concept of hanging a shelf is pretty much the same no matter what style it may be.
First you need to decide the height and where you want to place the shelf in the area you have chosen.
Do you want it in the middle?
Off to the left or right?
Will you be hanging it with a picture next to it?
Once you have considered these things, get out your tools and let's go to work.
In this example we are planning on simply hanging a shelf in the middle of the wall. First measure the length of the wall. Divide that measurement in half. This gives you your measurement for where the middle of the shelf will be. Be sure to mark it well with a pencil. Find the middle of your shelf using the same system. I usually mark it on a piece of masking tape I placed on the shelf. Line the two marks up. While holding your shelf up to the wall; mark a couple of reference marks at the top edge of the shelf just to help give you a visual of where the top of your shelf will be placed.

Turn your shelf over. Please see the diagram for how to measure where you need to mark and drill holes for the screws you will hang the shelf with. Measure from the middle of one Eylet to the middle of the other. Take that distance and divide by 2 (Ex. 24" divided by 2 is 12") Measure 12 inches from your middle mark on the wall and make an "X" –do the same for the other side. Now take and measure from the top of your shelf to the top of hole in the eyelet (exp. 2"). From your "X" mark your 2" spot for both sides. Now you are ready to use a long level and make sure that your marks are level with one another. This ensures that your shelf should be level once you have drilled your holes.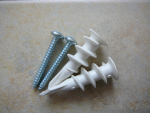 Before you drill, check to see if either of these places are along a stud. Either use a stud finder or a small drill to check. If so you are in luck and will not need the use of a wall anchor. If you do need wall anchors use a drill about the same size diameter, or just a little undersized of the anchor itself. Pre drill your hole then gently tap the anchors in place with your hammer.  Start your screws until they are just about 1/8 of an inch from the wall.
Note: You may have to play
with the depth of the screw till
you get a nice tight fit with your
shelf and the wall.)
Tip: I prefer to use this type of wall anchor.
Then you can drill any smaller size diameter
hole and simply take your screw driver and
screw these in place.
Now hang your shelf on the newly installed screws and you should be all set. Double check that the shelf is level.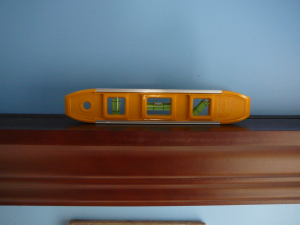 Now you have a functional and a great looking shelf.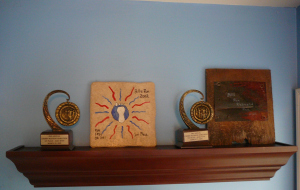 If you have any requests like Maria, please let me know and I will be happy to take you step by step. Please write me at [email protected]
Blessings for your week
Mischele