Thanksgiving is barely a week away and time to start thinking about what you'll be making and how to best organize your time for easy and efficient preparation. Having a plan makes getting ready for the feast so much easier. Once you've determined what family favorites you'll be making, draw up a timeline for what you need to do and when you need to do it by. Make sure whatever can be done ahead of time is done. Chop vegetables for your recipes and store in plastic bags, wash and shine glasses, get out your company china, and make sure you have enough plates and pieces for serving.
Enlist your spouse and children to help with preparations; and if they balk; tell them they're planning on eating Thanksgiving dinner, right? Nuff said! If you have creative or crafty kids, have them create a lovely centerpiece for your table. Perhaps you have a daughter or son that can help in the kitchen? Extra hands, what a blessing!
But what I'd really like to share is this (slightly modified) handy timeline published by the Family Dollar Store. It might prove helpful to the many of you that are trying to do too much during this busy time of year!
TURKEY TROT THANKSGIVING COUNTDOWN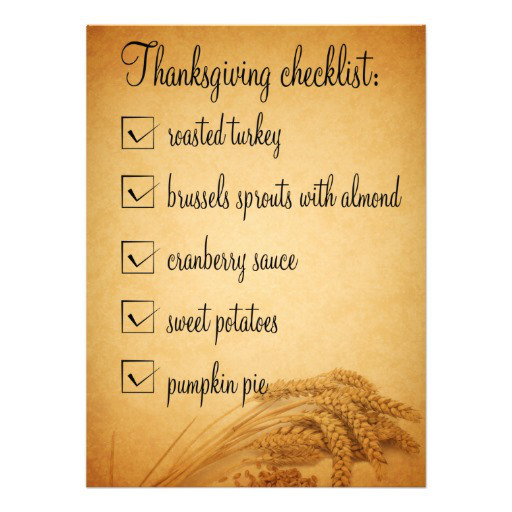 THE WEEK BEFORE
Clean out your fridge to make room for Thanksgiving food

Wash and iron tablecloths and napkins

Organize Serving Platters: Decide which platters will be used for certain dishes, label them if necessary on bottom of dish

Make and freeze side dishes, breads, casseroles or pies
3 DAYS BEFORE
If you have a big bird, start thawing your turkey! (Especially if you intend to brine)
2 DAYS BEFORE
Thaw any frozen pre-made dishes

Clean your home (enlist your kids) starting with the rooms your guests will see first

Take care of the small details like batteries for the remote, replace light bulbs in bathrooms and hallways
DAY BEFORE
Make stuffing and casseroles, then cover and refrigerate until baking tomorrow

Make and refrigerate pies and any other fabulous desserts you have planned

Set your table with your finest china and crystal and don't forget that fabulous centerpiece your kids made! (They did make one, didn't they?)
ON THANKSGIVING
Prepare the meal-cook the turkey, warm the side dishes. Whip cream for pies. Prepare and set out appetizers and snacks.

Use your slowcooker to make an extra side dish, dessert or soup

Enjoy a wonderful meal, prepared with love and shared with the one's you love most. Linger over your pie and appreciate all of God's bounty and all the blessings in your life!
So, with the above in mind, today's offering is going to be one of those make ahead items. These are so simple, don't require any special ingredients, and you can freeze them for up to a month. I made up a batch today, and, wouldn't you know it, one of them disappeared before I was able to put the rest in a freezer bag! Hmmm, I wonder who snatched it? In any case, my thanks to the good folks at the Food Network Magazine for sharing this recipe (which I modified just a little)!
Pumpkin-Parmesan Biscuits
Ingredients:
2 cups all purpose flour, plus more for dusting
1 T. baking powder
1 T. sugar
1 t. kosher salt
¼ t. nutmeg
6 T. grated parmesan cheese
1 stick cold unsalted butter, diced + 1 T. melted butter
½ cup canned pure pumpkin
¼ c. heavy cream or half and half
Diff: Easy      Prep: 30 min
Cook: 20 min     Serves: 11-16
Directions
Preheat oven to 400 degrees F and line baking sheet with parchment. (Frugal me, I reuse my parchment …)
Whisk the flour, baking powder, sugar, salt and nutmeg in a large bowl. Whisk in the parmesan.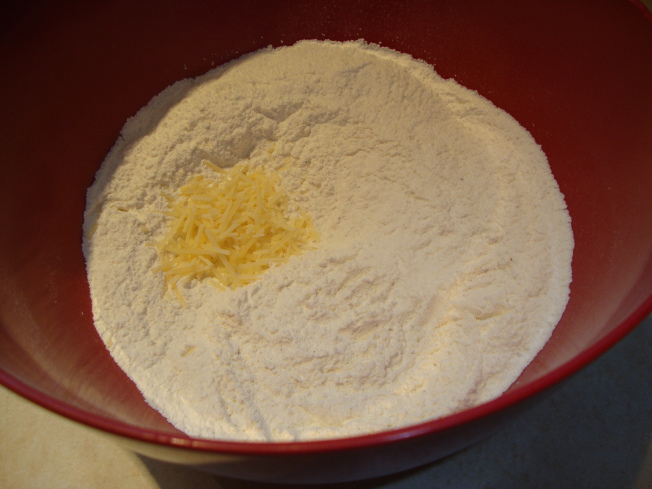 Add the diced butter and work it in with either a pastry blender or your fingertips until mixture resembles coarse crumbs.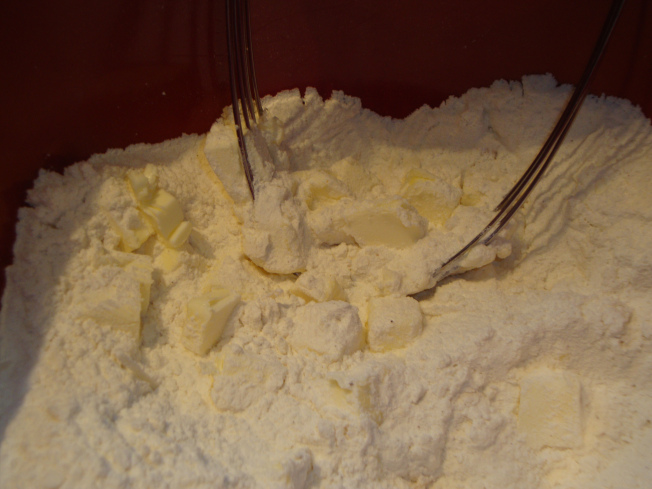 Mix the pumpkin and cream (or half and half) in a small bowl and pour over the flour mixture.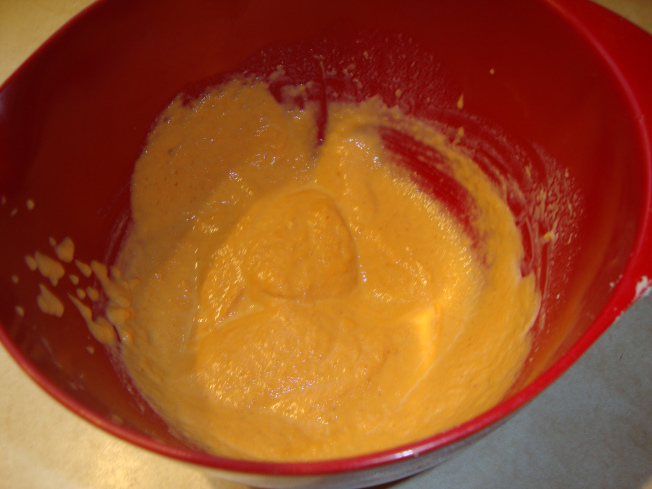 Mix with your hands or with a fork to make a soft dough, making sure all flour is incorporated.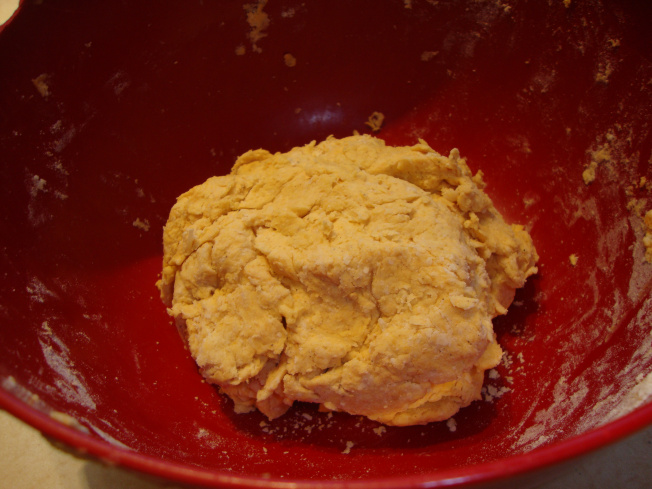 Turn dough out onto a floured surface and roll into a ¾ inch thick rectangle using a floured rolling pin.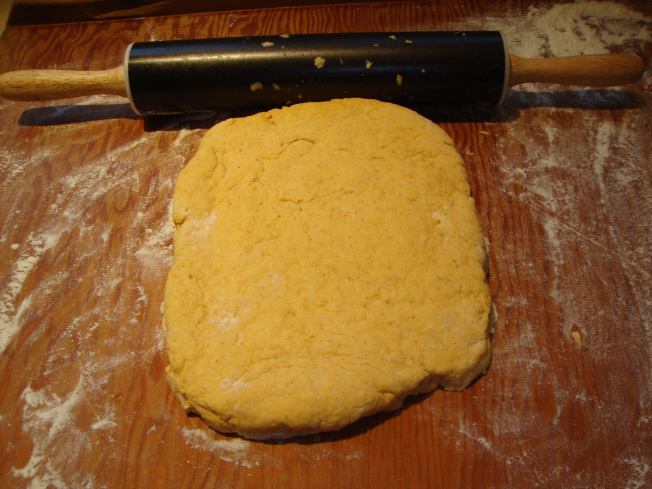 Cut out biscuits using a 2 inch biscuit cutter. You will need to re-roll dough (gently) several times to use it up.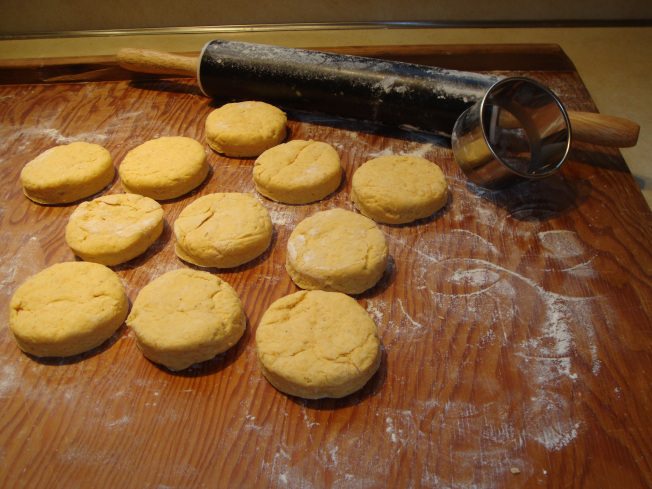 Arrange 2 inches apart on prepared baking sheet. Brush the tops with melted butter and sprinkle with remaining parmesan.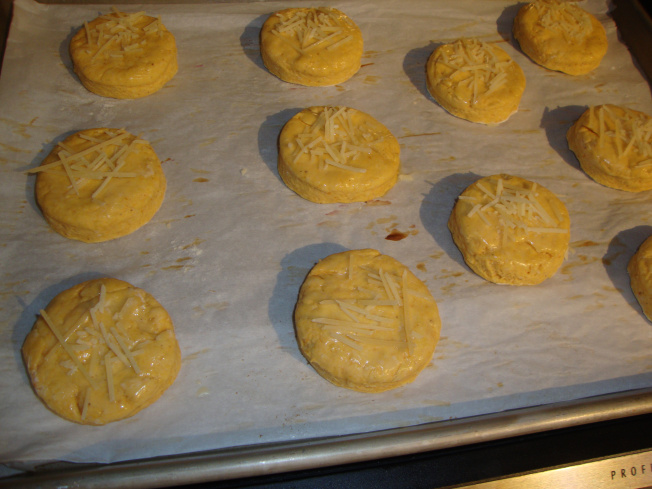 Bake until golden, 15 to 20 minutes. Transfer baking sheet to a rack and let biscuits cool slightly before serving or cool completely and freeze.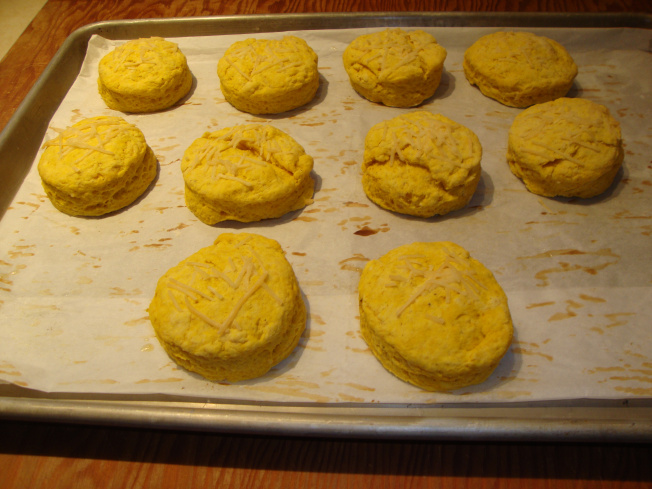 IF MAKING AHEAD: Freeze biscuits in a resealable bag once they have cooled completely. To reheat, arrange on a baking sheet, cover with foil and bake at 350 degrees F until warmed through, about 10 minutes.
Now, I bet you were so sharp that you noticed I only made 11 biscuits from my dough. That's because my biscuit cutter was ½ inch larger than the recipe called for. I would also recommend using the heavy cream rather than the half and half as this makes a more tender biscuit.
I hope you enjoy these biscuits; they're a different twist on the classic. Served warm with butter (and/or honey), they're tender and delicious!
Until next week, don't get frantic, there really is enough time to do it all! (We do manage, somehow, don't we?) Wishing you all of God's blessings, good health and happy eating!
Blessings and smiles,
Maria