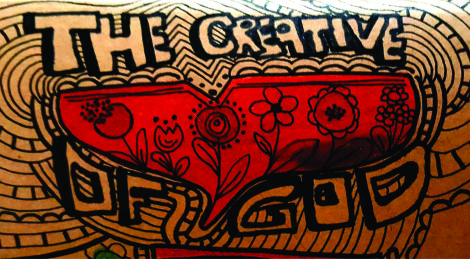 December 1st.
Can you believe it is already here?
With Thanksgiving done, we are officially moving into the Christmas season….or half way through it if you are a retail store😦  Regardless, it is time to start thinking about those holidays in a big way, if you haven't begun already.
And with that thought comes the need to get creative.
Now, I know that not everyone makes their own Christmas presents or bakes cookies, but I'm willing to bet money that each and every person has had to think of a unique gift for the special someone at some point in time in their life. We all have. Maybe it is the person who has everything or the one who needs it. Christmas has a way of getting those creative juices flowing.
Once upon a time, over 2000 years ago, the Creator of the universe got extra creative. He sent a baby to save the world. You can't get any more creative than that. A hero baby. Talk about the perfect gift! Even if you had everything back then, you didn't have that.
This unique gift is actually available every day of the year, not just at Christmas– talk about the gift that keeps on giving. Yet so many have not yet unwrapped it. Could you imagine planning and creating something special right from your heart - Wrapping it all up in a beautiful little package – Something they not only need, but that would satisfy every desire of their hearts forever – and they never unwrap it?
This is, unfortunately, the reality of the world today. Many are walking around holding that unopened gift.
Maybe they don't realize they carry it
Some are just too busy to deal with it at this particular moment
Possibly they think it is not something they wanted or asked for
Others believe the lie that it won't fit very well into what they imagine at this point in time of their life, and would be better opened at a later date
But here's the truth:
There is no better time than right now. This is a one size fits all kind of gift. It will meet you right where you are, cover you no matter your size. Enhance what is already happening in your life, and yes, make it infinitely more beautiful. But you have to actually open it.
This gift was thought about, even agonized over.  It was created especially for you, knowing that it was exactly what you needed.  I would even venture to say that it is what you have always wanted, even if you don't know it right now. Once opened, you will see what you never knew you were missing.
The creative heart of God has given you a gift.
It is unique, beautiful, and a perfect fit.
What do you say you open it up today?
Monday December 5th is the grand opening of a brand new web presence
Creative Faith: Discovering the Art You were Born to Create
This will be a great place to learn how to take your faith to new heights through the exploration of artistic techniques, journaling, and thinking outside the box in our daily life journey. Our Creator is infinitely artistic, and so are you! You have been made in His image, and that creative DNA has been placed inside of you.
Are you using it?
Join me on this Creative Faith journey of exploration into the creative heart of God and what that means for you.
Learn to:
Pray in a colorful way with doodles and key words
Meditate on scripture through painting and collage
Intercede for others through focused art creation
Let go of perfection and love the art inside of you
Be inspired by God's creation and take your journaling to a higher level
Whether you consider yourself an artist or not, you will benefit from the daily practice of creating. Remember: It's not about anyone else – it's about you connecting with your soul [The Creator]
Sign up today for inspiring posts and creative instruction. Both beginners and seasoned creatives will grow from this multi-media experience. And for a limited time, you will receive a free download of  "31 Days of Coloring HOPE".
Sign Me Up!