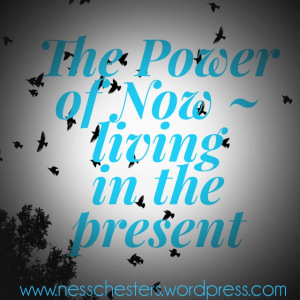 There is so much Power of Living in the Present.
I have heard many people say that they want to live in the present – including me. I have had many circumstances in this life that have taken my breath away and caused me to reflect and re-evaluate.
Time and time again, I am not demonstrating living in the now. But as I catch myself getting caught up in the what ifs, the lists, but I am aware, and I make an adjustment. They say that awareness is the first step. But is it?
We can be keenly aware of what needs to change, but if we don't work at it continually, and do not commit, we can slip back into old patterns.
I have said many times, I cannot control "what" happens (the what is up to God), but I can control the "how". How I choose to respond makes all the difference.
James 4:13 says, "Now listen, you who say, 'Today or tomorrow we will go to this or that city, spend a year there, carry on business and make money.' Why, you do not even know what will happen tomorrow. What is your life? You are a mist that appears for a little while, then vanishes. Instead, you ought to say, 'If it is the Lord's will, we will live and do this or that.' As it is, you boast and brag. All such boasting is evil."'
This is so true, we do not know what will happen tomorrow. All we have is NOW. All we have is the present. I choose to let God lead.
I have also found that if I look ahead too far, that I get overwhelmed of what needs to be accomplished, or the busyness if this life. Instead, I choose NOW. This is a bit of a leap for a Type A personality, perfectionist, planner… But He has refined me.
What can I do right now at this moment?
I choose to not look ahead, but let NOW happen.
I choose to immerse myself in the right now, and take a little pieces at a time. These little pieces are big pieces because they are moments that I will never get back.
I choose not to be overwhelmed with my "TO DO's" and break it down into the NOW.
I choose to listen intently when people are speaking to me right NOW.
I choose to offer a hand or a smile right NOW because it has ripple effects.
I choose not to fear of what is to come.
I choose gratitude, and have been given abundance beyond my wildest dreams.
I choose love, I choose to let go and move on in a positive direction.
I choose to let God lead, He is the navigator of my ship.
Thank-you Lord, you have told me so many times, that tomorrow has enough worries. Thank-you for the moments that have taken my breath away, and the moments that have made me realize that all we have is NOW. Guide me Lord, help me to choose what is important, help me to focus on the NOW. I pray for this in Jesus Name Amen.
Thank-you for popping by, may you be blessed.
I would love to hear from you.  How are you making powerful choices today?  What strategies have you put into place?   Email me at [email protected] or pop by my personal blog at http://www.nesschesters.wordpress.com
~Ness