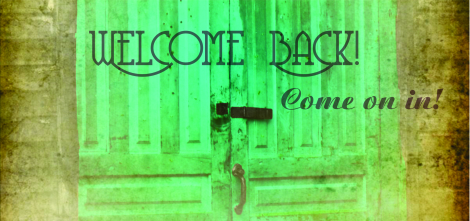 First of all I would like to thank all of you for your continued patience during our month long sabbatical. We are all feeling very refreshed and our spirits are bright with renewed fervor! I'm sure you have noticed by now that we have a whole new look and format to our blog. Our hope is that it is more user friendly for you, the reader, and that we can inspire you to find beauty in your days.
There is a great lineup of new contributors that will be bringing their ideas and insights to you each day, to guide you in your walk with the Lord and encourage you along the path that you are on. Visit our contributor's page to read all about who we are. We are here to serve you with insight and encouragement. Encouragement is something that we all need; to inspire new endeavors, celebrate successes, and to hold us up in life's struggles. That is our fervent desire ~ that you will not feel alone.
The format here has changed a bit. For instance, there will be postings every day, instead of just Monday through Friday. It will begin on Sunday with worship and prayer to our everlasting God, and lead you through a week filled with faithful activities, food for the soul and our families, personal improvement and devotions, creative project inspirations and moving right back into the worship of our one true God. The point is to keep God in our hearts and in our minds as we move throughout our weekly activities. When we can authentically do this, we believe that it is the greatest expression of worship and the best way to honor our Lord with our lives.
If you would like to contact any one of the contributors for any reason, please visit the contributor's page to find their contact information. We welcome suggestions for things that you would like to learn to do or topics that you would like to see covered. Please feel free to talk to us about what is in your heart.
What is new @ a beautiful life:
A beautiful life conference:   This is the first annual women's conference for a beautiful life, and will be taking place here in Michigan, October 18th,2014. More information will be coming in April. Mark the date on your calendars!!
Outreach: We are going to focus on some outreach opportunities this year, beginning with World Vision. We will be opening up our etsy marketplace soon to sell handmade products for the purpose of raising funds for a small farm that will provide food and other needed products for an entire village. More information on this will be coming soon as well as the grand re-opening of our etsy shop. So stay tuned!
Again, thank you so much for your patience while we make the needed adjustments.  Our prayer is that you will find peace, love, understanding and inspiration during your time here, to reconnect with your Creator – for it is what He desires!
God's Blessings for you all!
a beautiful life ministry team