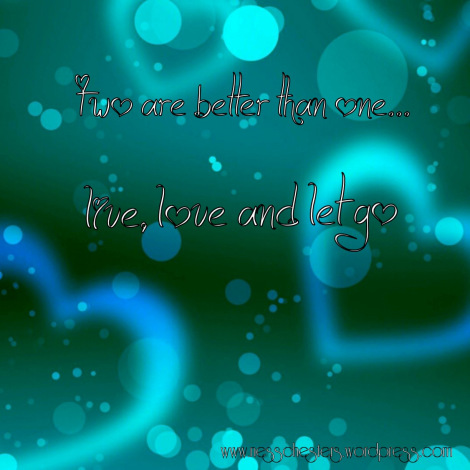 Dear Vanessa,
I am a newlywed, my husband and I have been together for 3 years in  total, and married for less than a year.  We think differently.  Sometimes I think, what am I doing here or are we really meant to be together? Help.
~Lise
Dearest Lise,
Many of us experience times in our marriages where we question things.  This is normal, we change, we learn, we grow in our relationships.  We all have a choice, we can chose to love, or we can chose to be unhappy.
Over the years I have been lucky enough for almost half of my life to have my best friend by my side. Many times I have taken him for granted, thinking he would always be there or not realizing how very lucky I was. However, I have been given many opportunities to realize that "two are better than one".
"Two are better than one because they have a good return for their labor. For if either of them falls, the one will lift up his companion. But woe to the one who falls when there is not another to lift him up." Ecclesiastes 4:9-10 (NAS)
We have been through many trials together, and have grown with one another. There are so many moments I reflect on, that without him by my side I would have been lost.
Our society today makes it easy to give up to let go of love.   It would seem that individuals are ready to call it quits when things get tough or their partner is not behaving as they would like them to.  The expectations grow and resentment spills into the relationship. The statistics are stifling, divorce has become commonplace.
What happened to sticking together through thick and thin?
Marriage is not a fantasy where the prince carries the princess into the sunset.   It takes work from both sides, it takes forgiveness, turning the cheek, biting ones tongue, seeing the good before the bad, and taking a deep breath and letting go.
I have learned that men and women speak and think quite differently. I have observed that many spouses don't see divorce coming when it is at their door, primarily because the communication at some point ceases to exist. The female expects the male to "know" what she is thinking; meanwhile the male does not hear any complaints – so that must mean she is happy. Women think very fluidly, everything in life is interrelated. If someone has an issue with her at the beginning of the day, it seems to feed into all areas of her life. Whereas men seem to compartmentalize things, work is work, home is home, kids are kids. So if for example, there is an argument earlier in the day – that moment has since past – it is not related to the evening time spent with his wife. I know I am talking in a somewhat stereotypical way, but for the most part this is how women vs. men think. Most men see love through intimacy, whereas most women see love through actions (whether it be physical, or words). A marriage break down occurs usually when one side of the equation does not want to understand the other side any more. He/She no longer understands me, no longer acknowledges my feelings, speaks for me….
Lise, Sometimes, I wish I could go back to my younger self and tell her a few things:
The stubbornness and the walls won't help the relationship, and that letting go is better than being right.
Lean on God, to get over myself.  Do not look to your spouse to help you let go of your insecurities.
Comparisons will cause conflict and resentment.
No one is doing more than the other, we each have our strengths and the weaknesses are offset by the other spouses' strengths.
We both have personalities that complement one another and make us stronger together.
My husband is my soul mate and my best friend, we will have times where we will not see eye to eye – but there is nothing we cannot get through together.
We need to seek to understand before judging any circumstance.
Remove the negative energy from a conflict before it snowballs.  Typically when someone in the relationship is angry they want to be heard, acknowledged, and respected.    Listening is key, and then acknowledging the hurt feelings will make a world of a difference.
Laugh, love and live.
I am still learning Lise, this is the beautiful thing about life.   I am learning that my strength in my relationship with my husband grows through my love of God.    And sometimes, all I have to do is just breathe and let it go to God.
Dear Lord God,
Thank-you for the love found in relationships.  Thank-you for teaching me that two are better than one.  I ask that you help our marriages Lord, make them strong, help them to endure the hard times and see through to the good times.   Lord God give us perspective every step of the way.  Help defeat the darkness with love.  I pray for all of the marriages across the world, I pray for this in Jesus Name Amen.
May you be blessed beautiful lady, take a breath and give it to God.
~Vanessa
Are you searching for meaning in love today?  Consider leaving a comment.
If you have any questions for Vanessa, you can email her at [email protected] or visit her personal blog at www.nesschesters.wordpress.com