Just before daylight, an arsonist redefines reality with the strike of a match.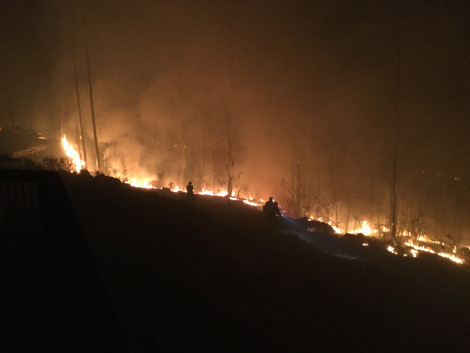 That single spark ignites a firestorm that consumes over 1000 acres of vegetation. A furious fire, fueled by months of drought, leaves the mountain blackened and defaced.
Usually, in late fall or early winter, the southern slope of the mountain I live on looks like an old man's unshaven face…bare trees sticking up like a week's worth of whiskers.
Post arson, a large blackened swath denotes the journey of the flames as the fire climbed to the top of the mountain, and another darkened area gives testament to the fire's path back down, carried on strong, shifting winds.
The old man of the mountain has lost his usual whiskery look in places, as though a torrent of tears stained his cheeks black, tree stubble gone, only bare earth remaining.
The mountain is wounded.
In the weeks following the fire, I feel:
 Grief…every time I drive home from town, I see the marks of the fire, ever-present reminders of loss.  My home, though spared, reeks of smoke.

Shifting expectations…due to the fire and the havoc it wrought.  

Obsession…about what is happening to the wildlife that lived in the path of destruction.

Anger…towards the faceless arsonist who has shaken our world.

Fear…because he/she remains at large.
Time passes. The bleakness of winter fades. Spring arrives. Though scarred, the flush of new life is "greening up" the old man's face.
The climate of my heart changes, also.
Fear is replaced with

rejoicing

about a God who always provides.

Anxiety shifts to

awe

at the generosity and love shown by friends when my family and I had to evacuate our home.

Terror gives way to thankfulness for the spirit my husband, children, and grandchildren displayed as we pulled together to create good memories in a time of tragedy.

Panic is forgotten when I offer up

prayers

for the thousand firefighters who stood on the old man's face for a week and kept flames from claiming all.

Worry caves under the weight of

worship

.
Those wounds, which spoke of tragedy and loss, are now scars that herald God's grace and power.
Wounds are sure to come in the living of life.  Some hurts heal quickly, but deep damage can remain open and raw for a very long time. Wounds denote injury.  Scars bear witness that the body (or the heart or the relationship or whatever pains you) is returning to a more perfect state.
Scars tell a story of healing and overcoming.
Our Savior was mortally wounded but arose to claim victory over sin and death. The injuries He sustained left scars on His restored body. Those marks of love give testament to His great suffering for our sake. They tell the triumphant story of His death and resurrection.  When Christ intervenes in Heaven on our behalf, might He simply hold up His hands to say the price has been paid?
Whatever our pain, whatever our suffering, we can rest in complete faith that God will wash us with His healing balm of love. Pray for restoration daily, dear readers, but let your scars remain visible to celebrate the glory of God in your lives.
2 Corinthians 12:11 NIV
"Finally, brothers and sisters, rejoice! Strive for full restoration, encourage one another, be of one mind, live in peace. And the God of love and peace will be with you."