Have you ever struggled with a teenager? I learned a sage piece of wisdom from Mark Gregston who has a radio ministry called Parenting Today's Teens. He strongly advised parents to stop fixing things for their kids. We should sympathize with their dilemma, but do our best NOT to fly our helicopter into the situation and rescue them, for we are not really helping, but thwarting their growth and maturity. In other words, let your kids experience the consequences of their actions. Don't try to control, be available to coach.
Proverbs 13:24 says "He who spares his rod hates his son, but he who loves him disciplines him promptly."  Most of us have wrongly equated this verse with punishment, but God is really talking about kindly nudging your almost grown kids in His ways. Even a shepherd doesn't beat his sheep to get him to move in the direction he wishes. A good shepherd gently prods his sheep in the way he wants them to go.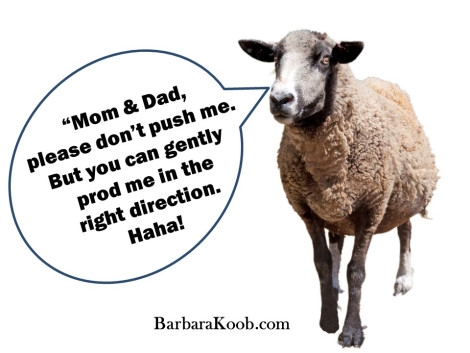 Here are some great examples of how this works based on my own experience…..
When homework isn't done on time, and you know the grades will slip. Don't harp about how important it is to get into college. Just say…. "WOW!" And allow their grades to be theirs. After all, it is their life and their choices.
When they want to use your car and have extra spending money, give them chores around the house to earn these privileges. And perchance, those things are not done as they should, just say "WOW! It is your lack of actions resulted in your loss. It's not my job to provide for your fun." Parents, we are not responsible to open our pockets whenever there is a desire. The real world doesn't work that way, and the sooner they experience this truth, the better. .
When you hear about all the other parents who give their kids new cars and cell phones, just say… "WOW! Maybe you should find another place to live?" Don't enable their entitlement mentality.
When you get a phone call that says "Mom, I just got a huge doctor's bill, and they told me that the insurance would pay for it. But it didn't. What should I do?" Don't remind them that you tried to explain what a deductible means. You can sympathize with their pain by sorrowfully lamenting…. WOW! I am so sorry that happened to you. Maybe you should ask about a payment plan?"
When you hear the police knock on the door, and your kid says "Mom, what are we going to say to them?" You can honestly say, "I don't know about you, but I am going to tell the truth. But as for you…. WOW! What are You going to do?"
Notice in all of these examples, I am not angry, mean, or controlling. I don't shame or condemn poor decisions. I even sympathize regarding the situations, but I don't solve the problem!
Please don't misunderstand, I am finding this new parenting style hard to implement. It's definitely not the way I was raised. I am learning to bite my tongue and sell my flying rescue machine. I am praying on my knees more than ever before and continuing to trust God, while letting my teen learn to fly solo.
And I am memorizing this key phrase preparing to use it whenever I feel compelled to step in and fix the problem…. WOW! What are YOU going to do about that?  
And I know with God's help, we will make it through this stormy season. How about you? What are your best parenting practices?