"Precious Prayer"
My great nephew Baby Dean Joseph will be one month old this evening.
It truly is a miracle he is still here and I believe it is the power of prayer!
Psalm 17:6  I call upon you, for you will answer me, O God;
incline your ear to me, hear my words. (NRSVACE)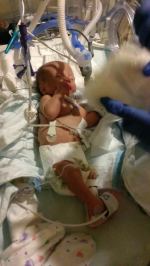 I have never found it easy to request prayer for myself or family regardless of how many prayer groups I have attended or been a part of.
I always had a feeling someone would not see my request as one that should have been mentioned.
After receiving a phone call from my brother on a stormy Monday evening late, all that came to mind was to ask everyone I could think of to pray.
And I posted it to every group I am a part of:
I would be honored if you felt lead to lift prayers for my great nephew Baby Dean Joseph and our family.
It has been a very challenging February so far. My youngest brother's mother-in-law went into the hospital the last Sunday of January and his daughter was there visiting her grandmother who they did not expect to live through the night she had just been sent home from another hospital not feeling well in her 3rd trimester of pregnancy the next evening after visiting she was back in ER being monitored and they became concerned that the baby's heart beat was too weak. They took her baby boy by emergency C section. He was having problems breathing and we were in the middle of a storm the next morning he was taken to Ann Arbor and right into surgery.
On Friday when she was released and able to get to Ann Arbor she was told he has Edward's Syndrome last night her grandmother on her mother's side passed.
I was ill all week and now Mom and Dad are.
But I have some priceless groups who have lifted them up in prayer, and my brother was in Ann Arbor last Sunday afternoon as they christened the baby!
I am also attaching a link that explains Baby Dean Joseph's medical condition.
2 Chronicles 6:35 then hear from heaven their prayer and their plea, and maintain their cause. (NRSVACE)
God has been listening to me ask for prayer and to all those awesome people who have been lifting precious prayers!
Some Holy Scripture verses that have brought me inspiration:
1 Kings 8:28 Have regard to your servant's prayer and his plea, O Lord my God, heeding the cry and the prayer that your servant prays to you today;  (NRSVACE)
Psalm 17:6  I call upon you, for you will answer me, O God;
incline your ear to me, hear my words. (NRSVACE)
 It would be such a Blessing if you would Please and Thank You consider leaving a comment:  how is God let you know He heard a prayer from your heart?
About Marie Bride: Avid reader and lover of books from the time I learned my prayers at age three. Passionately in love with the Lover of my soul Lord Jesus our King of Glory! Child of the Heavenly Father, daughter, sister, niece, cousin, aunt, great aunt and godmother. Past choir and hand bell member, wife, Catechist teacher, Religious formation teacher, Eucharistic Minister, Christ Renews His Parish participant and team member, high-end retail sales representative, financial advisor and numerous other events and activities.
You may connect with Marie Bride: on Facebook, Twitter, Pinterest or Goodreads.