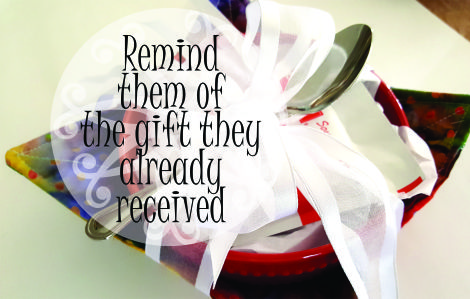 When I consider what Christmas is all about, what all of the running around and stressing out over gifts, and food, and lost time, I realize when it comes down to the nitty gritty – it's all about LOVE.
It began with the unconditional and sacrificial love of God and continued into what we "practice" today. Yes, Christmas has become quite commercialized and many don't recognize any longer where it all began, but one thing that hasn't been lost is that it is still rooted in love.
Why do we do what we do every Christmas season?
Because of love.
I'm particularly drawn to creating things that are both functional and beautiful as well as show my love for the recipients of my gifts. This year I took on this amazing project that came into my life at my last birthday. I was amazed at just how much I use this great little hot pad – who woulda thunk it? Thanks Lucy!
So, I took it and made it my own by choosing fabric I love and creating a little reminder of the gift that they have already received. Shhh, don't tell my family!  It's a secret!
Would you like to see how this project was made?  Today on Creative Faith, I have a post on the process with a printable  project page. Hop on over and check it out!
-lisa
Creative Faith