Have you ever felt invisible?
Small, insignificant, unworthy, or just plain not good enough?
Maybe you are always the last one chosen to be part of a team, or can't connect on any real level with the friends you have made.
I am right there with you!
Our perceptions of ourselves can often be skewed, especially when we have been passed over by others, or are not experiencing the blessings that we expect.
Life can make you feel as though you don't matter, as if what you think or say is not important. And as our self-esteem is challenged, we struggle to find significance by acquiring more possessions, or by exerting ourselves to gain notice. Then we sell our souls to the first person that makes us feel as though we are somebody. We look to others for affirmation in what we do and what we have to say.
Yet, we still feel small. A little shell on a big beach.
But here's the thing:
God's got you in the palm of His hand. He held you and formed you, planning out every step of your life, even before you made an appearance here. His desire was that you would live it with significance. Even though you may think of yourself as:
Simply a mom
Just a housewife
Only a blogger
Merely an employee
…His plan for your life is vital to who you are… to who you can be.
I was walking the beach recently, navigating the large shells and fragments that had washed up on the shore, and in amongst the huge conks and cockles, lay a tiny clam shell – insignificant among its peers. Reaching down, I lifted it and thought how I often felt like that – a little shell on a big beach, with bigger, more important shells around me.
God's got you in the palm of His hand, and you are significant and precious to Him!
There are times that I feel lost in others shadows, trying not to be covered by the blowing sands of adversity. But as I lifted it from its resting place, separating it out from amongst the congested swarm, I began to notice its tiny grooves and perfect white complexion, and how beautiful the shell really was once it was set apart from the rest, in the comforts of my palm.
And I thought: how like this we must appear to the Lord.
He knows us, no matter how small we may think we are
He adores us enough to reach down to pick us up
He holds us in the palm of His hand and admires our uniqueness
And He places us back among the others because His desire is for us to grow
If you have been feeling insignificant, remember that God's got you in the palm of His hand, and you are significant and precious to Him!
How has the Lord showed you your significance to Him?  We would love to hear from you!  Please consider leaving a comment.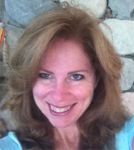 Lisa is a wife, a mom, a lover of Jesus, and all around creative soul. She has been gifted as a visionary and leader, and seeks to be obedient in that calling from God. Her personal journey is varied and ever changing as she takes obedient steps each and every day, and follows the leading of the Lord.
Read her personal journey through writing here: lisaevola.com