Each family has different traditions which become special over the years. One of the traditions my husband carried forward from his growing up years is an annual family Christmas tree hunt.
We have the advantage of living on a quarter section with lots of spruce trees we can choose. (We not only cut trees down, but we have also planted over 200 trees on our property.)
We choose a date and time when all family members can participate. Sometimes we go on foot. Other times we use snow machines.
Everybody gets to vote. When one family member chooses a tree, everyone has to agree or we move on and find another one.
Family members are encouraged to participate in helping saw the tree down. We make sure only one or two people are beside the tree, for safety reasons.
This year we picked a huge tree which didn't fit on the toboggan, so Dad dragged it home.
We make sure to rotate tasks so that the kids enjoy the trip.
NOTE: If you do not have trees on your own property, make sure you follow the regulations in your area. Either purchase a permit to cut a tree down in a designated area or select your tree from a tree lot. You can still have a lot of fun choosing your tree.
What Christmas traditions do you and your family enjoy? Please share in the comments below.
For hints about keeping your Christmas tree looking great for the whole Christmas season, check out information on Ruth's blog at http://ruthlsnyder.com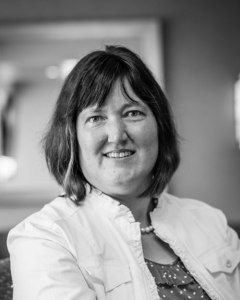 Ruth L. Snyder resides close to Glendon with her husband and five children.She enjoys writing articles, devotionals, short stories, and Christian fiction. She is a member of The Word Guild and The Christian PEN. Ruth currently serves as the President of InScribe Christian Writers' Fellowship. In her spare time, Ruth enjoys reading, crafts, volunteering, photography, and travel. Several years ago, Ruth and her family traveled through 28 States in 30 days!