I love getting Christmas cards. To me, the mailman is Santa's elf…leaving me small gifts every day in December in the form of Christmas cards. Each card is special, and I appreciate all the effort the sender put forth to place this token of Christmas joy in my hand.
I stand the cards around my house for all to enjoy. In the past, I have taped the cards around door frames or strung them on twine using clothes pins. I've seen cards hanging on strips of ribbon below evergreen garlands, cards mounted together to make a wreath, or cards attached to a wall in the shape of an impromptu Christmas tree.
Don't think that the cards all go in the trash at the end of the season. I save the especially pretty ones or the ones with touching messages. Amazingly, my grandmother saved every card she ever got. We never know how much a card may mean to someone. Saved cards may also end up in a display the next year or donated to a church craft project.
I was surprised to learn that Christmas cards were not distributed publicly until 1843 when a British gentleman, Sir Henry Cole, had over 2000 cards printed of a design by John Callcott Horsley. This three-fold card was not well received in religious sectors because the front panel showed riotous gaiety and partying. The side panels did portray images of charity being granted to the poor. Early English Christmas cards typically did not depict winter or even Christmas themes. The still successful American company, Hallmark, was begun in 1913 by Joyce Hall, along with brother, Rollie. Did you know that, until 1968, Christmas cards could be mailed for half price if you did not seal them?
Cards today are as varied as the people that send them. I have seen cards made from recycled items, cards with staged pictures, and cards with collages of family life for the year. Pop-up Christmas cards are fun, as are nature-themed cards made from various materials collected in and around a yard…twigs, leaves, seed pods, etc. Below is possibly one of the newest forms of Christmas cards…an infographic.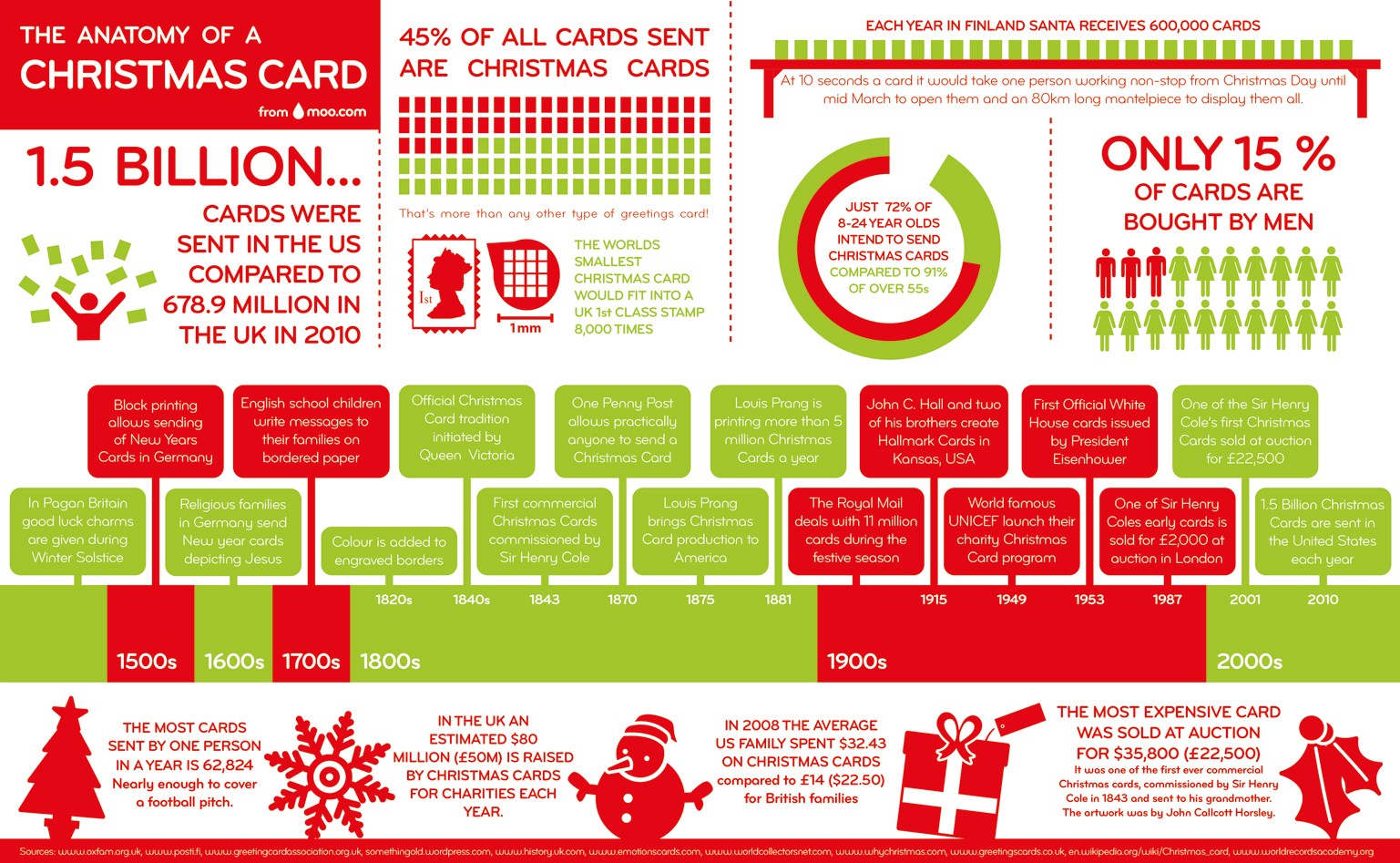 I must admit that sending the cards has not always been as much fun as receiving them for me. I often go into panic mode trying to find the cards I bought on sale after Christmas the year before. Solution…make your own.
My friend, Gwyn, did this for years. Not only did she make her own cards, but she involved her children in the process. They were the illustrators and designers. I so looked forward to getting these cards and seeing the growth her children had made as artists from year to year. The children decided whose work would be featured on the front and whose work would appear on the inside of the card or on the back. Each card included a Bible verse and child-drawn illustrations.
What a sweet record this family has of these yearly projects! As you might expect, the children begged off participating around age 12. But Gwyn happily reports that the older child, now in college, has begun to gift his family members with cards that he crafts. A family tradition continues.
In the last couple of years, my husband and I initiated this make-your-own Christmas card tradition in our family. He is the artist and I help with production and distribution. Surprisingly, the chore of sending has become as much fun as the gift of receiving. That said, from our house to yours…

Rise up, shepherds, and follow!
                                               Glynda