We all know that Christmas is supposed to be about the birth of Jesus Christ and his free gift of salvation. However, sometimes as parents, it is hard to get our kids (and ourselves) to focus more on giving than on getting. My husband and I have intentionally done various things over the years to turn the focus to others.
We do Christmas baking, but with a twist.
We have several favourite recipes, including Fruit Cookies with Cherries (recipe below), which was passed down from my husband's great-grandmother.
We often set aside a whole day to bake.
We wrap the treats up in pretty packages.
A week or so before Christmas, we bundle up and pile into our family van to tour around our countryside "neighbourhood" and sing for friends.
This is a simple way to focus on giving. Instead of just serving our Christmas baking to family and friends or eating it ourselves, we are also giving it away to others. In the process we are also sharing the joy of the season by singing some of our favourite Christmas carols.
FRUIT COOKIES WITH CHERRIES from Rebecca Snyder
Cream together: 1/2 cup butter, 1 cup brown sugar
Beat and Add: 2 eggs, 2 tsp. vanilla, 2 tsp. almond flavouring
Add and Mix Well: 1 tsp. soda, 1 cup crushed pineapple, 1 cup chopped dates, 1 cup chopped nuts.
Drop cookies onto a cookie sheet and bake at 350 degrees Fahrenheit for 20 minutes. NOTE: These cookies freeze well.
How do you focus on giving during the Christmas season?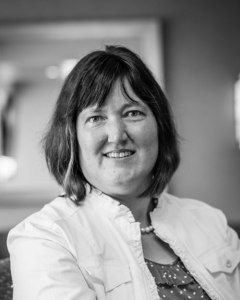 Ruth L. Snyder resides near Glendon, Alberta, along with her husband and five children. Ruth enjoys writing articles, devotionals, short stories, and Christian fiction. She is a member of The Word Guild and The Christian PEN. Ruth currently serves as the President of InScribe Christian Writers' Fellowship. Find more about Ruth and her writing at http:ruthlsnyder.com