Living beyond the comma is a principle that was introduced to me from John 10:10 by Mr. Graeme Crouch, one of my teachers at Prairie Bible College:
The thief comes to steal, and to kill, and to destroy. I have come that they might have life, and that they might have it more abundantly.
Notice the comma between "life" and the last phrase, "and that they might have it more abundantly." Mr. Crouch challenged us to live beyond the comma - to live the abundant Christian life.
Why is it that two people who call themselves Christians can go through the same difficulty and respond in opposite ways? One person becomes bitter and unhappy, while the other person becomes more joyful?
I thought of this again recently after I finished reading Ted Dekker's new series: A.D. 30, and A.D.33. Dekker says:
"For ten years I dreamed of entering the life of Jesus through story, not as a Jew familiar with the customs of the day, but as an outsider, because we are all outsiders today. I wanted to hear his teaching and see his power. I wanted to know what he taught about how we should live; how we might rise above the struggles that we all face in this life, not just in the next life after we die."
In A.D. 30, he masterfully describes how Jesus calmed a storm which his disciples experienced on the Sea of Galilee. He uses that scene throughout the first book, and then into A.D.33 as a word picture. The God of the Universe is above all the storms we encounter in life, but often He leads us through some of the fiercest ones. In the middle of the storms it is all too easy to fall prey to fear. The waves overwhelm us, the wind overpowers us, and we feel like giving up. However, when we turn our focus back onto God and who He is, the waves seem to shrink and the wind becomes a mere whisper. Jesus calms our storms too. Here's an example from A.D.33:
"…he was experiencing the truth, which was this: here he was in a small body that could easily be torn in two by the lion's jaws or cut down the middle by Kahil's sword, but this would lessen him no more than losing a finger, because he wasn't his finger any more than he was his body.

Here he was, that small boy, but here he was also: the son of the Father, who was more powerful than a hundred thousand bodies.

A voice whispered to him from his memory of the light. In this world you will have trouble, it said, but take heart… I have overcome the world."
In the past few years I've encountered several different storms:
My dad experiencing the effects of dementia
My husband and I struggling in our marriage
Our oldest daughter rejecting our beliefs
In the middle of these storms I've scrambled, wondering where God's joy had gone. I've asked God, "Why?!" I've felt alone, discouraged. However, God is always faithful. He reaches out to me, assuring me of His love, and his perfect plan. Storms will continue to come and go, but God is a sure foundation, a rock, an anchor, my hope.
What gives you strength and hope in the middle of life's storms? Do you have a favorite verse or word picture you hold onto?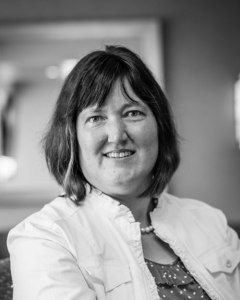 Ruth L. Snyder lives in scenic north-eastern Alberta with her husband, Kendall, and five children, ages 7 - 18. She enjoys writing devotionals, articles, and short stories. Ruth is a member of The Word Guild and The Christian PEN. She currently serves as president of InScribe Christian Writers' Fellowship. Connect with Ruth at http://ruthlsnyder.com and find out more about InScribe at http://inscribe.org.