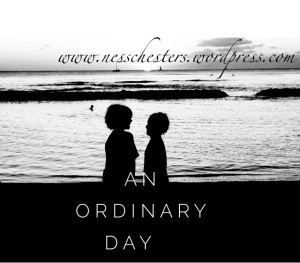 Dear Vanessa,
I clean, I cook, I wipe tears, I arrange, rearrange…. And then I feel zapped.  
I know many of us struggle with  many demands - balancing everything and then finding time for themselves.   It's tough, and some days we are exhausted and have nothing left.  But I will tell you this, what if the "ordinary day" became "extraordinary" instead?   What if you concentrated on the good things that happened, the small successes, and refused to let the bad take over?   Our minds are so powerful.  I will take your through one of my days.
It was an ordinary day.   
Prep the meat, throw it in the crock pot for lasagna. - check

Make the lunches  - check

Have the soccer ball and hockey stuff ready.  - check

Get the hairstuff out - check

Get my working mom clothes on - check

Get breakfast ready - check

Get the list out for after school - check

Write the note to the teacher - check

Get my laptop ready for the 8am meeting - check

Drop the kids off at the before school program - check
The morning went well, we worked as a well oiled machine.   As I drove to work I asked myself, how did it go so well given I only had 4 good hours of sleep?  It was a full moon last night - I was so restless, and was praying all night to fall asleep.  What did I do differently today???
I prayed, I started the day in prayer, and gave thanks as each item worked out.    I hit no red lights, made it to work with time to spare.  As I entered the office, I felt tired, but ready for the day.   The day went by and the next phase began.  Two busy boys needing supper, and out the door to two different activities 15 minutes apart.   All worked well, we all had smiles on our faces, how could this be?   
The day went on and I saw my two boys and I was so very proud of them.   They contributed, they took the lead.  
Gratitude.
Pause and reflect.
Give thanks.
Check.
This ordinary day became extraordinary.
He led, He helped, and He showed me how special my two boys are.  They need a mom that empowers and doesn't control. 
I was so proud of them today, and I have realized that I am here for them for a short time.     I am here to help, lend a hand, give a perspective and ultimately to guide.   Not to control.  By guiding - they thrive.
He is in control.
I give thanks, I am so grateful for this day that may seem ordinary - but to me became extraordinary. 
Thank-you God. "As iron sharpens iron, so one person sharpens another" (Prov. 27:17).
Dear Lord God,
Help to redirect our thoughts and concentrate on the good.  You say to be anxious in nothing at all, and in prayer and petition to present our requests to you.    Prayer is where we should start when we feel tired, or need help with prioritization.   Thank-you so much for this beautiful life God, I pray for this for all those who are reading this today, and those that need a little help with focus.   I pray for this in Jesus Name Amen.
May you be blessed my friend!
Vanessa
You can pop by my personal blog at http://www.nesschesters.wordpress.com or consider leaving a comment to help other readers on how you make the ordinary extraordinary.