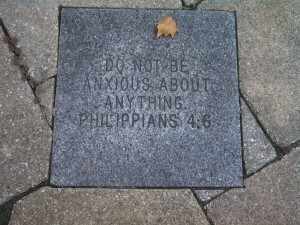 Given the current climate of our country, and our world, anxiety seems pretty high these days. I know I am not alone. For me, I can toss in mid-life adjustments, family circumstances and an insanely busy schedule to the big bowl of life, and mixing it all together, I can attest that I am feeling a bit on-edge and hyper; simply put - anxious.
Add another ingredient of life into the mixing bowl - my dad passed away almost four years ago. I still miss him. He was my "go-to" guy when I felt anxious. He didn't always try to fix things; most of the time he just listened.
The father-daughter bond we shared was very strong, and even though I can't physically see or hear him, I think of him daily, and I believe he communicates in his own special way.
For instance, a few hours before my dad passed away, we experienced an early evening, mid-summer storm. Strong winds, thunder, lightening - the works. A vibrant and a most beautiful rainbow appeared shortly after the storm… and a rainbow occurred monthly at the same time - the 23rd day of each month - for several months after his death. Anyone who has lost someone so dear marks the monthly anniversary until it becomes a yearly observation. (Oh, this was amazing, too - a rainbow appeared on the first Father's Day we celebrated without him.)
I will be going about my day, thinking of Dad, and then, one of his favorite songs will be on the radio, or one of his favorite hymns will be listed in the church bulletin. During times of incredible stress, I have seen Dad in my dreams. He says nothing, but has the most peaceful smile and always gives me a hug.
It is all too vivid and the timing is way too perfect to be called a coincidence.
When fall rolls around, I think of him constantly. Anyone who knew my dad also knew he had an immaculate yard, and during the fall, he declared a full-on attack of leaves. Yes, this is the man who would stop mid-conversation to go outside and grab a leaf off the front lawn. And yes, this is the same man who "slid" off the roof and broke his leaf blower because, yes, he was on the roof, ridding it of leaves, so that they wouldn't land in the yard.
During Dad's eulogy, our pastor shared these stories to all who came to celebrate his life. There was so much laughter. Seriously, who gets on the roof and, essentially, rakes it? One year, my siblings and our spouses wanted to bring bags of leaves and dump them all over the yard as a prank, so that when Dad grabbed his morning paper, he would be greeted with 3-4 inches of leaves covering every blade of grass. We didn't, because, well, we knew that could have caused a major health event. We didn't want to bear that burden the rest of our lives!
When we interred Dad's ashes in a memorial garden at church, there was a hush of quiet as our immediate family gathered. It was a pretty fall day, and the earlier rain had subsided in the nick of time. Pastor was reading some Scripture, and said a prayer, and then there was a quiet murmur, which turned to some mild snickering… because in the spot where Dad's remains would eternally rest, in that just-opened space in the memorial wall, what does our pastor find? A leaf. He wondered if we should remove it, or leave it there to drive dad crazy for all eternity.
See what I mean? I swear he sends us messages from beyond.
Well, I have really needed my dad these past few weeks. What I wouldn't have given to just talk to him, which I still do. I guess what I really wanted was to hear his voice.
One Sunday, after worship, my youngest daughter and I took a stroll through another garden at church. It was a nice walk, and we had just heard our pastor's sermon about angels. The garden, still sporting some roses in the early fall, was peaceful and pretty, with a calming fountain and lots of stones with Scripture verses along the path. Halfway through our walk, one stone stood out to me because, of all things, there was a leaf laying on it. One, lone leaf, which, of course, caught my eye. Any time I see a random leaf, I can't help to think of dear old dad.
Oh my gosh…I had to grab my phone and snap a photo, because I honestly could not believe my eyes! Straight from heaven - a message from dad!
Right under the leaf, the Scripture verse read: "Do not be anxious about anything." Philippians 4:6.
Teary-eyed, and a little shaken, I looked up, and whispered, "Thanks, Dad."
© Lynne Cobb - 2013; Rev. 2015