I found this recipe on Sallys Baking Addiction last year. Since then, I've made them several times and they are oh so good! (Kudos to you Sally!)  These soft, thick, and sweet white chocolate chip cranberry cookies are a delightful, fun cookie to make for Christmas. These will look so festive on your cookie plate, and are so delicious I'm sure they won't last long!
Download the Cover for your book here: cover
And here is the pdf of the recipe: Dec 16
Soft White Chocolate Chip Cranberry Cookies
Diff: Easy     Prep: 20 min.
Time: 4 hr refrigeration + 20 min sit + 8-10 min bake
Makes: 2 – 2 ½ dozen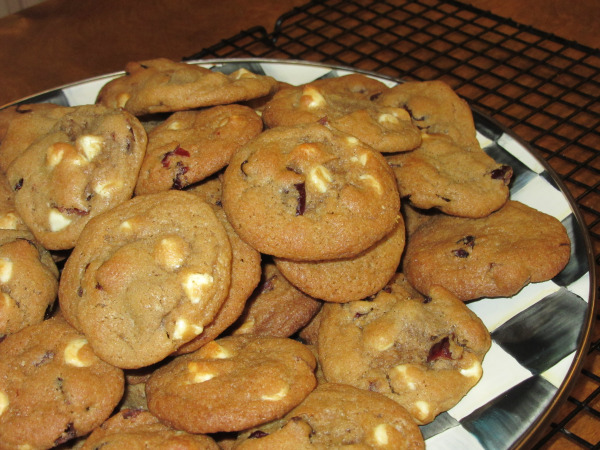 Ingredients
3/4 cup unsalted butter, (1 ½ sticks), softened

3/4 cup dark brown sugar

¼ cup granulated sugar

1 large egg, room temperature

2 teaspoons vanilla extract

2 cups all-purpose flour

2 teaspoons cornstarch

1 teaspoon baking soda

½ teaspoon salt

3/4 cup white chocolate chips

3/4 cup dried cranberries
Instructions
In a stand mixer with paddle attachment, beat the butter until smooth and creamy.

Add the brown and granulated sugars, mix on medium-high speed until fluffy and light in color.

Beat in vanilla on high-speed.   Scrape bowl as needed.

In a separate bowl, whisk the flour, cornstarch, baking soda, and salt together until well combined.

On low speed, mix into the wet ingredients until combined.    Dough will be quite thick.

Add the white chocolate chips and dried cranberries, mix on low for 10 seconds or until blended.

Cover dough tightly with plastic wrap and refrigerate for at least two hours or up to two days.

Remove cookie dough from refrigerator and allow to sit at room temperature for ten minutes if dough has only been refrigerated for two hours. If dough has been refrigerated longer than two hours, allow dough to sit for half an hour. This will make the dough easier to scoop and roll.

Line two large baking sheets with parchment paper.  Set aside.

Scoop and roll balls of dough, about 1 Tablespoon each, into balls.

Place 10-20 balls on each baking sheet.

Bake in batches for 8-10 minutes, until cookies are slightly golden brown around edges.

Cookies will look very soft when you remove them from the oven.

Allow cookies to cool 5 minutes on the baking sheet.

If cookies are too puffy, you can press them down gently. They will deflate as they cool.

Transfer to wire cooling rack after 5 minutes to finish cooling.
Cookies will stay fresh and soft if stored in a plastic container for one week and can be frozen up to three months. The unbaked cookie dough can also be frozen up to three months. 
Note: Do not place cookie dough on warm or hot cookie sheets; you can run cold water over sheets to cool them down.

I hope you and your family (and Santa!) will enjoy these delicious cookies!
Until next week, wishing you all of God's blessings, good health and happy eating!
Smiles,
Maria