Now that my freezer is totally cleaned out, I've turned to my cupboards. Which, frankly, can be pretty scary sometimes.  However, I did find a jar of red lentils I had put there awhile ago, which was the inspiration for this post!  But, I digress… We're in the deep freeze again outside. Another polar vortex.  However, this filling and delicious soup will help warm you up! Lentil soup is so basic, but so good for you.  This soup packs a real nutritional punch. Full of vitamins and minerals, this soup will keep you going for hours. Note: The recipe below states to puree the soup until smooth, I, however, like mine a little chunky, so I didn't puree until smooth! 
I have to give a shout out to one of the bloggers I regularly read; Gina Homolka of Skinnytaste.com. She is a remarkable lady who wanted to cook low fat and healthy for her family; and from that desire she created her very popular website. We have her to thank for the below recipe, which I've modified somewhat. You can find her original recipe by clicking here: Creamy Lentil Soup.  I have to say it was pure genius on Gina's part to use potato to thicken the soup.  Not something I would have thought of!  This recipe can easily be doubled or tripled, and can be frozen as well.
Diff: Easy     Prep: 10 min
Cook: 41 min   Total: 51 min    Svs: 4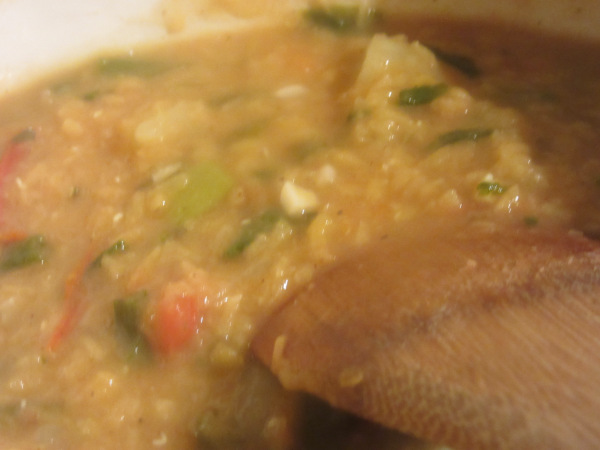 Ingredients:
1 tsp olive oil

3/4 cup chopped green onions

2 garlic cloves, minced

2 Roma tomatoes, seeded and diced

1/4 cup plus 2 tbsp fresh cilantro, chopped

1/2 tsp cumin powder

1 cup dried red lentils

½ large russet potato, peeled and diced

4 cups reduced sodium chicken broth

1 bay leaf

kosher salt, to taste

black pepper, to taste
Additions:
chopped red pepper

chopped cilantro

light sour cream

chopped green onions, for garnish

Directions:
Heat a large pot over medium heat. Add the oil, scallions, garlic and tomato all together to the pot, season with salt and pepper.

Cook, stirring until soft, about 10 minutes. Stir in 1/4 cup cilantro, cumin and cook 1 more minute.

Add the lentils, potato, broth and bay leaf. Bring to a boil then reduce the heat to medium low, cover and cook until the lentils become tender, about 30 minutes.

Remove the bay leaf, and puree the soup using an immersion blender, or regular blender, until very smooth.

Adjust soup with salt and pepper to taste.

Ladle into bowls and top with sour cream, red pepper, green onions and more cilantro, if desired.  Serve immediately.

Enjoy!

This is such a terrific soup for a cold day or night! Add a salad, fresh bread and some extra vegetables for a well-rounded meal. 
Until next week, stay warm!  Wishing you all of God's blessings, good health and happy eating!  
Smiles and blessings,
Maria
Recipe slightly modified from original