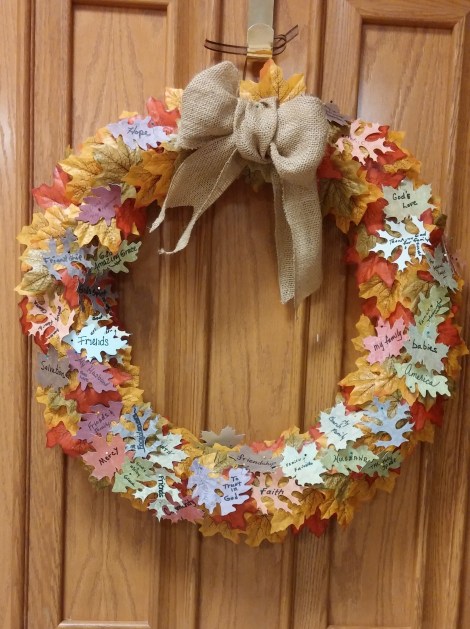 Some of you may have seen these wreaths; we used them at our 1st annual A Beautiful Life Conference this fall and they had a two-fold purpose. For one the look great just plain but after lunch our entire guest wrote on a leaf what they were grateful for and pinned it to the wreath. It is a great idea and can become a family tradition during the holidays.  Great project for the kids too!
Being Thankful is one of the most important things we can convey to our loved ones and to our Heavenly Father.
Level of difficulty: Easy
100 Plain fall leaves                         Cricket or Leaf punch                     Decorative paper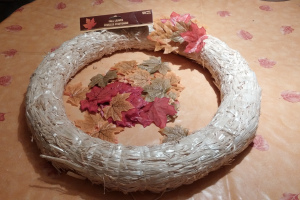 Straw wreath                                     Straight pins
Hot glue gun                                      Burlap ribbon
Make a bow with your burlap Ribbon and attach with your hot glue gun.  Start hot gluing your leaves in random order.  I tried to pinch them so that they sit up a little off of the wreath. It gives it a more dimensional look. Be sure to fill in under your bow and along the sides so the straw is not showing.
Use your decorative paper and either cut/punch out your paper leaves that will be used to write on. If you have a "Cricket" well let's just say you have your work cut out for you! LOL At the conference we placed these leaves on the table over the napkin at each place setting which really dressed up the tables settings as well. Be sure to put a marker on your table for your guest to use.
Tip: Have your guests Name and Date their leaves if you will be creating this as a new tradition in your home.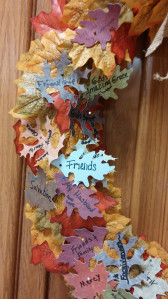 So there you have it a new Thanksgiving Tradition and a beautiful decorative wreath to adorn your home with. I hope you like this article. I certainly loved the entire idea of making this wreath.
Mischele Makhlouf