I

've been in the process of cleaning out my freezer for several weeks; using up all the meats, breads, soups and stocks I've frozen over the last year. This week, I  combined  a pound of ground round, a pound of lamb and a pound of lamb sausage to make a batch of Moroccan mini-meat loaves and meatballs.  I liked the idea of individual meat loaves, and the meatballs were frozen to be used for appetizers during the holiday season. And I must admit, it was kind of fun to make these in my muffin and mini-muffin pans!
There might seem to be a lot of chopping in this recipe, but I minimized this by using my food processor, which makes quick work of all the vegetables. Especially the onion! Chopping onions is always hard because I always end up with tears streaming down my face!
As always, make sure you have all your ingredients prepped, and your spices measured out and ready to go for the quickest assembly.
Diff: Inter   Prep: 30 min   
  Cook: 55-60 min   Srvs: 8-10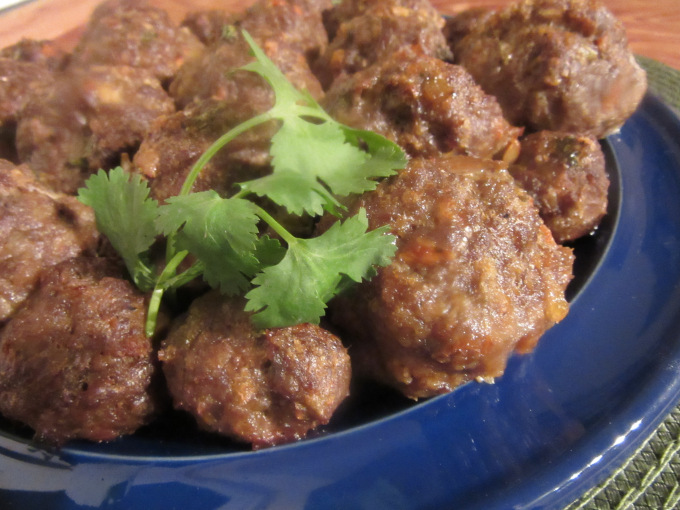 Ingredients
1 pound ground lamb

1 pound lamb sausage

1 pound ground beef

1 medium yellow onion, chopped

1 large carrot, peeled and chopped

1 large celery stalk, chopped

2 tablespoons chopped garlic (~six cloves)

2 tablespoons minced fresh ginger (~a 3 ½ inch piece)

1 ¼ teaspoon celtic salt

1 teaspoon sweet paprika

1 teaspoon ground cumin

1 teaspoon curry powder

¼ teaspoon cayenne pepper

¼ teaspoon ground cinnamon

¼ teaspoon freshly ground black pepper

1 ¼ cups dried breadcrumbs

1 ½ large eggs or two small eggs

¼ cup chopped fresh cilantro

2 tablespoons chopped fresh mint
Instructions
Preheat oven to 350° F.  Combine lamb and beef in a large bowl. Set aside.

Add the onion, carrot, celery, garlic, and ginger and cook for about five minutes, or until the onion is translucent.

Add the salt, paprika, cumin, curry powder, cayenne pepper, cinnamon, and black pepper.

Cook for 1 to 2 minutes until flavors have released (are fragrant) and have blended. Remove from heat and let cool for 10 to 15 minutes.

While vegetable mixture is cooling, grease a 12 cup muffin pan and a 24 portion mini-muffin pan.

After cooling, stir the vegetables into the ground meat. Mix in the bread crumbs, eggs, cilantro, and mint.

Divide two-thirds of the meat mixture into 12 even portions and place into muffin pan.

Divide the remaining one third of mixture and place into the mini-muffin pan.

Bake the meatloaves for one hour and the meatballs for 55 minutes. Remove when done.

Let cool for 5 minutes before serving.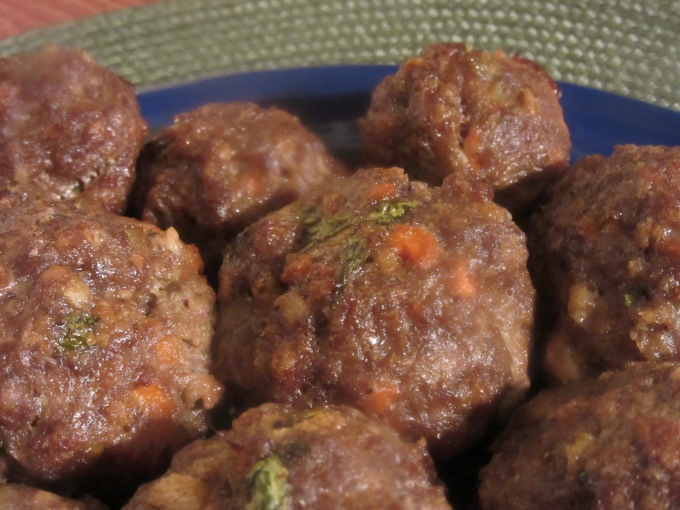 These are delicious served with ketchup, barbecue sauce or just the pan drippings. These hearty meat-loaves, full of vegetables and Moroccan spices, make for a delightful, warming and savory meal paired with roasted asparagus, rice pilaf and red lentil soup. Enjoy!
Until next week, wishing you all of God's blessings, good health and happy eating!
Smiles and blessings,
Maria