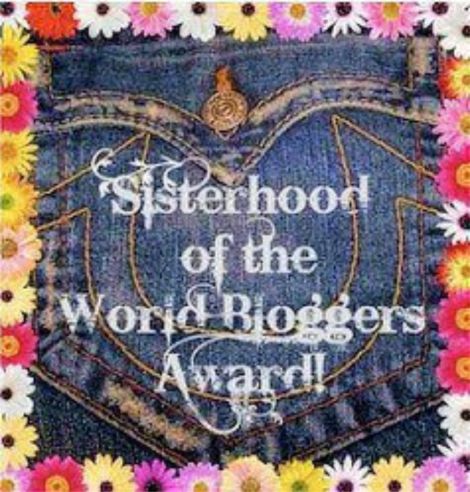 How do you reach out? Who do you talk to daily?  Is your influence shaping the world around you?
We all have the capability of reaching out to the world.  It starts with a kind word, a noble deed, a simple offering of love. These seemingly small gestures can have an impact on a level that we cannot even fathom.
Contagious
When we reach out with what little we may have to offer to those around us, the ripple effects can reach all the way to the ends of the earth.
You may not think that your hug could be felt in another country – but it can.
You may not know how your kind words to someone you didn't even know changed the life of someone miles and miles away – but it did.
Each time we reach out in love and kindness with our words, our touch, our deeds, our prayers – we cause a ripple effect that has the potential to change the world.
Today I am honored to accept on behalf of a beautiful life, the "Sisterhood of World Bloggers" award! We were nominated by our beautiful friend and contributor Vanessa Chesters and we are so thankful for her heart for our ministry. Like many of the nominees of this bloggers award, we hope to inspire and encourage the women who grace us with their precious few minutes each day, inspire them to reach out within their families and the world – right where they are.
I want to thank Vanessa for considering us worthy of such an honor, and honored we are! We hope to pursue our passions, God willing, and continue to reach out to the women within our realm of influence. Vanessa's blog is called Awakening the Soul and can be found at the link below. She is an amazing woman with an even more amazing testimony of a C1 fracture. Her testimony has helped many endure the pain and suffering that has come with this tragedy, and give them hope for life.
Thank you Vanessa! For your heart for the hurting.
http://nesschesters.wordpress.com/2014/10/27/sisterhood-of-the-world-bloggers-award/
Along with the award came a series of questions to ponder. Below are my answers, but I encourage all of you to ponder them yourselves. We all have something to offer; an impact to make. We are all but a small drop in the pond of life – but the ripples we can cause by dropping in, can change the world.
Questions from Vanessa:
1) What inspires you?
Art in its many forms probably inspires me the most. Music, paintings, stage performances, nature, people ….these are all art forms that lend themselves individually to inspiration and influence. I am an avid watcher – I like to observe how things move around me and the world, and the connections that they make towards my creative side, whether that is writing, painting or simply interacting with that inspiration. I watch the Creators handiwork around me and I am inspired!
2) Is there a moment that has inspired you or changed the direction in your life? 
Yes, it was one of those pivotal moments that afterwards you realize that if you had not chosen the course you did, your life would look much differently. It was the moment that I realized that Jesus loved me…really loved me, and that if that was all I had, it would be enough. My life then began to take a direction that I never thought possible, or would have ever dreamed would make me happy or content, but I am.
3) Who inspires you?
The person who perseveres in the face of adversity. The one who walks on through unimaginable pain. The mother who, even though she did not have a great influence, endeavors to raise her own the best that she can. The one who can say they are sorry even when they know that sorry is not nearly enough. The woman who stares fear in the face, and takes that leap of faith anyway, just because she knows it is the right thing to do. These are the people who inspire me to be better, to live authentically, to love with all my heart, and to keep on even when everything within you says no.
4) What do you believe is the greatest gift in this life?
The knowledge of God. From the very beginning I think that we have an innate knowledge of Him and a desire to seek and know and learn. This has been formed right into our very souls. I can't even imagine what a life would be like without that desire to know Him and see Him and to love Him. I am so thankful for that gift knit within me, without it I think I would be so very lost.
5) If you were to look through rose colored glasses what would this life look like?  Would you change anything?
Not a thing. I think that absolutely everything that I have been through has molded me into the person that I am now. Every trial, every tear, every bit of pain that I have endured has shaped and formed my life. Although much of it was hard, I don't think that I would be where I am today without that hard. And although I don't think that it is perfect by any means, I know that the trials to come will continue to shape the road before me. Ultimately I know that what I am reaching for is God's perfection and beauty, not to be attained, but simply to experience. And I look forward to the day that I see it first hand. Until then I pray that I can stay faithful and true, and lean on Jesus as I journey through this not so rosy world.
6) When you look back on your life, what are your greatest accomplishments?
My greatest accomplishment is loving my children and family. In a time where we are so often told that we deserve, and we should have, and we are entitled to; to put aside the we and focus on the them without thought of me is an accomplishment in and of itself. Nothing that I could ever do will matter as much as loving my family and being a part of their lives.
7) What is your definition of LOVE?
Love is when a mother chooses to do something she doesn't want to do, simply to see the look of joy on her child's face. Love is when a friend lays aside their agenda in order to help with a project that another finds overwhelming. Love is riding a bike for 30 miles with your husband when you hate bikes….but he loves them. Love is found in doing things selflessly, just because it will make someone else's day. Love is living life authentically with those around you, simply to show them God.
8) Do you believe we all can make a difference?  What does the "action" look like?
We each make a difference every day when we simply wake up and accept the challenge of what is set before us.  For some that means changing diapers and feeding babies, for others it is running off to work to provide for their families. Each and every day we make choices to put others first, to provide for a need no matter how small, to engage in the life that we have given by God. I truly believe that here is where you need to be – where ever that here is. Action is simply doing – and most of us are already doing it. Engage in your life and that of those around you. Be encouraging, give hope, speak life, offer love – be light.
9) Where do you draw strength?
From God alone.  I realized some time ago that when I try to do things in my own strength, I just get tired. Jesus says "Come to me all you who are weary and burdened, and I will give you rest. Take my yoke upon you and learn from me, for I am gentle and humble in heart, and you will find rest for your souls. For my yoke is easy and my burden is light." How can you argue with that!
10) What is your greatest talent? (what have you discovered about yourself that you see as a strength and why)
I used to think that my talents were of the creative sort, and of course I do have a strong desire to create and it is through that that I discover most ardently – God. But I have come to see recently that my greatest talent is in being a willing servant. Sometimes that means loving who is right there with me, sometimes it is reaching beyond what I ever thought possible. Listening and responding and following His leading I believe is the greatest thing that I could ever do, and is where my greatest talent lies.
Again -Thank you Vanessa for this honor. We love you sister!
Soli Deo Gloria!