I absolutely adore Galettes! They are pie's second cousin, and so much easier than making a double crusted pie. As much as I love double crusted pies, both sweet and

savory,

 this French Galette is to die for! There is something about the combination of mushrooms, garlic, wine, herbs de Provence and Chèvre that gives this exceptional flavor, so much so that it's unlike anything I have had before. The most difficult part

 of this dish is that you have to make a pie crust, so you need to set aside time for that. Or maybe you're the ultra-organized type (unlike me) and have made your pie crust ahead of time. Or you have a store bought one or you have one in the freezer or … Okay, I'm babbling.  I do that sometimes …
While I was making this pie, I couldn't help but praise God for all his bounty; the beautiful mushrooms, the perfect head of garlic, and the fact that I actually had made some vegetable stock last week so I had it handy!  And I thanked him also that we were spared the flooding from the torrential rains we experienced in mid-August.  We are really so very blessed living where we do. 
This hearty pie is excellent as a light dinner with a salad, or can be cut up into thin wedges to be served as an appetizer.   It's handsome and tasty enough for company, but still easy enough to make so your family can enjoy it too!  However, this is much too good to save just for special occasions.  I hope you will try making this soon, it's so worth it!
Well, enough of my waxing ecstatic about this dish! Let's get to it!
Diff: Medium   Prep: 1 hr 15 min
Cook: 30 min   Serves: 6-8
Ingredients
½ recipe Pie Crust*

4 T. (1/2 stick) unsalted butter

1# mushrooms, sliced (include cap and stems)

3 cloves garlic, minced

½ cup red wine

½ cup chicken or vegetable stock

1 T. herbes de Provence

1 t. sea salt

½ t. freshly ground black pepper

½ cup crumbled Chèvre 

1 large egg yolk, beaten (for brushing crust)

1/4 - 1/2 cup fresh chopped parsley for sprinkling
Instructions
If you don't have a pie crust handy, prepare crust using your own favorite recipe or try this butter and shortening recipe, which makes enough for a double crust pie.
Pie Crust Ingredients
2 ½ cups all-purpose flour

1 ¼ t. sea salt

6 T. unsalted butter, (3/4 c.) chilled and cubed

¾ cup vegetable shortening, also chilled and cubed

¾ cup ice water
Instructions
Mix flour and salt together in a medium bowl.

Using a pastry blender or 2 forks,  cut in the butter and shortening until the mixture resembles very coarse meal, with butter and shortening chunks about the size of small peas.

Slowly drizzle the ice water, a Tablespoon at a time, into the flour and shortening mixture. Stir with a large spoon until the mixture starts to clump.

Note:

 You may not need to use all of the water.  (Squeeze a bit of the mixture together after each addition to see if it holds, if it does, then it's' ready for the next step.)  

Transfer dough to a well floured work surface. Using your hands, fold dough into itself until all the flour and fat has been incorporated and the dough comes together without being sticky.

Divide dough into two balls, pat each ball into a disc, then wrap in either plastic wrap or tightly with wax paper and refrigerate dough for at least one hour.

After removing from refrigerator; let dough warm for at least 5 minutes before rolling.
Filling*
Melt butter in a medium-sized saucepan and add mushrooms and garlic. Sauté over medium-low heat for eight minutes.

Stir in the wine, stock, herbes de Provence, salt and pepper, and cook for 15 minutes or until all the liquid has been absorbed.

Remove from heat and let cool slightly.
*Filling will be dark due to the red wine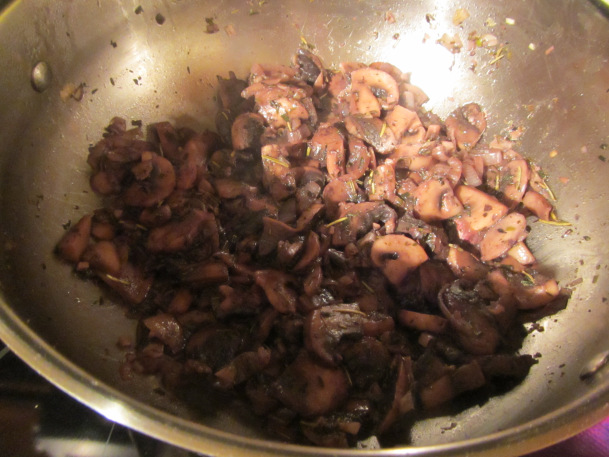 Putting It All Together
Roll out pie crust, and center it on a large ungreased baking sheet.

Spoon the mushroom mixture evenly over the center of the pie crust, leaving a 2 inch border around edges.

Sprinkle the crumbled Chèvre evenly over the mushrooms, then fold up the pastry border, overlapping the edges and pressing the folds together every few inches.  (I'm still working on my pastry folding technique…)

Brush the edges of the crust with the beaten egg yolk and bake 30 minutes, or until the edges are golden and flaky.  For the last one to two minutes, change oven to Broil setting.  Watch closely so Galette doesn't burn.    Remove when tops of Chèvre begin to color.

Let sit for a few minutes before moving from baking sheet. Sprinkle with fresh parsley before serving.  

I hope you will savor this earthy and delicious pie!
Until next week, wishing you all of God's blessings, good health and happy eating!  May you enjoy the rest of the summer!
Smiles and Blessings,
Maria
*Recipe slightly adapted from A Year of Pies by Ashley English