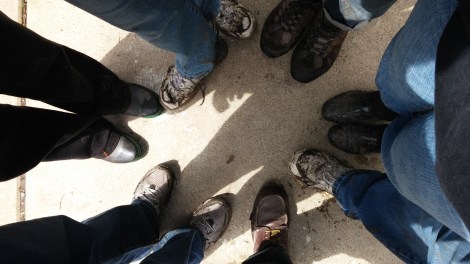 Mission Outreach: OneMacomb.org
Mission Field: The community in and around Macomb county, Michigan
Mission Statement: To pray and serve in the community helping homeowners, schools and community parks and trails.
 "How, then can they call on the one they have not believed in? And how can they believe in the one of who they have not heard? And how can they hear without someone preaching to them? And how can they preach unless they are sent? As it is written, "How beautiful are the feet of those who bring good news!"

Romans 10:14-15
On May 17th I had the privilege to be part of a community effort organized through the churches of Romeo and Macomb county to improve school grounds and trails, help home owners in the community, among other good works. We all met at one location to gather into teams and to pray for those we will serve, and for those serving. We prayed for safety, open hearts and so many other aspects of such an event.
The picture of all of our muddy feet truly shows our devotion to the homeowner whose property was under water due to a broken pipe underneath her home.
One prayer was that we needed a miracle to fix the leak under her trailer. Our team cleared brush, trimmed trees, re-attached some of her skirting, got rid of some of the junk in and around her property and fixed her shed. Finally we got the pipe fixed.  By some miracle I ended up on this team with the knowledge needed to get the job done. 
We gathered for a final prayer with the owner whose arm was in a sling with torn muscles and a cane in the other hand from knee surgery. Her son serves in the military and was not available to help her. She was so receptive and grateful, and even asked to pray for her family and some of the challenges they face. In the end I believe that we were the one's who felt truly blessed.
How wonderful it is to feel you are doing God's work and making a difference in His people's lives.  New friendships blossomed, and we all were blessed in one way or another that day. "How beautiful are the feet of those who bring good news!"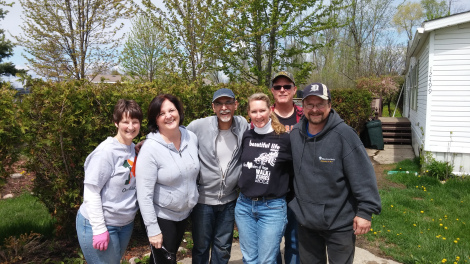 If you would like to take advantage of being part of such a fantastic community outreach you can sign up for the next event by logging on to Onemacomb.org and register online, they will ask you what you are good at and skill level.
Just so you know you will not receive an e-mail confirming that you have registered.
There also is a team that just handles serving lunch so even if you don't plant flowers or fix things, there are plenty of other positions you can fill,  so don't be shy; just be willing. May God bless you with opportunity and may you feel the enormity of His Love.
Mischele