So… Isn'Äôt it supposed to be APRIL showers bring may flowers? ¬†Running a bit behind I would say! Never-the-less, the sound of rain has always soothed me.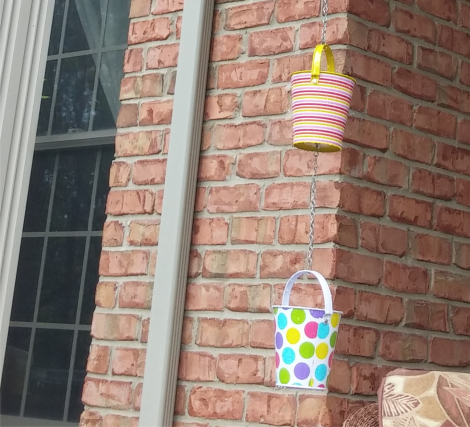 In my travels I have seen nifty little rain catchers that make a wonderful sound when water is dripping through them. So why not make the rain showers a little more fun! This project only takes about a half an hour and costs about $7.
All you need is:
5 little buckets (cute as can be!) ¬†The dollar store has some cute ones….cheap too!
Drill                             small chain                              file (optional)
11/64 drill bit              Flat head screw driver
1/16 drill bit                Pliers or vise grips
Using only four out of the five buckets, turn your beautiful bucket upside down. Use your 11/64 drill bit to make two holes near the center of your bucket so that your chain can loop into one hole and out the other for hanging purposes. You will also use this same drill bit to drill a hole into the middle of all five bucket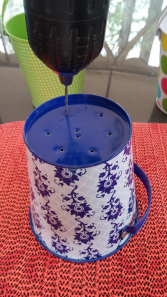 handles. Sometimes drilling aluminum or tin can leave a sharp burr, you can take a file and just clean that up a little so that it isn't sharp and won't cut you while you are working on this project.
Next drill six little holes around the outside perimeter of the base on all five of your buckets as seen in the picture here.
.
Count how many chain links down you want between each bucket. Mine (10 links between each bucket) is a bit long because I am planning to use it on my front porch but if I wanted to use it in a different setting I probably would make them a little shorter.
You want a little bit of distance between them to create good sound.
To prepare your 5 chains, hold your vise grips or pliers on end of the chain link and using the flat head screw driver to pry the other end open.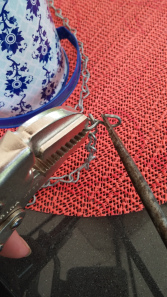 Do this on both ends of your chain. One end will loop through the bottom of  the bucket and the other through the handle of the next hanging bucket. String away~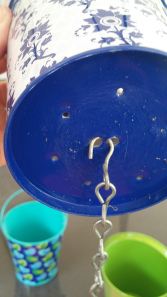 Tip: to be able to loop the chain through the bottom of the bucket it has to be spread open at least half way.
I have a confession-I cheated….I couldn't wait for the rain so I took my watering can and filled up the first bucket to see how it looked and what it sounded like. I have to say I am well pleased! Hope you find this project as fun and enjoyable as I have.
Wishing you many rainbows this spring season! Don't forget that they represent God's promise of a new covenant for us.
Mischele