This breakfast, brunch or even dinner pie uses a number of convenient frozen or packaged products that you can easily find at the grocery store. Frozen hash browns are used for the crust, adding potassium to the dish and making it an easy entrée to create! Recipe slightly modified from one seen in EatingWell magazine.
Diff: Easy Prep: 10 min Cook: 30 min Serves: 4
Ingredients
• 2 cups Shredded Hash Brown Potatoes, thawed
• 1 cup part-skim shredded mozzarella cheese, divided
• 2 T olive oil • 3 cups packed fresh spinach
• 1 cup grape tomatoes
• 4 eggs • ¼ c milk
• Pinch of nutmeg
• Salt and Fresh Ground Black Pepper, to taste
• Other spices such as basil, oregano, chives, to taste
Instructions
• Preheat oven to 375 ° F.
• Spray a 9-inch pie pan with cooking spray; press down Shredded Hash Brown Potatoes into pan, top with ½ cup shredded mozzarella and set aside.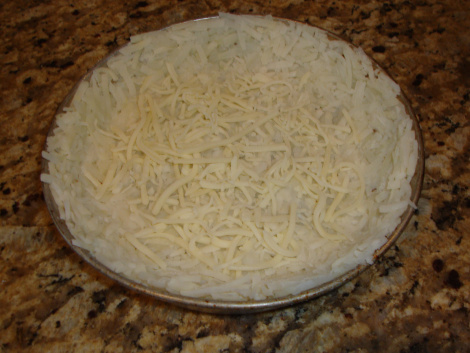 • Heat olive oil in skillet. Add spinach and tomatoes; cook for 3 minutes, or until spinach is wilted, stirring often.

• Remove from heat and spread over potatoes.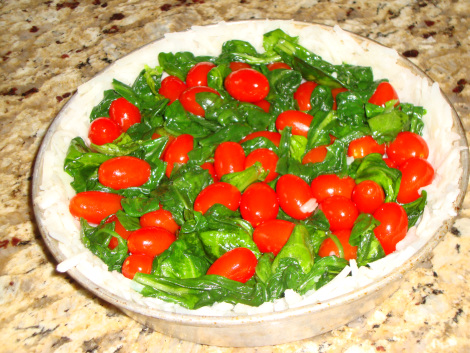 •

In a mixing bowl, whisk together eggs, milk, nutmeg, salt and pepper; any additional spices; then whisk thoroughly until combined.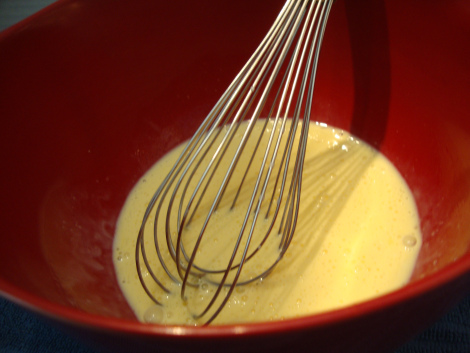 •

Pour over spinach and tomatoes, then sprinkle remaining shredded mozzarella over the pie.  Bake for 30-35 minutes, or until the top is golden brown.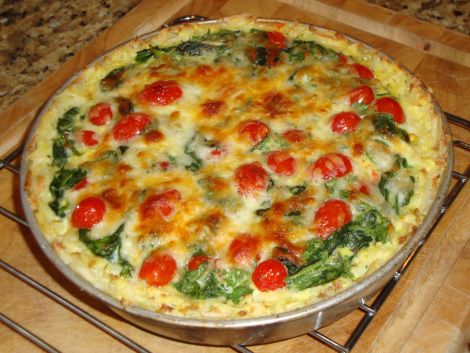 • Let cool for 10 minutes before cutting.  Serve and enjoy!
I hope you will have a chance to make and relish this delicous and healthy pie!  If you want even more flavor, substitute shredded sharp cheddar cheese instead of mozzarella. 
Smiles and blessings,
Maria