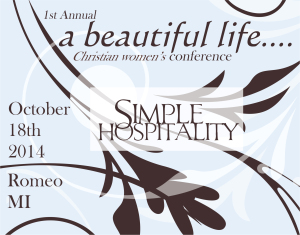 I have days when I just can't seem to put even two words together. Days when the to-do list is more than I can bear. Usually it is random; a day here, a day there. But when this feeling becomes a pattern, I have to stop and look at why.
Am I scheduling way too much and not leaving any margins in my schedule?

Have I been lax in my alone time with my Father?

Do I schedule time to regroup and recharge?

Or am I running on empty?
Women are famous for putting themselves last on the list. I remember an old commercial from when I was young that went something like this:
"I can bring home the bacon, fry it up in a pan, and never, never, never let you forget your a man…."
It's a commercial for the 24-hour woman….and perfume I think! To me, this is a great representation of what women today try to be.  We are the do-it-all dolly. We don't want to admit that we can't keep up with the list… or our neighbors list.
Unrealistic!
This is a perfect recipe for - BURNOUT!
Regular refueling is necessary if we want to live as God intended. We can accomplish this by:
Taking time in the morning to pray and seek God's will.
Not overbooking our schedules.
Taking regular breaks from the everyday to rest, remember and refuel.
And every now and then, receive instruction from others who have struggled as well.  Women's conferences can offer a wonderful respite from the everyday, a chance to talk to adults (if you happen to be a stay at home mom and talk like Dr. Seuss), time with the Lord to refuel and an opportunity for fellowship with your sisters in Christ. Join us this October 18th, 2014 to discover a renewed spirit of hospitality in the midst of a chaotic world.
You will find the conference schedule below with a listing of the classes that will be offered. Class descriptions can be found here.
Registration begins May 12th at 6:30 a.m. with both online and mail in registrations available. We are limited on the number of tickets that we can sell, so don't wait! Sign up for our email updates so you won't miss it!
We look forward to spending the day with you!
Conference Schedule
8:00-8:30 Â Check in & light refreshments
8:45-9:30 Â Opening, Worship & Prayer (Sally Meadows)
9:40-10:30 Â Session 1Â See Class descriptions here
Hospitality: Reaching out to your Neighbor (Virginia Cradlebaugh)
Remember: Inspired Journaling (Lisa Evola)
Creating Thoughtful but Simple Cards or Notes (Charlotte Duggan)
Hosting the presence of God: foundations of prayer (Kathryn Carty)
Your Testimony: Sharing your experiences for His good (Vanessa Chesters)
Organize your Life (Erin Lane)
Welcome to my House God! (Barbara Koob)
Simple Centerpieces (Heidi Wilt)
Offering a Safe Haven…The Power of Listening (Glynda Kinsland Johnson)
Bread for the Believer: Making Artisan Bread in 5 Minutes a Day (Maria Wolff)
Social Media in Service (Roxanne Christensen, MA, TLLP)
10:40-11:30 Â Session II See Class Descriptions here
Hospitality: Reaching out to your Neighbor (Virginia Cradlebaugh)
Sole Hope: World Mission Outreach from Your Living Room (Lisa Evola)
Creating Thoughtful but Simple Cards or Notes (Charlotte Duggan)
How to Effectively Pray for Others:  The Hospitality of Prayer (Kathryn Carty)
Your Testimony: Sharing your experiences for His good  (Vanessa Chesters)
Young Women of God (Erin Lane)
Welcome to my House God! (Barbara Koob)
The Versatile Chicken (Maria Wolff)
Decorating on a Dime (Heidi Wilt)
Soaking - Just For You (Sally Meadows)
Social Media in Service (Roxanne Christensen, MA, TLLP)
11:40-12:40 Â Lunch
1:00-2:00 Â Keynote Speaker - Karen Ehman of Proverbs31
(A Life That Says Welcome)
2:15- 3:05 Â Session III See Class Descriptions here
Hospitality: Reaching out to your Neighbor (Virginia Cradlebaugh)
A Room for Two: God and You! (Lisa Evola)
Creating thoughtful but simple Cards and notes (Charlotte Duggan)
Hosting the Presence of God: the foundations of prayer (Kathryn Carty)
Sharing your Testimony: taking your experiences on the road. (Vanessa Chesters)
Financial Peace basics for Teens and Adults (Erin Lane)
Welcome to my House God! (Barbara Koob)
Make it Ahead! Freezer Meals (Maria Wolff)
Daily Stewardship (Heidi Wilt)
Offering a Safe Haven…The Power of Listening (Glynda Kinsland Johnson)
Social Media in Service  (Roxanne Christensen, MA, TLLP)
3:15-4:00 Â Closing Worship and Prayer (Sally Meadows)