Spring brings the anticipation of Easter, as Christians we celebrate The Risen Lord! Hosting Easter Sunday dinner is an opportunity to decorate with the new birth of Spring and incorporate the cross and Risen King.
* Simple Centerpieces using items you already have mixed with seasonal decorations make your tablescapes fresh, fun and economical…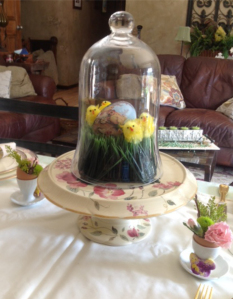 Cake stands topped with greens, seasonal items then covered with a glass, screen or birdcage cover are quick, easy and fun. Use them as your centerpiece for your table, mantle or as part of the buffet decor.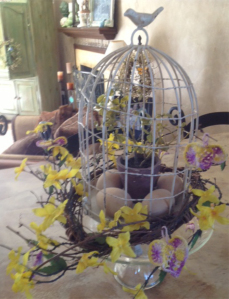 *Use old picture frames to create a chalk board or chicken wire display space for cards or the kids artwork. I painted two old frames with chalk paint to match my great room, using Cottage Paint ( a type of chalk paint) it is easily layered and distressed. Then I stapled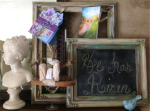 chicken wire to the back of one using a staple gun and I used clothespins to attach Easter cards to the wire. The other frame became a chalkboard by painting the cardboard backing with chalkboard paint and attaching it with a glue gun and masking tape. "He is Risen" is the written message to remind guests why we celebrate Easter. I added a cross display to the scene, which I found at a craft show many years ago…. A simple cross would be beautiful too.
* Egg cups make pretty place settings, mine came from my grandmother and I have added to my collection over the years when I find them at garage sales and antique shops. Use the shell of an egg, just crack the top when you use the egg for cooking, gently clean the inside of any left over egg residue and let dry. I like to use brown eggs for their color. Place the shell inside of the egg cup, fill with water and fresh flowers. Very pretty place card holder or used to line your table with little flower bouquets.
We follow The Risen Lord, rejoice  and have fun decorating for your Easter Celebration,
Abundant Blessings,
Heidi Wilt