The other week I was laid up in bed with a nasty virus, so I trustingly sent my husband out to buy an ingredient for a recipe I wanted to make for this blog.  Big mistake!  I asked him to pick up "…some coconut milk" assuming that he would buy only a can of coconut milk.  So imagine my surprise when he returned with not a can, but a half-gallon of coconut milk!  What could I to do with so much of this?  Was it the same as that found in cans? Could you use it interchangeably with regular milk?  Would it cook the same?  Now, if you have never tried coconut milk, it is much sweeter than regular milk; but I found you can use it pretty much like regular milk in recipes.  I was happy to note that the coconut milk would keep at least a month in my refrigerator, giving me a window of time in which to use it. 
This gift of so much coconut milk got my wheels spinning. My friends and family know that I absolutely hate, hate, hate to waste anything, so I felt I had to use up all of this coconut milk before it spoiled.  So, I turned to my ever-growing collection of cookbooks and found that, with the exception of a Moosewood Cookbook or two, most of my cookbooks are non-vegetarian.  (I obviously have to remedy that!)
So, not being able to get out, I trolled the Internet and numerous food blogs to search for recipes containing coconut milk.  And what a treasure trove of recipes I found!  Did you know, (I didn't) that you can use coconut milk as a soup base, much like chicken or vegetable broth?  Having a scratchy throat and needing hot soup comfort, I was delighted to find this wonderful recipe on Heidi Swanson's blog, 101cookbooks.com, for a Thai-spiced Pumpkin Soup published back in November 2006.  My version of this uses the bones of her recipe.
This one pot recipe is very forgiving.  You can mix up the ingredients, using other winter squash instead of pumpkin, and adjusting the seasoning to your taste. 
Well, enough blabbling (I do so run on, don't I?).  Let's try this recipe before the day gets too old!
Vegetarian Thai
Fusion Pumpkin Soup
Diff: Very Easy    Prep  5 min
Cook: 5-10 min   Serves: 4
Ingredients
15 oz. pumpkin puree (not pumpkin pie filling!)
14 oz. coconut milk
1-2 T Sriracha Hot Chili Sauce (or less)
1-2 t Thai Red Curry (spicy or not, your choice)
1 t kosher or sea salt
1 T unsalted butter
Directions
In a 3 quart soup pot, add all ingredients and mix together well with a whisk or your trusty wooden spoon until well blended.  Heat on medium high heat, stirring frequently, until steaming.  Melt 1 T. butter into soup and serve.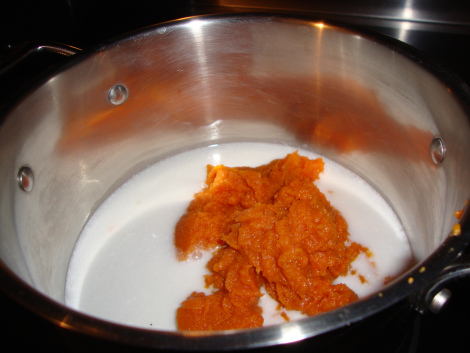 Garnish soup with any of these:  a sprinkle of paprika, cayenne pepper, toasted croutons, toasted pumpkin seeds, chopped nuts or chopped fresh cilantro.
Enjoy this soup as the gentle warmth spreads from your tongue to the tips of your toes.  Ahhh!  Comfort in a cup!  This recipe can be easily doubled.
Until next week, wishing you and yours All of God's blessings, warmth, good health and happy eating!
Blessings and smiles,
Maria