I was at a garage sale a couple of years ago and saw a coffee table.
The glass table top had been broken out of it and it was marked for $5.00. Wasn't sure what I would do with it. I might dismantle it and use the legs or possibly repair it some how. I purchased it and let's just say about a year went by before I actually came up with the idea of using the piece as a table.
I decided to retile it. I find that it has that ornate Mediterranean look in which my house is mostly decorated. But I have to admit that it being a round table was a bit challenging so I chose to go with a the small 1" x 1" tile that are held together in a 12" x 12" mesh.
First I took into consideration the depth of the lip of the table. First of all I knew I wanted the tile to match the surface of the face so I took into account that I would need to install a backer board to the underneath of the table to give a surface to adhere the tile to. Then I cut out another piece to print the area up high enough that I would have to put a ton of mortar down just to get the level I needed.
I took a simple piece of OSB in this case and cut it into a circle I could bolt to the under side of table with screws. Remember that with the mortar, tile and grout this area will be holding a bit of weight so I bolted it into place.
 Tip: It is a bit of a challenge to get the board into an oversized circle but here is an easy way to do it. Take a simple square a few inches larger than your opening and simply make some diagonal cut with your circular saw or jig saw till you get it close to the size of the circle you need. Being that it is underneath the table it doesn't have to be an exact circle. As you can see in the picture below.
Next position the board and pre-drill about 4-5 five holes depending on the how large of a project you are working on and screw it in place. Notice I used bolts with a bit of a lip that would hold the board in place. Just gives it strength.
Once the board is in place; flip the table over and begin laying out your squares of tile. You may be able to avoid cutting tiles if you are working with a square object. In this case I however was working with a round tile and went to the store to find an easy way to cut glass tile. Shown below is the tool I used.
First I laid out all the pieces and marked my cuts with a Chinese or paint marker could be used as well. I began cutting the small tiles to fit the outer edge of the table. Knowing that grout would help in the fact that if I was a bit off in any way in my cuts would help hide those imperfections.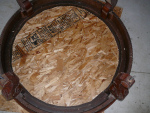 This picture shows the table upside down and the backer board is now screwed into the table.
As you can see I have quite a bit of distance between the backer board and the top of the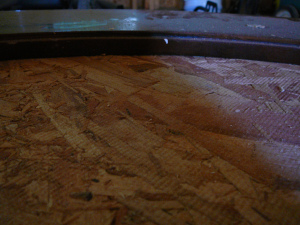 table so I added one more piece of OSB that I cut into a circle with my jig saw and dropped it in place and screwed it down.
Next I began to lay out my tiles. Since the table is round I had to cut many of the tiles to fit along the edge so I didn't have large areas of grout showing rather than a nice looking edge of glass.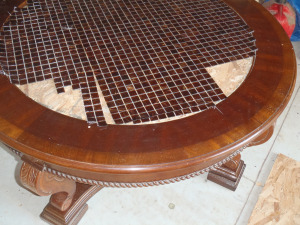 Please reference an earlier article on How to cut glass.
Now with my tiles pre-laid out and double checking my edges I am ready to put down the mortar to adhere them with. First your have to have a good surface to lay the tiles out on so you can re-assemble. (That is definitely a tricky part!)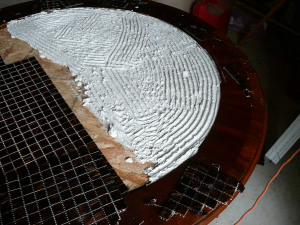 MORTAR
First: Used a spatula to put the mortar on. I only did ¼ of the table at a time so I didn't have to worry about the mortar drying faster than I could get the tiles in place.
Second: It is important to use a trowel. This allows you to adjust the tiles as needed. If you simply lay the mortar out without using the trowel you will find that the mortar will come up over the tile and make it less manageable to lay and adjust them as needed.
Third: Carefully lay your tile in place lining up the seams of the mesh as best as you can. Then add in you surrounding edge pieces. You may have to make a few changes to what you have cut but let me tell you that will be minimal.
Tiles are in place! Let dry for 24-48 hours.
Clean the tile off a bit with a damp rag; you may have to do this twice just to get them really cleaned up.
Note: You may have mortar that rose above your tiles you will want to either take your exacto knife or grout tool (has a small abrasive edge) and clean those areas up prior to laying your grout. It never looks good when your mortar shows through your grout.
 Important Note:  There are different grouts types. Un-sanded Grout is used for glass tile installations. You can purchase this already pre-mixed grout.
Beginners may want to stick with this idea just to make this project a bit easier. I found it is worth the extra money.
If you have not purchased prepared grout that needs no mixing; choose one that will be best for the tile you have chose.  Mix your own grout with water in the consistency of a milk shake. This will allow you time to put your grout in place without too much trouble.
 Note: If your grout is too thick it can be problematic and if it is too thin it really is too watery to fill in between the tiles. Consistency will make and easier and more effective job.
I spatula it into place and then take a damp sponge and move it between the tiles till I have the entire work piece grouted. Let dry for another 24 hours.
Once it is dry your tile will look a bit hazy not to worry it easily cleaned up with water and a clean rag or sponge.
Now stand back and admire that Handy work! Your have done a fine job. Now you want to preserve all your hard work with a Sealer. There are many types I tend to use Brand name for sealing tile. Professionals used it in my house when we built and I use it till this day.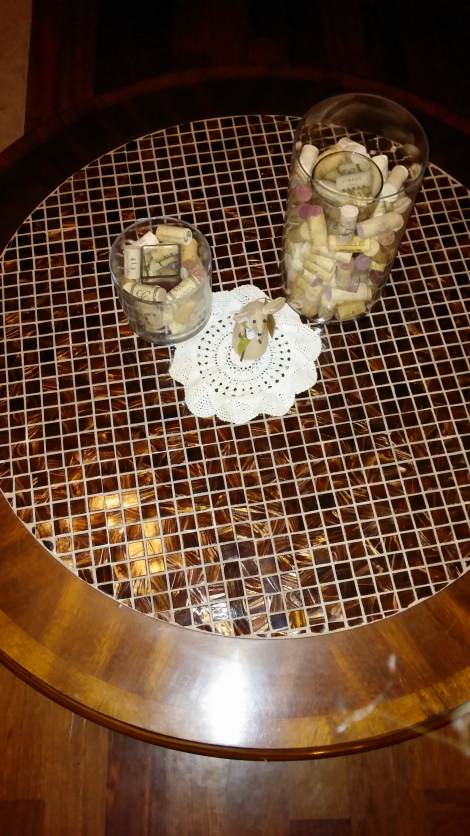 I hope you enjoyed this Renewal project. On that note; remember that we need to continuously renew our faith. Keep the faith and God Bless
Mischele