These little appetizers are waaayyyy too good!  So good it's hard to stop at eating just one or two and so good you should immediately think about making a double batch! Being the frugal gal I am, I looked into my freezer to see what I could use up, and there was this lonely pack of frozen spinach.  Poor thing!  So I found this recipe so it would feel useful; paired it up with a little butter, bread crumbs, a few eggs and parmesan cheese for company, and tra la la, it was not only happily useful, but it had friends to help it down the road.
Ok, I'm getting carried away.  That's what happens when it's been so cold you've been housebound for several days.  So I'm blaming it on the weather. And if you this is bad, you should see my cat; he found the cupboard my dish towels are in, and every night he's been prying open the cupboard and digging out every dishtowel.  After four days of finding a heap of dishtowels on my kitchen floor, I outsmarted him by switching the towels to a different cupboard.  This morning, the lower cupboard was open, but no towels on the floor.  Ha!  Bet he was disappointed! But again, I digress.  Sorry!   Back to the appetizers. 
This is an old family recipe from my father's side of the family, and was always of the most popular appetizers at family gatherings.  The spinach makes it healthy, and the breadcrumbs can be a combination of dried and fresh.  The original recipe calls for crushed herb dressing, but if your mixture is too wet, feel free to add additional fresh breadcrumbs, as they will absorb the excess moisture.  I would also recommend using a smaller amount of butter, 4 T. instead of 6.  But it's just a matter of taste.  Do make sure you drain the spinach and squeeze as much water out of it as possible.
Diff:  Easy Prep: 15 min Bake: 15-17 min Serves: 25-30
Ingredients
1 10 oz. package of frozen chopped spinach, cooked. drained and squeezed dry
2 large eggs, slightly beaten
4-6 T. melted butter
1-1.5 cups Pepperidge Farm Herb Dressing, crushed to crumb texture (can use a mixture of fresh and dried crumbs as well)
1/2-3/4 cups finely grated Parmesan cheese
½ c. medium sweet or mild onion, finely chopped
Instructions
Preheat oven to 350 F.

Mix all ingredients together until well mixed.  Check that the mixture is not too wet.  If it is, add ¼ c. more fresh breadcrumbs.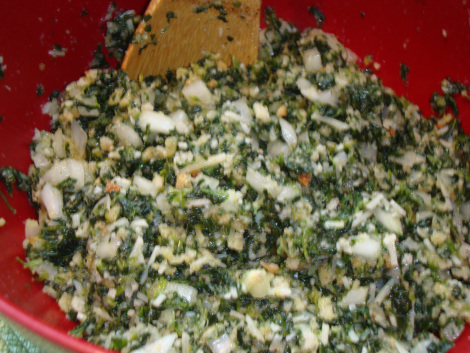 Remove from oven and let pan sit for a few minutes before removing.  Cool before serving.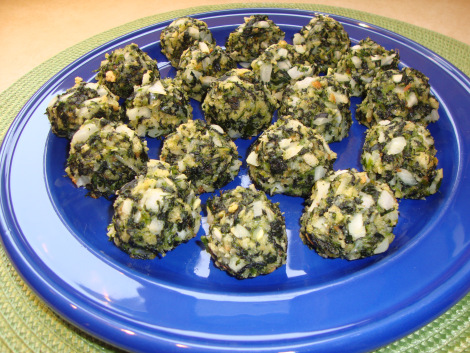 Makes 25 larger balls or 30 very small balls.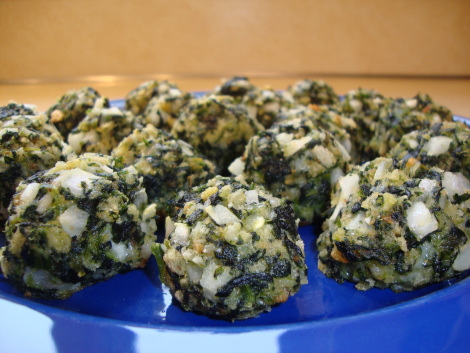 These really are so delicious!  I wish I had more frozen spinach to make more!  Just look at that detail above.  Just makes me want to eat them all up!
*If you intend to freeze these, do not bake the spinach balls before freezing.  Chill until firm, or freeze before placing them in freezer bags.  When ready to bake, defrost the spinach balls, and bake at 350 F for 15 minutes.
I hope you and your family enjoy this delicious recipe!  Until next week, wishing you and yours all of God's blessings, good health and happy eating!
Blessings and smiles,
Maria