These lightly charred, roasted carrots are a delicious accompaniment to chicken or a roast.  The tang of fresh lemon juice contrasts nicely with the sweetness of honey and the saltiness of the feta cheese.

 
Diff   Easy     Prep 10 min  
Cook 25-30 min   Serves  4
Ingredients
Nonstick cooking spray
1 1/2 pounds carrots, peeled and sliced lengthwise into long spears
2 tablespoons olive oil
One tablespoon red wine vinegar
1 1/2 teaspoons honey
Kosher salt and freshly ground black pepper
1 1/2  fresh squeezed lemon juice
2 ounces of feta cheese, crumbled
Directions
Preheat oven to 400° F and adjust oven rack to lower middle position

Line a 9 x 13″ baking dish with foil and spray with cooking spray

Add carrots, …  (below) then, olive oil, vinegar, and honey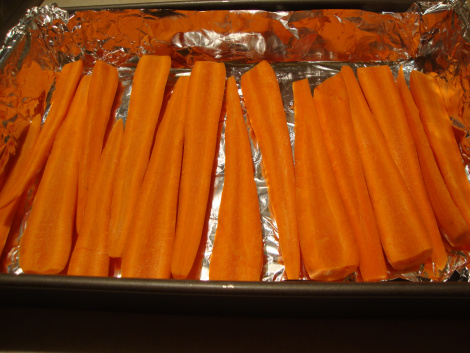 Season with salt and pepper,  toss to combine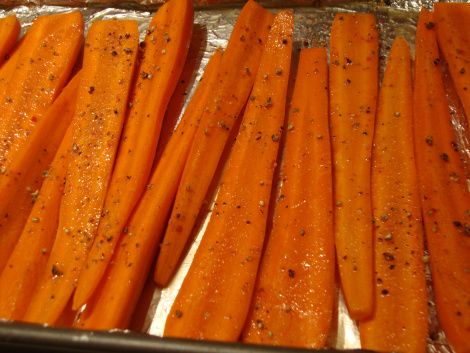 Transfer to oven and roast, stirring periodically, until edges are starting to char and carrots are softened but still have some crunch, about 25 minutes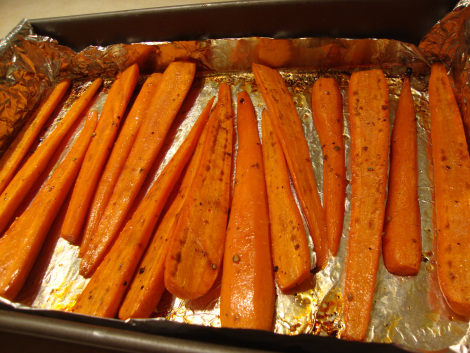 If carrots are not blackened or charred enough, you can put them under the broiler for five minutes but watch them closely to prevent burning
When done, remove from oven, toss with lemon juice. Add feta cheese, season with additional salt and black pepper, toss and serve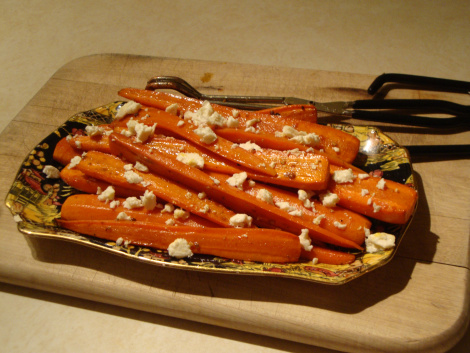 Gotta love them vegetables!  Now that we're in the depths of winter, I've gone through several bouts of colds, so I'm looking for anything that will increase the resilience of my immune system.   Carrots are wonderful, especially raw, as they are full of Vitamin A, beta-carotenes, minerals and anti-oxidants.   So, try this dish and enjoy not only it's wonderful taste, but a vitamin boost to boot!

 
Until next week, wishing you all of God's blessings, good health and happy eating!
Blessings and smiles,
Maria