Today is Valentine's Day (for those of you who weren't already aware of this fact!)
It is a time to restate your love and commitment  to those who already know (like your spouse), to show someone that you cherish their presence in your life (like your children), and to proclaim your love (or like as the case may be) to an unsuspecting "friend".  Whatever your intent for the day's activities – make it simple. It doesn't have to be expensive, just heartfelt.
My kid's (and husband for that matter) like candy.   We don't buy it very often for obvious reasons, so when I do get it they descend on me like a swarm of bees on the only flower left in a meadow!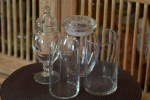 This is a perfect candy day, so this I decided to pull out some of my glass containers (some of these are candles from which I removed the old wax and cleaned) and fill them with some candies of the season.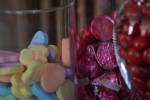 This is simple and works great for my busy teenage boys, as they like to snag them on their way through the dining room.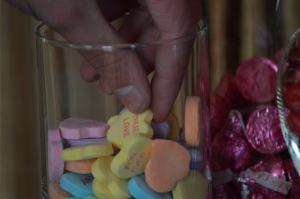 But watch that one isn't lingering too long!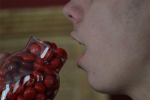 Enjoy your day with your sweeties!
Soli Deo Gloria!