I found this recipe years ago while looking through my mother's old recipe box.  This is a cake I  remembered her making frequently when I was a child;  and I recalled it was because it was one of my father's favorites that he would request often.  
One of the interesting things this recipe was that was one my mother learned while she was growing up during the Great Depression.  She grew up on a farm out on the great plains of Saskatchewan, Canada, during the drought and depression years of the 1930's.   1931- 1939 were the years most of the dirt of the Great Plains blew away due to poor farming practices that plowed up the native Buffalo grass that had anchored the dirt to the ground for thousands of years. These were also the years that the rains did not come, spelling disaster for many a family farm. (Ever seen The Grapes of Wrath?  So true.)  If you have any interest in reading about this time, I would recommend a book by Timothy Egan called The Worst Hard Time.  It is almost unimaginable what the plains dwellers had to deal with to survive.  I knew of this only because my mother would tell me stories of how she would have to sweep out the dirt and dust from the house after one of the many dust storms.
In any case, this was my mother's recipe and it is one that I have been proud to make for my own family.  It reminds me those mystery cake recipes that came out during the 1960s and 70s.   The one that comes to mind is a Bisquick recipe called Impossible Coconut Pie.  I've never understood how that inversion thing happens, but I guess it's just one of those things I have to take on faith. 
One of the important things to note is that this recipe uses self-rising flour.  Self rising flour not only contains baking powder, but is also made from a softer variety of wheat than that used for all-purpose flour. This results in a softer, more delicate and luscious cake crumb. This version is reminiscent of a chocolate pudding cake. It's amazing what a little flour, sugar and cocoa can do!  I hope you and your family will enjoy this old timey dessert! 
With just a few ingredients, two bowls, and a few minutes, you can easily make this delicious cobbler!  Add additional chocolate chips for more chocolate taste!  
Note: For demonstration purposes, I made and photographed a half-recipe, however the full recipe is given below.
download recipe here:Valentine
Diff:  Easy     Time:  5-10 min  
Cook:  35-45 min   Serves:  8-10

 
Ingredients
Cake layer
Two sticks butter
1 1/4 cup sugar
1 1/2 cup self rising flour
One teaspoon vanilla
3/4 cup milk
Chocolate layer
1 cup sugar
6 tablespoons cocoa powder
2 cups boiling water
Directions
Preheat oven to 350°F. In a 9 x 13 glass baking dish, melt the two sticks of butter.   You can do this in the oven if you choose.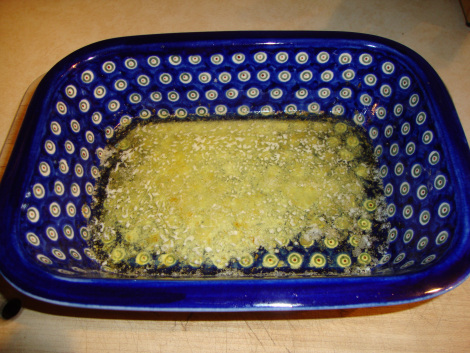 Meanwhile, in a bowl, mix together the 1 1/4 cups of sugar, flour, vanilla and milk.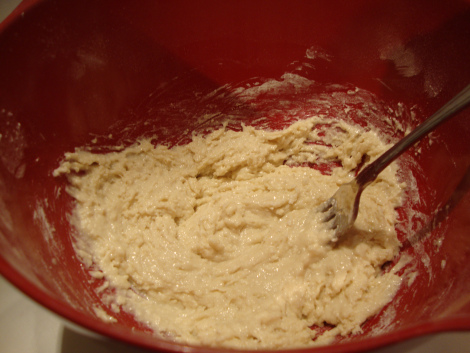 Once the butter is melted, pour the batter over the butter but do not stir in.  (Opps, forgot to get a pix of this!)
In a separate bowl, mix together the cocoa and remaining sugar.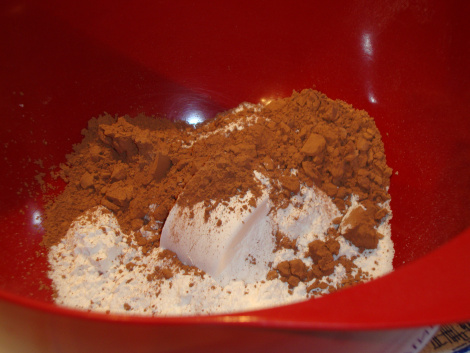 Sprinkle the cocoa sugar mixture on top of the batter.  Again do not stir in.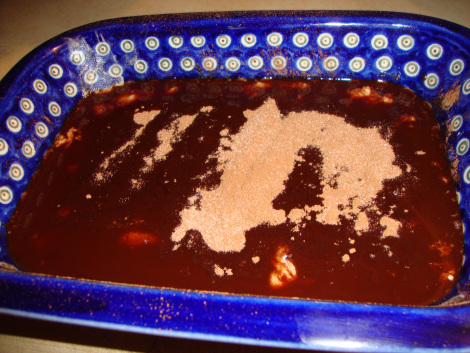 Pour 2 cups of boiling water on top of the cocoa sugar mixture, yep!  I'm going to say it again … do not stir, and bake for 30 to 45 minutes.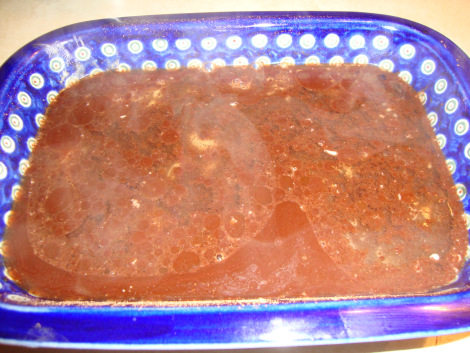 Remove from oven when done.  Serve cake warm.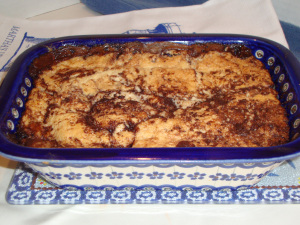 This is wonderful paired with ice cream or whipped cream on top!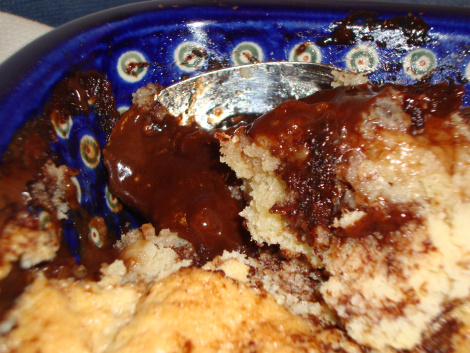 I hope you enjoy this yummy chocolate cobbler.  This is a wonderful, cozy dish that can be enjoyed by just the two of you on Valentine's Day, or the entire family anytime!
Until next week wishing you all a happy Valentine's Day, all of God's blessings, good health and happy eating!
Blessings and smiles, 
Maria