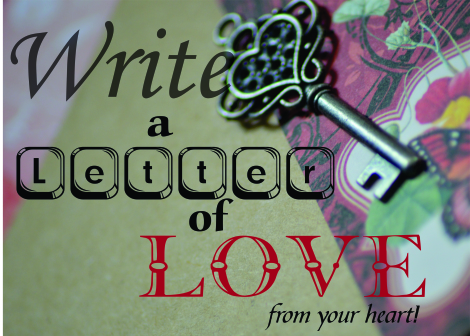 Valentine's Day is fast approaching!  Are you ready?
You may be like my husband and I and pass on the whole Hallmark holiday idea, but let me encourage you to rethink that for a moment. The whole concept of the day is to show love. Love to our families, love to our neighbors – Love to the whole world! As musician Matt Maher says: "Love will hold us together, make us a shelter to weather the storm." I love that, it's so simple. It is what God does for us – He loves us through the storms.
If you are saying an "Amen!" to the idea of love, but can't bring yourself to stand in front of the rows and rows of cards trying to find the one that says exactly what you are feeling; may I encourage you to make your own? Really – it isn't that difficult! Use blank cards, embellish with colorful papers and write your own love letter!
Here are some inspirations in case you just don't know what to say:
The best thing that ever happened to me is you
Thank you for bringing joy into my heart, beauty into my world and love into my heart
I've blown you a kiss. It's on its way!
The perfect place for us is together
I'll always find my way to you
The good things in life are better with you
I'm glad that you and me are US!
You – Me – Always  I love that!
And my son's personal favorite: You are my heart's epic adventure!
Use markers with white cardstock and write your heart's message boldly across the front.
Glue colorful scrapbook papers to plain craft paper
Decorate with cut-out hearts or sparkly glue
Tie a key or a heart to a ribbon and wrap it around the front for added interest (I found a 5-pack of skeleton keys in the $1 bin at Michaels)
Here are a couple of cards that we put together at our house.  Remember, they don't have to be perfect –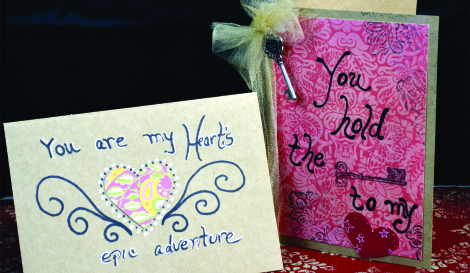 Inside: Write a letter that tells the receiver just how you feel. It helps keep playfulness alive in a relationship and lets them know that they mean something to you. It offers a snapshot of your life together at a particular moment. It tells your love how much you need him (or her).
Make him feel it from the start.
My Darling or My love. Begin with a term of endearment for an impactful beginning.
Mention why you're writing.
It might be an occasion like Valentine's Day, but I just felt like telling you…is also a good reason.
Affirm him.
What are his best qualities? What has he done lately that you're grateful for?
See the future.
What are you looking forward to together? Seeing him tonight? Still loving him when he's 64? (This confidence is especially meaningful during tough times together.)
Finish strong.
How about: All my love, Forever yours, Tenderly, XOXOXO, Your loving wife…just to name a few.
Special delivery?
I like leaving love letters for my husband in places I know he'll find them (pillow, car seat, etc.).
I've often heard of old people who have saved letters from their loved ones. These letters are reminders of the love that surrounds them; past and present. Love letters aren't just for Valentine's Day either. Try making a card or writing a heartfelt letter just because. In the news the other day there was a story of a father who put little notes in his daughter's lunches, every day since she started school. He has recently been diagnosed with cancer and decided that he would write 496 more notes now, so that she would continue to have these notes for the rest of the time that she is in school.
I cried
I imagine that she will keep these letters of love for the rest of her life to remember just how much her father loved her. Letters of love can have a great impact on those close to you. Show them that you love them,
Write them a love letter from your heart!
Soli Deo Gloria!
Lisa