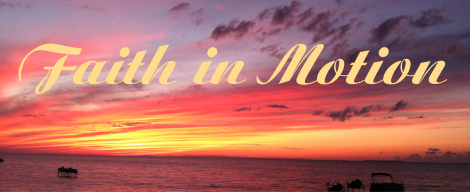 It is often the struggle of the Christian as to how to live a life "worthy" of the sacrifice made for them; how to be the sons and daughters God desires. How to make a loving and gracious God proud of us. Ultimately, that is what we want, right? The approval of our Father?
I would go so far as to say that it is what drives us, what motivates us to get up in the morning.
Approval.
We all seek it.  Not always from our Heavenly Father, but certainly from our earthly ones. Or maybe it's our mother's approval that we crave.  Possibly a friends, a boss', a spouse's….or even a child's.
Why do we allow the opinions of other's to shape our behavior?  The choices we make?  And ultimately who we are?  Quite possibly the answer lies somewhere within our topic today.
Faith in Motion.
To me this means putting into practice the life that we would live if we were perfect; if we were Jesus. That is fundamentally what the Christian life is, yes? To live as Jesus did; love as He loved, heal as He healed and pray as He prayed. He is our role model, our example of a perfect and approved life.
Approval.
Jesus knew He had the approval of the Father. It was at the foundation of who He was during His time on this earth. It is what got Him up in the morning - to trudge day after day through the deserts of people's lives, showing them the way to walk, the way to love, the way to pray, and the way to act. It is through His faith that He loved the people; He knew that God loved them, so therefore He loved them. His faith in who God is showed Him how to act, it propelled Him into action.
If Jesus had simply told us who God is instead of showing us, I'm not sure we would have gotten as much from the experiences that His life displayed. Immanuel – God with us. If God chose to come here, simply to show us how to live, don't you think that we should be taking notice?
Faith in Motion is living what we know about God to be true.
God loves –therefore we are to love, unconditionally. God loves the deserving and the undeserving. We are all His creation, the good, the bad and the ugly. He gives unconditional love – So: love unconditionally.

God heals – therefore we need to heal others. This can be physically, emotionally, verbally or spiritually.  Not only our bodies need healing, but also our minds, our hearts and our souls. A kind word, a hug, a smile. We have the power to give life or to destroy it, simply with the words we use, the thoughts we think, or the actions we take. Give life.

God teaches – Share His words of wisdom. Our life experiences have taught us much about God; there are others who need to experience His sovereignty over their lives. Show them who He is; by example or by sharing what we know to be true because of His provisions in our life. Our testimony is God's love letter to the world. Share it.
Our faith in who God is should guide our steps toward those who need to hear, or see, or feel His presence in their lives.
If not us, who?
If not now, when?
Jesus didn't waste any time, nor should we. Take steps today to set your Faith in Motion.
-volunteer in local ministry
-write a note of encouragement
-make a meal for someone who is sick
-take someone to breakfast that needs a friend
-send an anonymous gift to someone who is struggling
-give a ride to a shut in
Most of what Jesus did everyday was simply to meet people's needs, right where there were. He didn't need to reinvent the wheel…He simply put it back on the cart. What you do doesn't have to be huge or expensive. Meet a need, give encouragement, do what comes natural as an outpouring of your love and faith that…
God is who He says He is.
Soli Deo Gloria!