Merry Christmas Everyone!
Hard to believe that Christmas has come and gone and 2014 is just around the corner. I hope that you are having some time off and are catching up on your reading and emails!  It certainly has been a cold winter so far, which can makes you really grateful for a roof over your head…. and heat!
A great thing about the holidays is that it gives us a chance to be festive and boy do I love doing that. So I thought I would put together a quick craft to ring in the NEW YEAR!
This is a fun and festive craft anyone can do. I love the idea of just having the supplies available for our little New Year's eve party, plus it gives your guests a little memento of the occasion that you shared together.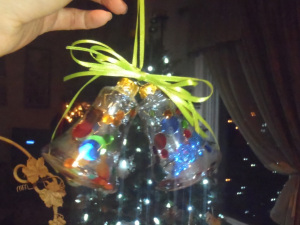 Things you will need:
Clear Glass bulbs-mine is in the shape of a bell! (Ring in the New Year)
Glitter kit, it comes with clear glue or you can buy it separately
Bag of fun confetti
Ribbon of choice
There are so many festive colors this season, choose something fun. I am sure you can get glass ornaments for practically nothing this week.
Start by removing the cap off your ornament and begin putting droplets or drizzle your elmers glue (clear) into your ornament. As I was drizzling I was turning the ornament to try to get it to go in a random pattern.
Next take your confetti and drop it into the top of your ornament. Note that some of my circles were a little oversized so I gently bent them into the ornament. Once you have some in shake them around till they are caught in the glue. Don't worry if they overlap they kind of look cool that way. Repeat this step until you are satisfied with how your ornament looks.
 Next you can add glitter if you would like, I found out I really didn't like what I had chosen so I left a couple of them clear.  You may Love the look. In the picture below I used pink glitter. It does give it an added dimension.
You can let the glue set up a little then proceed with adorning your ornament with "2014" or perhaps some cool stickers you found. Replace the caps and then I strung two of them together with ribbon.
I don't know if you can tell in this picture but on the right bell I took glue and wrote "2014" and then adorned it with blue glitter. Sorry everyone…I am finding it really hard to take pictures of Glass!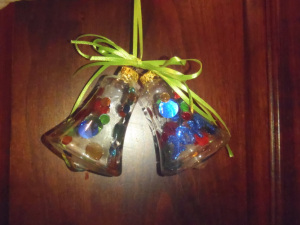 A photographer I am not! LOL. Would anyone like to give us tips on Photography? If so Write me at my e-mail address: [email protected]
I hope you can have some fun with this craft it is easy enough for anyone and entertaining as well. A great way to ring in the New Year!
Have a safe and Blessed New Years!
Mischele Makhlouf