Somehow Christmas has snuck up on me once again.  This, despite all my planning and busyness.  Funny how that happened.  Perhaps it was the addition of a last minute job that threw me off kilter, giving me less time to bake and prepare home-made gifts.  But this year I decided that I would focus on being grateful for the blessings I have, and look forward to the time I can spend with my family.  I have looked forward to today, for today is the culmination of a month's worth of preparation so we can rejoice in the miracle of the birth of our Lord, Jesus Christ.  But instead of being stressed, I give thanks for this job because not only have I made some extra income for the holidays; it makes time with my family during the holidays that much more precious.
Today we celebrate the birth of the Lord Jesus.  With his birth, hope and the possibility of redemption returned to the world.  So, today, as we celebrate with our families and friends, let us remember the true message of this day.  The hope, promise and love that the Lord Jesus brings us; and let us honor his greatest commandment; that we should do to others what we would want to have done to us. Today, and always, let us resolve to help others in need, wherever we find them, and to treat all people better, whether that is our spouse, our child, a friend or a stranger. And one of my fun ways to celebrate our Lord's birth is by giving the gift of home-made goodies.
Because time is something we have so little of during the holidays, here are some easy and quick (and yes, last minute) bar cookies you can make.  These two recipes are ooey gooey good, super easy and are cookies that kids and adult kids will love.  They are Rocky Road S'mores Bars with and without Rocks and Toffee Squares. The rocks in the first recipe are nuts, and you can make them with or without these so you can give them to people with nut allergies.  This recipe was initially published on thebakingpan.com blog. The Toffee Squares are a variation on the Eagle Brand Magic bars, only without the condensed milk. This recipe is by one of my favorite food bloggers, Jennifer McHenry, and was taken from her website:

www.bakeorbreak.com

. These are quite rich and very yummy!
As always, make sure you have all your ingredients ready for ease of preparation!
Rocky Road S'mores Bars
Ingredients
½ c. butter, room temperature
½ c. firmly-packed brown sugar
1 c. all purpose flour
½ c. graham cracker crumbs
2 cup minature marshmallows
2 cups semi-sweet chocolate chips
½ c. chopped walnuts, pecans or nuts of your choice, if desired
Prep: Easy Time: 5 min
Cook: 15-20 min Serves: 3 dozen
Instructions
Preheat oven to 375 degrees F. Lightly butter a 9 inch square baking pan.
In a large bowl, cream butter and brown sugar until light and fluffy.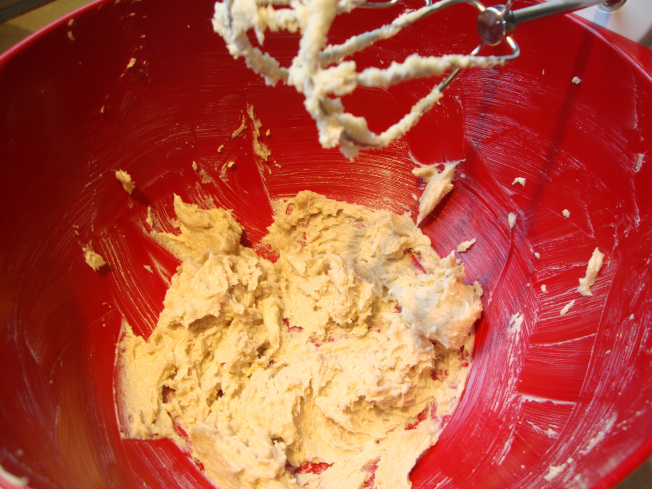 Add flour and graham cracker crumbs; stir until well blended.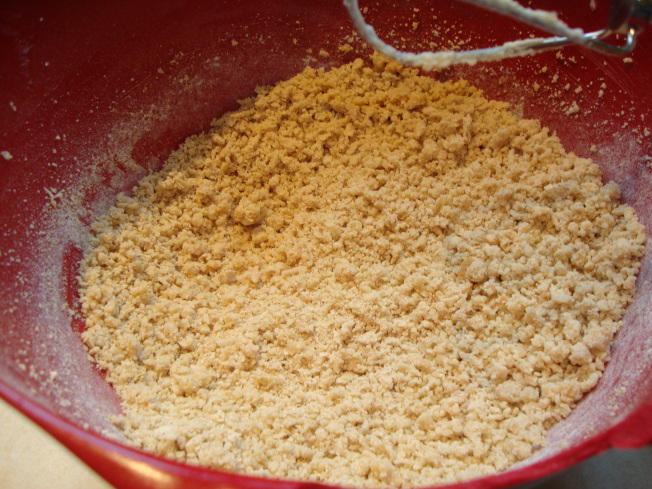 Press mixture onto bottom of the prepared baking pan. (This is kind of fun, you just dump the mixture in the pan, and smush it down with your hands…)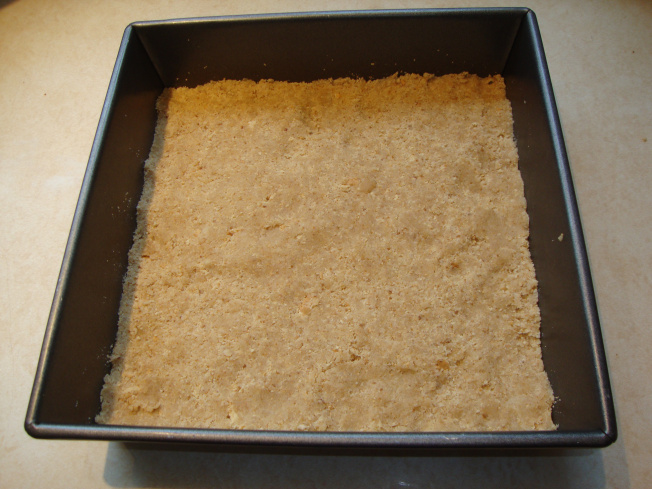 Sprinkle over the top, in this order, marshmallows, chocolate chips, and nuts, if you're including these. (I did this half and half, and you will notice that I did not add the ingredients this in the right order!)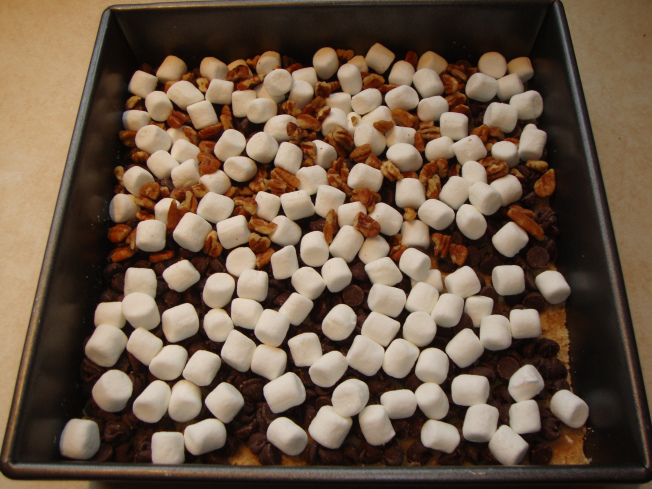 Bake 15 to 20 minutes or until golden brown. (I added an additional 2 minutes to brown the marshmallows).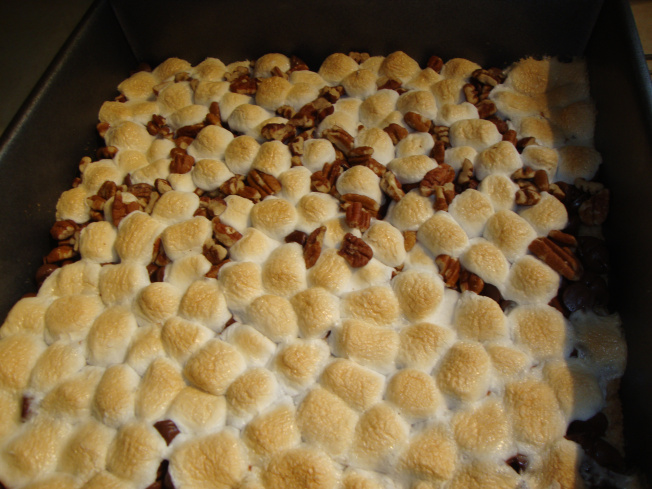 Remove from oven and cool on a wire rack unti completely cool. Cut into bars and remove from baking dish.

Now isn't that pretty? And you can't beat ooey gooey cookies! Yum!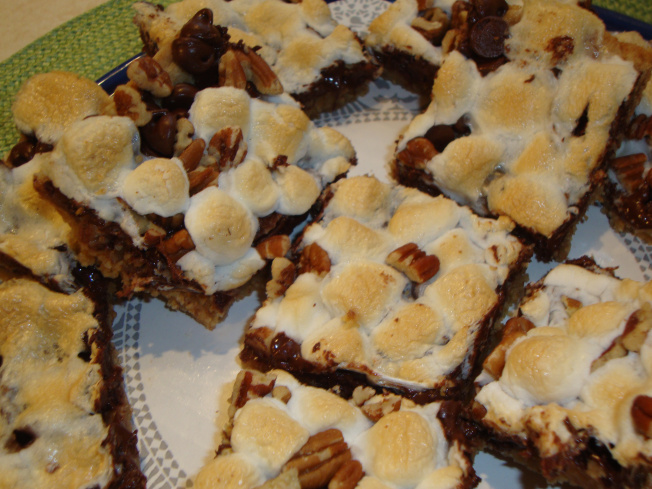 Toffee Squares
Ingredients
2 c. all-purpose flour
¼ t. baking soda
¼ t. celtic or kosher salt
2/3 c. unsalted butter, softened
2 c. packed light brown sugar
2 large eggs, room temperature
1 ¼ c. peanuts, if desired
1 ½ c. semisweet chocolate chips, divided
½ c. butterscotch chips
½ c . chopped pecans
½ c. coconut flakes
Prep: Easy Prep: 20 min
Cook: 35 min Serves: 3 dozen
Preheat oven to 350 degrees F. Grease a 9 inch square baking pan. Line with parchment paper.
Whisk together flours, baking soda, and salt. Set aside.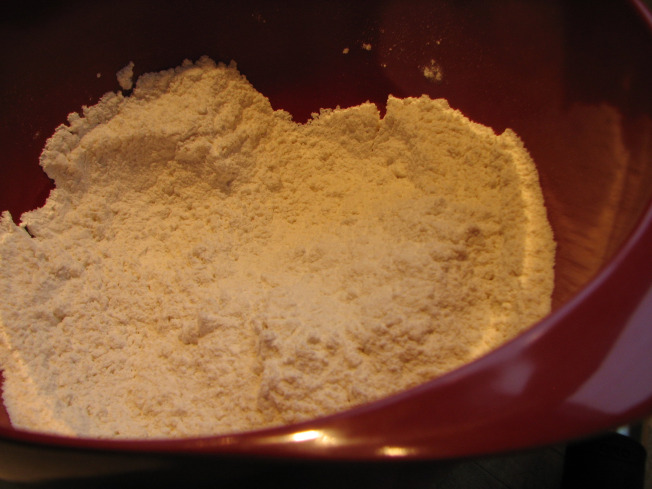 Beat butter until light and fluffy.

Add brown sugar and continue beating until creamy.

Add eggs, one at a time, mixing well after each addition. Mix in vanilla.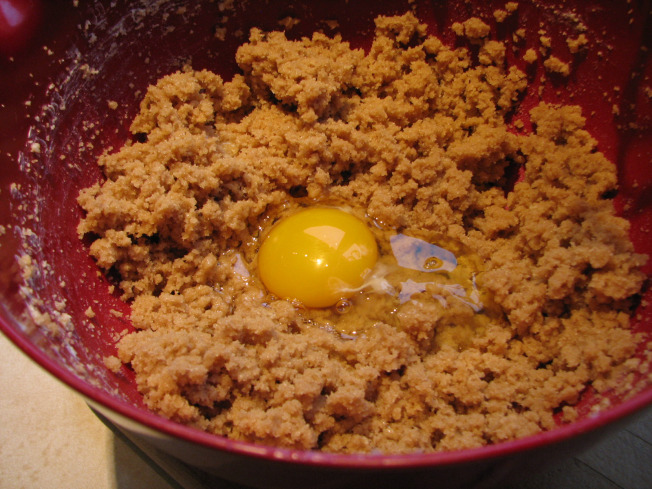 Gradually add flour mixture, mixing until almost blended. Stir in peanuts, if desired, and 1 cup chocolate chips.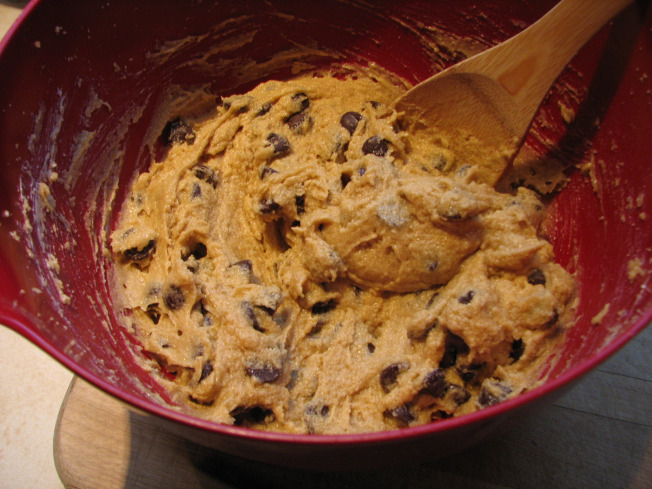 Transfer dough to prepared pan and spread evenly. Sprinkle top with remaining chocolate chips, butterscotch chips, pecans, and coconut.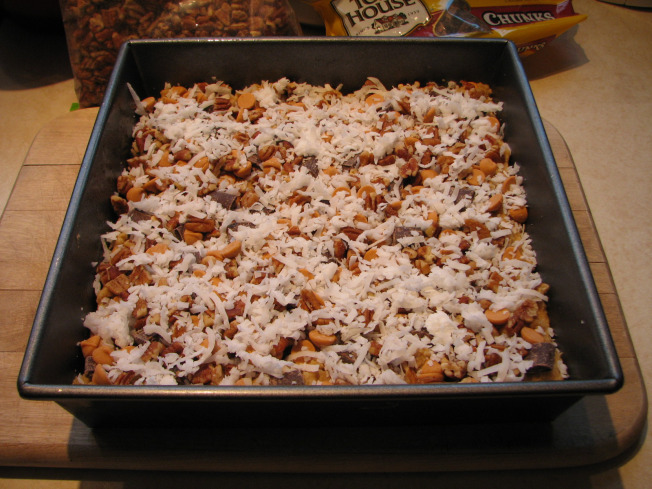 Bake for 30-35 midnutes, or until edges are golden and topping is bubbly and lightly browned. Cool completely in pan before cutting into squares

.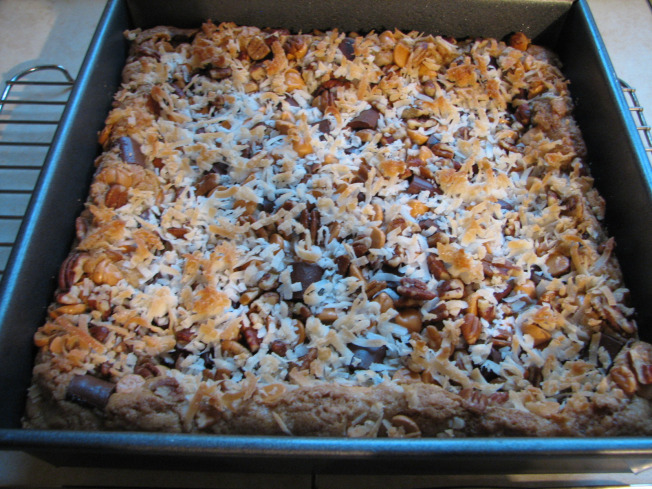 Enjoy!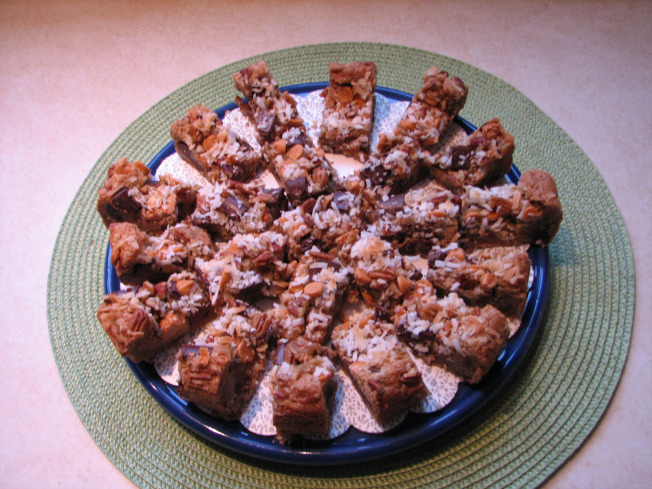 These rich, chewy bars make a great addition to your dessert table, a great dessert to take to a party, or give as a hostess gift.
Wishing you and your family a wonderful, relaxing and Merry Christmas! May the rest of your holidays be full of God's blessings, good health and happy eating!
Blessings to you all,
Maria