Now that the days have been cooler, I've been craving chili. But I wanted to try something different, so I played around with several recipes and came up with this unusual but delicious vegetarian version.  My inspiration was barley soup, so I thought, why not try barley in chili?  The result was both warming and tasty.  This chili is full of anti-oxidant rich, heart healthy vegetables, and is low in calories, so if you want a second serving, go for it!  
Diff:  Easy  Prep:  45 min  Cook:  25 min  Serves  8
Ingredients:
¾ c. barley
2 cups boiling water
1 large green pepper, finely chopped
1 large onion, chopped
4 green onions, chopped
2  T. olive oil
1 can (16 oz) black beans, rinsed and drained
1 can (16 oz) Grilling beans – beans in seasoned tomato sauce
1 can (14.5 oz) diced tomatoes, undrained
1 can (15 oz) tomato sauce
1 can green chili peppers, mild
2 Thai hot red chili peppers, seeds removed, chopped
2 garlic cloves, minced
½ ground cumin
¾ c. shredded cheddar cheese (can use reduced fat)
*can add chopped roasted chicken (1-2 cups)
Directions:
Place barley in a large bowl, pour in boiling water.  Cover and let stand for 30 minutes.  Drain water and squeeze dry.
In a large saucepan or stockpot, sauté green peppers and onion in oil until tender.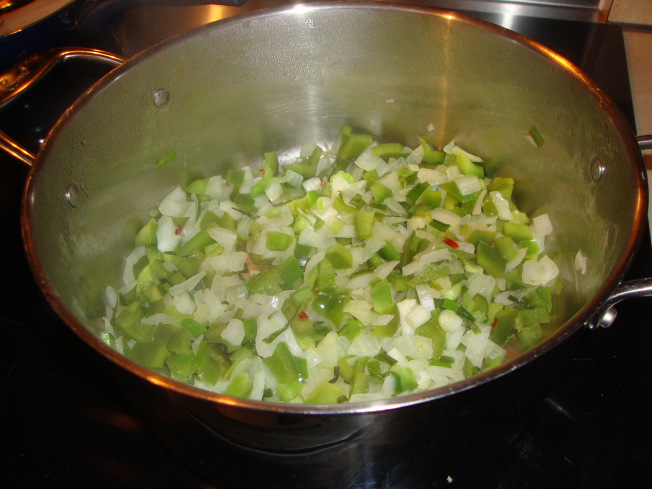 Stir in the drained barley.

Then stir in tomato juice, beans, tomatoes, tomato sauce, water, Thai hot red chili peppers, green chili peppers, garlic and cumin.  Bring to a boil.  Reduce heat; cover and simmer for 25 minutes. Sprinkle with cheese if desired.
 
Enjoy!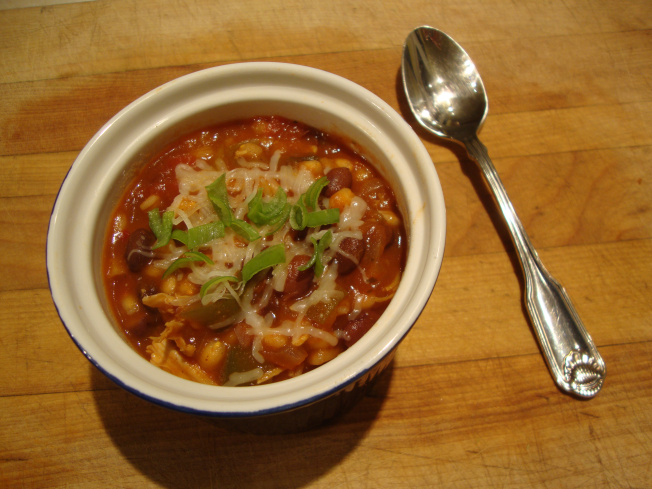 Hope this warms you up on chilly days!
Until next week, wishing you all of God's Blessings, good health and happy eating

!
Smiles, Maria